You Have To See The Latest Japanese Beauty Trend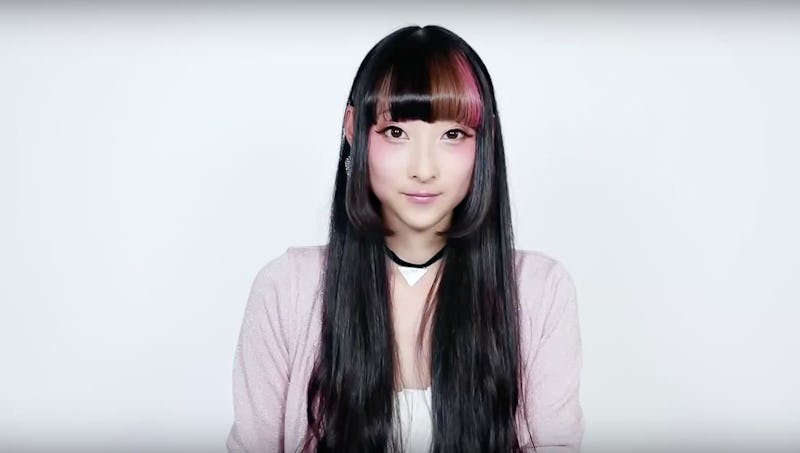 One of my favorite places to turn for beauty inspiration is Japan, where beauty trends are often a little wacky and way ahead of the United States in terms of makeup and skincare innovations. The latest trend to catch my eye? Momoko makeup, which has been popular there for several years. So, what is Momoko makeup, and how do you recreate it?
Momoko makeup specifically refers to a particular way of applying blush that became popular because of Japanese It-Girl Momoko Ogihara, according to Refinery29. Ogihara is known for applying her bright pink blush very high on her cheekbones, almost right under her eyes. It sounds a little weird, but it looks remarkably subtle if you want it to (and not just like you have allergies). In addition to the blush, to finish off the makeup look, you wear pink eyeshadow and pink lip stain. It creates a monochromatic makeup look that's pretty and perfect for spring. The blush look has become popular among Japanese women, and it's slowly making its way to the U.S. as well. In fact, American cosmetics giant CoverGirl actually partnered with POPSUGAR to create a Momoko makeup tutorial that was posted on the website.
Here's Ogihara modeling the look. It's surprisingly subtle, right?
And again. From afar, it just looks pretty and fresh.
Harajuku model RinRin Doll also popularized the look, and her video tutorial is a great place to start if you want to recreate the look.
Her look is a little more bold, but it's a great guideline for the basics of the makeup look — feel free to use a lighter hand if that's more your style. Start by applying your basic eye makeup (with some rosy tones if you want to go all out). Then, there are two essential products you'll need. Doll uses MAC Hello Kitty products, but any of the brand's highly pigmented products will work.
MAC Pro Longwear Blush In I'm A Lover, $2, Nordstrom
MAC Guo Pei Powder/Blush Brush, $35, MAC Cosmetics
MAC Cremesheen Lipstick In Star Magnolia, $17, Nordstrom
Now that you know what Momoko makeup is, you can incorporate it into your spring beauty routine super easily.
Want more fashion and beauty tips? Check out the video below and subscribe to Bustle on YouTube!
Images: RinRin Doll/YouTube; Courtesy of Brand