'Life In Pieces' Isn't Done Telling Stories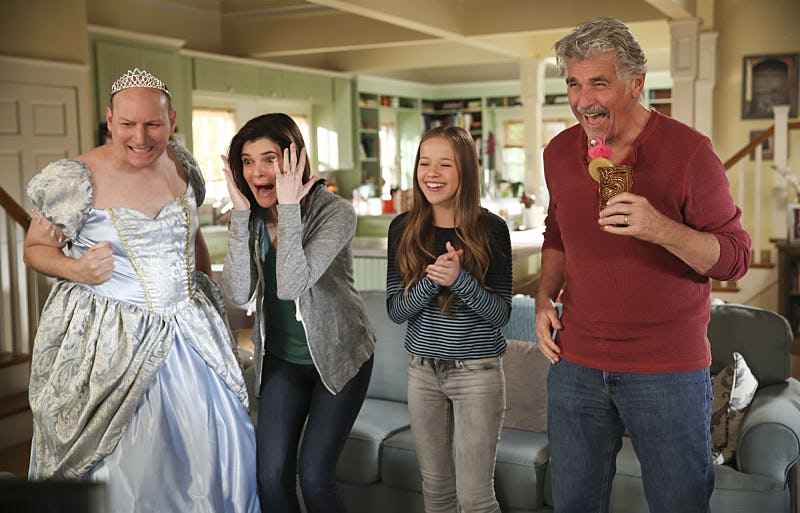 If there's anything to learn from CBS sitcom Life in Pieces, it's that family memories can live forever through the stories we tell. Each week, the comedy series features four amusing stories from a hilarious family just trying to stay in one piece (ahem). But, once the season finale airs on Thursday night, will Life in Pieces return for Season 2? There hasn't been any official word yet on the fate of the show from CBS, but, according to TV By The Numbers, the series is the highest-rated comedy to debut this season. So, I'd say there's a good chance we'll be seeing the Short family back for Season 2 in the fall. Update: On May 11, Variety reported that Life in Pieces was renewed for a second season by CBS.
Life in Pieces isn't your typical sitcom. Every episode consists of four stories told by the three generations of Short family members — a stellar cast that includes James Brolin (John), Colin Hanks (Greg), Dianne Wiest (Joan), Betsy Brandt (Heather), and Thomas Sadoski (Matt). And, with so many stories being told, there are many opportunities to have some really awesome guest stars get in on the fun. If the show gets a second season, then there will be plenty more stories to tell, hopefully with more appearances from these great guest stars.
Chad (Jordan Peele)
He's one half of an amazing comic duo with Keegan Michael Key, but he's awesome on his own, too. In Life in Pieces, Peele plays Chad, Collen's dog-napping ex-fiancé and I hope we get to see more of him.
Gary Timpkins (Martin Mull)
This comic actor has been in everything from Sabrina the Teenage Witch to Rosanne. But, in CBS sitcom, he currently plays a widower who is Joan's neighbor and patient. According to The Hollywood Reporter, Mull's daughter Maggie is a writer on the show, so perhaps she'll write another role for him in a possible Season 2.
Ian The Guitar Salesman (Josh Groban)
The singer is best known for his incredible singing voice, but on Life in Pieces, he knows his way around a guitar. For example, he puts on a fake accent and plays a riff to impress Clementine. It would be great to see him come back to stir up more trouble.
Mikey (Greg Grunberg)
The Heroes Reborn and Alias actor showed off his comedic chops as Joan's annoying nephew Mikey, who no one likes. And, now that Heroes Reborn is over, that means Mikey could drop by again, right?
Bonnie (Brenda Song)
The former Disney Channel actress has since gone onto guest star on series like Scandal, New Girl, and Life in Pieces, where she plays Bonnie, Matt's ex-wife who surprised him with a visit earlier this season. Who says she won't do it again?
Will (Ken Marino)
Marino is that actor who finds his way into pretty much every show and he's always a welcome addition. On Life in Pieces, he plays Matt and Colleen's annoying co-worker who catches them making out in the office. But hey, he could show up anywhere, because he's Ken Marino.
Here's hoping a possible Season 2 brings all these and more guest stars along for the ride!
Images:Neil Jacobs (2), Sonja Flemming, Cliff Lipson (2)/CBS; CBS