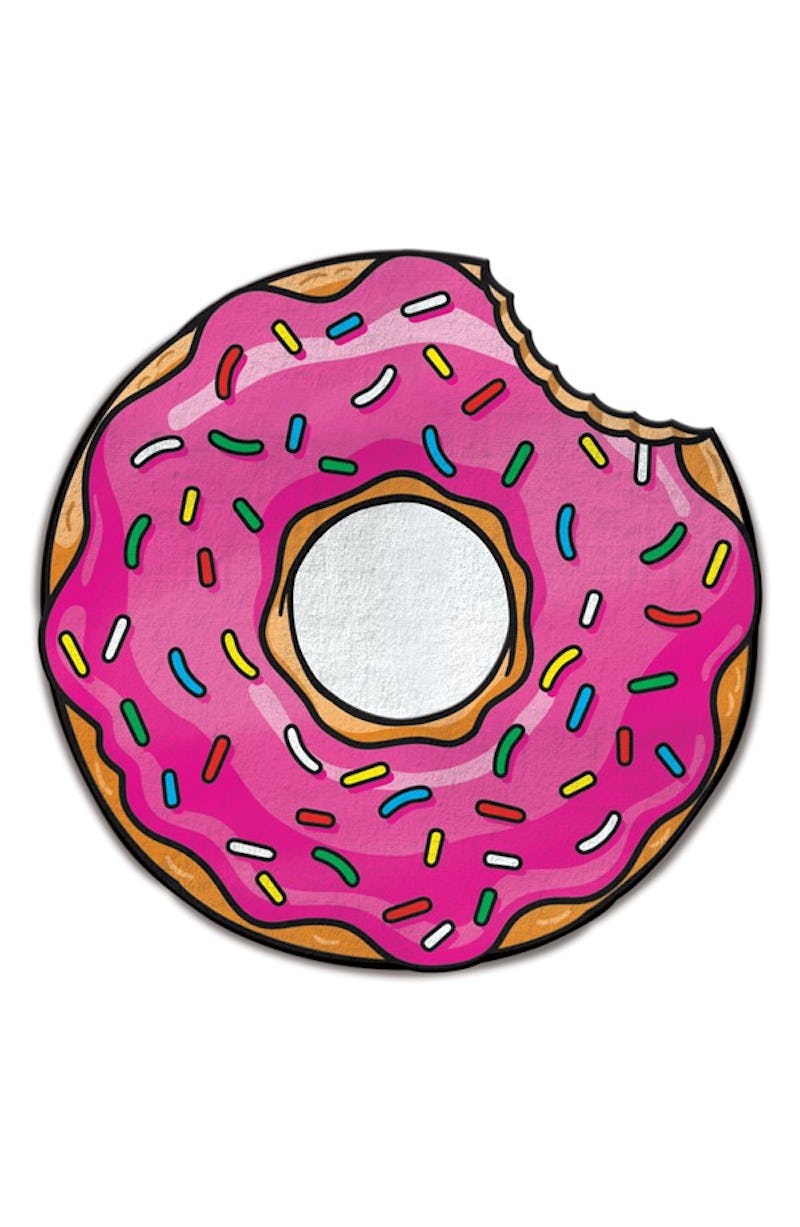 Memorial Day weekend is just two months away, and that marks the official kickoff of beach season. While you are probably prepping with some new swimwear, sunglasses, or sandals, you might want to consider adding another item to your list. I've rounded up some of the best and cutest beach towels to shop this season, and they will make your go-to basic towel seem totally lame.
I'm the first to admit I hate wasting money, and I'd much rather invest in a new swimsuit I can actually wear than something like a towel, but there are so many cute ones out there these days that won't break your bank (and will look a whole lot cooler than that old one you've been using for years). If your outfit, shoes, and accessories are on point, you might as well make sure your towel is too, right?
Since you're probably going to be using it a lot this summer, it's worth buying one that will last all season long and is actually cute. You don't have to go nuts with designer towels (I mean, you are using it to lay in the sand on, after all), but there are several affordable options, like these 15, that are practical but still cute.
1. Lobster
Mambo x Emma, $85, asos.com
You're at the beach, so you might as well go all out with the sea theme.
2. Chevron
South Beach, $34, asos.com
A chevron print is classic, and the light, beachy color is perfect for summer.
3. Round
South Beach, $43, asos.com
Switch up your beach towel game with a round towel.
4. Flamingo
South Beach, $43, asos.com
This whimsical towel is too stinkin' cute.
5. Red
Fieldcrest, $22.99, target.com
Make a statement with a bright red towel.
6. Pineapple
Evergreen Basics, $10.99, target.com
I dare anyone not to smile when they look at this towel.
7. Neon
Evergreen, $17.99, target.com
A black and pink neon towel adds a little edge.
8. Floral
Orange Floral Beach Towel, $10.99, target.com
This feminine towel just feels like summer.
9. Boho
Ellie Stripe, $39, urbanoutfitters.com
For a more boho feel, choose stripes and fringe.
10. Pastel
Lady Perfect Towel, $29, urbanoutfitters.com
Simple, soft, and chic.
11. Tropical
Palm Perfect Towel, $29, urbanoutfitters.com
Even if you're not in the tropics, you can pretend like you are.
12. Monogrammed
Cathy's Concepts; $38; nordstrom.com
No one will forget it's yours.
13. Donut
BigMouth Inc.; $24.99; nordstrom.com
This one would get all the likes on Insta.
14. Patterned
John Robshaw; $80; nordstrom.com
Everything is more fun with a bold pattern.
15. Tribal
Poler Stuff; $49.50; nordstrom.com
Make a statement with this bold printed towel.
Want more fashion and beauty tips? Check out the video below and subscribe to Bustle on YouTube!
Images: Nordstrom; ASOS; Urban Outfitters; Target