10 Bad Habits To Keep Out of the Bedroom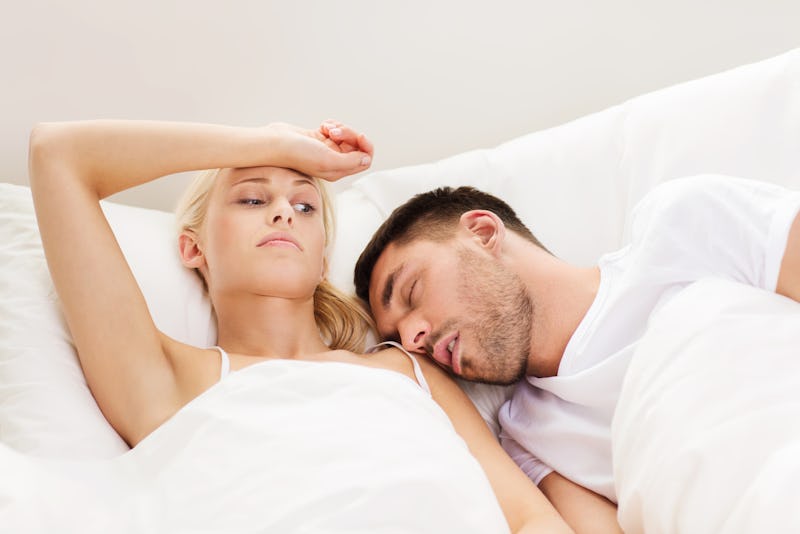 In the words of Mae West, "Good sex is like good bridge. If you don't have a good partner, you'd better have a good hand." All puns aside, sex is practically an ancient act — yet so many of us continue to exhibit some pretty bad bedroom habits. For one thing, some people still consider sex a power struggle, as if beating someone to an orgasm miraculously makes you some kind of Austin Powers. Another unfortunate habit is not wanting, or being unwilling, to talk about bedroom behaviors — because somehow, communicating what feels good and what doesn't still fits under the category of "taboo" for some people. This isn't Victorian England, people! Everyone's got needs, and science has since proven that sex on the stairs can not, in fact, affect what your future child looks like. Phew.
Despite these challenges, I want to applaud everyone who is open about their sexuality and sexual needs. If you aren't, perhaps it's something you should rethink: Specialists and experts can now pinpoint what we can all do to crush habits that are negatively affect our sex lives. To personally help you with any potential sexual struggles, here's a list of the most common tendencies that tend to limit pleasure and intimacy between couples — and what you can do to fix it.
1. Settling For An Imbalance In Satisfaction
K-Y Couples Lubricant , $19, Amazon
Sex should never be about only one person's pleasure — all partners are equally important. It's imperative that both partners get what they need out of the encounter. This K-Y couples lubricant is designed for couples, so that both partners can feel the most intense pleasure possible. One lubricant stimulates while the other warms, specifically targeting the more sensitive areas (like, your clitoris) — and when combined, they can enhance sensations you're already feeling. Reviewers said both partners felt incredible, and the combination of the two lubricants was "pure bliss."
2. Not Being Willing To Learn More — Or Teach Others
Paloqueth Rechargeable Vibrator , $34, Amazon
This rechargeable vibrator is a great option for experimenting because it's powerful, entirely waterproof, heated, and it can be charged with a USB. A toy like this can help you find your partner's most sensitive spots, as well as what movements feel the best for you. The dual motors thrust as well as vibrate, and because it stimulates the clitoris and the G-spot simultaneously, it's an awesome way to pinpoint your pleasure spots — in addition to teaching your partner a little something about them. While there's a misconception about toys being "intimidating," relationship expert April Masini says sex toys can create a more satisfying experience, as partners feel less pressured to perform everything themselves.
3. Compartmentalizing Your Life
Remote Control Vibrating Panties , $60, Amazon
These vibrating panties are a subtle, yet exciting way to drag your sex life out from the bedroom. They come in a set of three playful colors, and they have three vibration strengths that vibrate in ten different patterns. At 100 percent cotton, these panties are comfortable. The vibrations are quiet, so you can give the remote control to your partner and turn any night out or in into an exhilarating experience. After all, perpetually viewing things through the same old lens — be it a show on Netflix, or your love life — can create stagnancy and kill creativity. Why not head to a live comedy IRL — and bring your partner (and these panties) along for the ride?
4. Steering Clear Of Experimentation
Meili Bondage Restraints , $29, Amazon
When you and your partner know your turn-ons, the tendency is to stick with what's worked in the past, says Jane Seddon, author of Daily Sex. The solution? Experiment! These Meili bondage restraints are great for any beginner because they're safe, high quality, and a perfect way to add a little adventure to your routine. They're surprisingly comfortable, as they're made with padding and fur-like fabric in all the right places. Plus, they're adjustable, making them versatile: Try out a new angle, or switch up who gets restrained between you and your partner.
5. Keeping Quiet About What You Want
Dirty Talk , $11, Amazon
Madeleine M. Castellanos, MD, says couples often avoid being verbal about what they like because they worry they'll be criticized. Dirty Talk is a book written by a psychological professional that teaches both men and woman how to adequately (and confidently) express themselves in bed. In addition to the psychological explanation behind why dirty talk excites people, it offers how-tos to help you speak up. Reviewers say it's a great resource for anyone looking to break out of their shell.
6. Never Considering A Different Position
Liberator Heart Wedge Pillow , $60, Amazon
A lot can be learned from being open to new outlooks and positions in general, and sex expert Vanessa Marin says different positions in bed make all the difference between a mediocre sex life and an incredible one. This heart wedge pillow helps you reach new and extremely pleasurable angles with minimal effort. It's firm, yet comfortable, and because it's lined with a soft velvety material that zips off, it's easy to throw in the washing machine. The best part? It's decorative enough that you can leave it on your bed, and unsuspecting eyes will ever know.
7. Being Self-Conscious
Avidlove Lace Babydoll Dress (Sizes XS-XXL) , $12-$15, Amazon
Society can have unattainable standards of beauty, and porn also creates unrealistic expectations. That's why it's easy for individuals to be subconscious of their bodies, Castellanos says. One of the sexiest things you can do, though, is embrace your body and your sexuality — and flaunt it! This Avidlove babydoll dress is a best-selling lingerie set, probably because its ornate lace pattern is seductive and enticing. It comes in a choice of four colors, and because it's soft and crotchless, reviewers say it brings a new level of excitement and confidence to the bedroom every time they wear it.
8. Stressing Too Much
50 Shades Scented Candles , $30, Amazon
If you're constantly worrying about work and responsibilities, or even sex itself, the hormones that turn you on in the first place get all disrupted. These candles set the mood with a relaxing glow and enticing scents like 'leather,' 'jasmine' 'bubbles,' and 'vanilla sex.' They're made with natural soy and cotton wicks, and reviewers say that they smell incredible, plus they're super low maintenance — making them the perfect thing to clear your mind and get things started (wink, wink).
9. Getting Distracted Too Easily
Alaska Bear Blindfold, $10, Amazon
Pepper Schwartz, PhD, says, "It's important to set a scene that's non-interruptive." If you're letting your mind wander, it takes away from the entire experience. Also, your partner can probably sense your distraction. A great way to focus on the moment? Wear a blindfold. This Alaska soft blindfold might be marketed for sleepers, but with natural mulberry silk that's smooth and breathable, and a no-tangle adjustable band, it's perfect for bedroom play, too. Reviewers say they forget they're even wearing it because there's no pressure on the nose or face. Perfect for taking things to the next level, this blindfold stifles one of your most powerful senses, creating an atmosphere of trust — which can lead to increased intimacy.
10. Forgetting About the Details
Strip & Tease , $23, Amazon
The big picture's important, but don't forget that being detail-oriented can better prepare you for the main event. According to a recent study, foreplay prepares the mind for sex by releasing oxytocin, which reduces the stress hormone cortisol. And if you're skipping foreplay, odds are your orgasms are less intense, your sex is less comfortable, and your mind is less relaxed. This Strip & Tease deck turns foreplay into a fun game to totally distract you from anything outside of the bedroom. This game gives the classics like rummy, poker, and blackjack a sexy twist — clothes come off, sexual favors ensue, and foreplay becomes something you'll regularly look forward to. Sometimes, taking your time is absolutely worth the extra effort.
Bustle may receive a portion of sales from products purchased from this article, which was created independently from Bustle's editorial and sales departments.
Images: Fotolia (1); Amazon (10)