How These Prom Dresses Are Promoting Safe Sex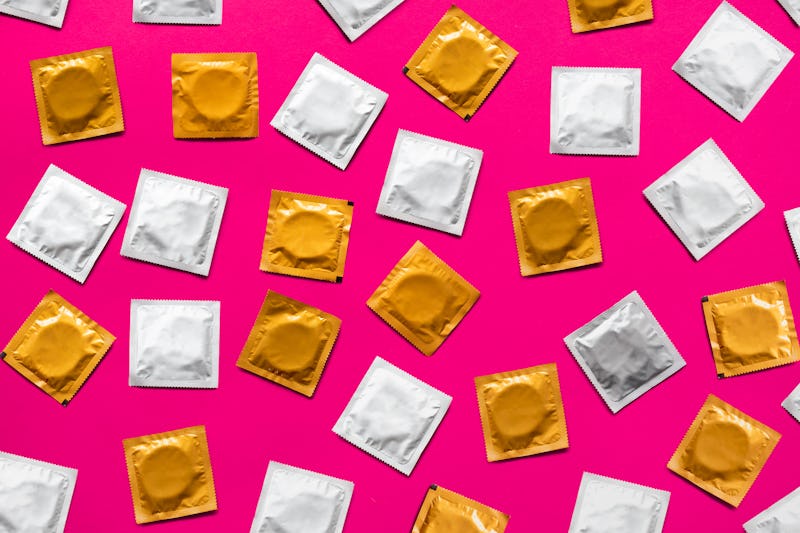 Oleksiy Boyko / EyeEm/EyeEm/Getty Images
Every year, we see new trends in prom dresses, ranging from cut outs to lace to prints, but an STD prevention program is aiming to add something else to prom night: Prophylactics. In Omaha, teens and parents shopping for formal wear can check out prom dresses made of condoms. They're intended to jump start conversations between teens and adults about the importance of safe sex and condom use. It's just a bonus that the dresses themselves are actually kind of great — colorful and unexpectedly pretty, despite (or perhaps because of?) their unusual materials.
The dresses are part of a public awareness campaign by the Adolescent Health Project and the Women's Fund of Omaha. According to Omaha news channel WOWT, the condom dresses will be on display in two shops, with a new dress debuting every week. The rubbery dresses bear price tags with a message for teens: "Being safe is always in style. Avoid sexually transmitted diseases and unintended pregnancies."
Safe sex is an important issue for teens and young adults in Omaha and nationwide. The Centers for Disease Control and Prevention (CDC) estimate that half of new STD infections occur in people between the ages of 15 and 24, and that a quarter of sexually active adolescent women have an STD. In Douglas County, Nebraska, where Omaha is the largest city, STD rates are higher than the national average.
Gary Mueller, Creative Director of SERVE, a non-profit advertising agency involved in the condom dress campaign, told WOWT, "This is a great opportunity for us to reach teens and their parents in an unexpected way before prom, and get the message out to think twice before having unprotected sex, because it can lead to multiple health risks or even a baby."
Get Checked Omaha has free condoms available in locations all over Omaha, as well as info about where to get free or low-cost STD testing. If you're looking for STD testing outside of the Omaha area, check out this handy STD testing directory from the CDC.
Images: Oleksiy Boyko / EyeEm/EyeEm/Getty Images; Get Checked Omaha/Facebook (3)