The One Jacket You Need This Spring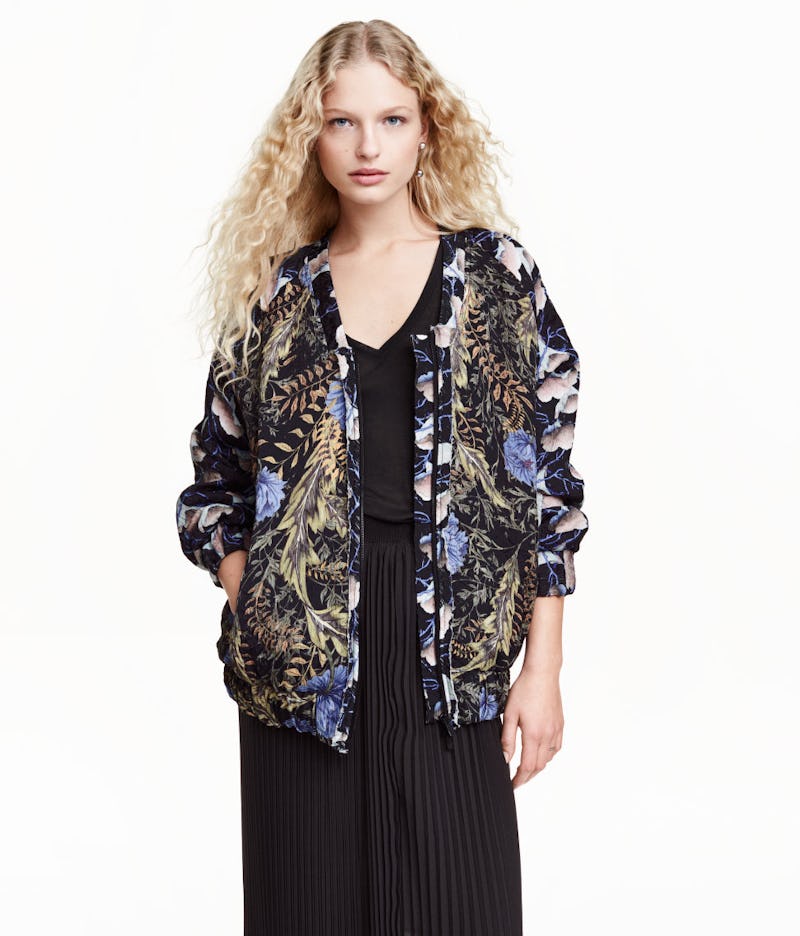 When the weather gets warmer, the last thing that anyone usually wants to think about is wearing a jacket. In fact, we tend to shed our outer layers a little prematurely — but that's probably just because we don't have one amazing, springtime jacket to grab and easily toss over any look we've got going on. Until now, that is.
For those of you who want to put a stop to shivering past 6 p.m. on chilly spring nights, I present to you: The bomber jacket.
The bomber jacket is the one jacket you need for the season, because it comes in a variety of styles, cuts, and materials. Find one in jersey and you've got yourself the perfect outer layer for your athleisure gear. Get a delicate version in crepe, and throw it over your office look without having to worry about working up a sweat during a sunny lunch break. Or, find a statement bomber to bring any of your nighttime outfits to the next level. No matter what kind of spring look you're going for, there's a bomber jacket just waiting for you to throw on over it. It's the perfect way to stay comfortable. Not to mention look pretty damn cool, all spring long.
1. Springtime Stripes
Striped Bomber Jacket, $90, Lane Bryant
This unconventional monochrome print would look great with all-black, or thrown over a bright, contrasting outfit.
2. Chic Leather
Leather Pilot Jacket, $149, H&M
I wear my leather bomber until summer, and if you want to make any old outfit look like you intentionally styled yourself up for the day, I suggest you do, too.
3. Acid Washed
ASOS Bomber Jacket in Washed Denim, $93, ASOS
Edgy and easy to wear, this youthful jacket would look great on you during long, boozy Saturday brunches.
4. Statement Embroidery
Two-In-One Reversible Sateen Bomber Jacket, $30, T op Shop
For those of you who have a real commitment to the sporty bomber look. Bonus: It's reversible!
5. Whimsical Prints
Oscar Retro Bomber Jacket, $300, Nasty Gal
Because how cute are those teeny-tiny cacti?
6. Office Casual
Eloise Crepe Bomber, $26, B oo Hoo
This is a stripped down bomber look in a breezy fabric, and it's just professional enough to amp up any office attire you've got going on.
7. Casual Mesh
ASOS Bomber Jacket in Mesh, $47, ASOS
It's the perfect bomber jacket for those who don't want to fully commit to actually wearing a bomber jacket.
8. Quilted Military
Quilted MA1 Bomber Jacket, $100, Top Shop
Classic, quilted, and cozy enough to keep you warm when the spring temperatures drop unexpectedly — because you know they always do.
9. Luxe Fringe
Can't Quilt You Bomber Jacket, $98, Nasty Gal
Fringe, we just don't know how to quit you.
10. Longline Cool
Amber MA1 Longline Bomber, $44, B oo Hoo
A bomber look with a little more coverage would be perfect for tossing over those leggings that you know are see-through but love anyways.
11. Springtime Sweetness
Faux Suede Bomber Jacket, $38, Forever21
The bomber for the girliest girl you know.
12. Classically Casual
ASOS Curve Ultimate Bomber Jacket, $37, ASOS
There's nothing you can really argue about this simple black jersey bomber. It will basically go with everything.
13. Bright White
So Bomber Jacket, $68, Nasty Gal
The bomber for women who don't take public transportation and prefer white wine over red.
14. Cardigan Inspired
Loris Varsity MA1 Bomber, $21, Boo Hoo
This bomber is great because it can be worn like a cozy cardigan without sacrificing the edgy aesthetic of the original silhouette. The contrasting cuffs and collar ain't bad, either.
15. Animal Instinct
Luxe Faux Leopard Fur Bomber, $35, Forever21
Because try as you might, you can never convince yourself that you have enough leopard.
16. Minimal Chic
Ponte Bomber Jacket in Grey Marl, $16, M issGuided
Here the classic bomber is deconstructed for a more minimal aesthetic, and I'm not mad at it at all.
17. The Golden Ticket
Contrast Rib Satin Bomber Jacket, $34, missguided
The website describes it as khaki, but with that sheen I'm thinking this is the golden coat of your dreams.
18. Wild Prints
Patterned Pilot Jacket, $15, H&M
Because if you're going to wear a trend, go big or go home.
19. Dusty Pink
Satin Bomber Jacket, $95, topshop.com
This is like your favorite nude lipstick in jacket form.
20. Simple Scuba
Scuba Knit Bomber Jacket, $38, Forever21
Menswear-inspired and made in a warm scuba material.
21. Pink Lady
Plus Size Lucy MA1 Bomber Jacket, $35, BooHoo
Perfect for the person who always wanted to hang with Rizzo from Grease.
22. Longline Leisure
Boohoo Plus Longline Bomber Jacket, $68, Boohoo
Another oversized, comfy, utilitarian look of your dreams.
23. Nude Silk
Plus Size Silk Finish Bomber Jacket, $34, MissGuided
A perfect topper for a monochrome outfit — and it would look luxe with all-white, too.
24. Slick Satin
Satin Pilot Jacket, $60, H&M
There's something super sexy about this look, all the while being painfully casual. In other words, I'll take three.
25. Athleisure Aesthetics
Puma Bomber Sweater, $75, ASOS
This Puma bomber is perfect for the gym... and and brunch, and work, and basically anywhere else you go in a given day.
26. Contrast Sleeves
Ray Bomber Jacket, $69, Nasty Gal
Sometimes I think that contrast sleeves have already had their moment, but jackets like these make me think again.
27. Dramatic Florals
Jacquard Weave Pilot Jacket, $70, H&M
Finally: A floral so dramatic that it could only be worn by an epic human being such as yourself.
The bomber is a great way to take your wardrobe into the warmer months, as it's cool enough to wear during warm days and warm enough to wear during cool nights. That combined with a classic silhouette means you can't go wrong, so choose your bomber wisely. Or, you know, buy them all.
Want more fashion and beauty? Check out the playlist below, and be sure to subscribe to Bustle's YouTube page for more hacks and tricks!
Images: Courtesy Brands