9 Easy Hairstyles That Make Thin Hair Look Full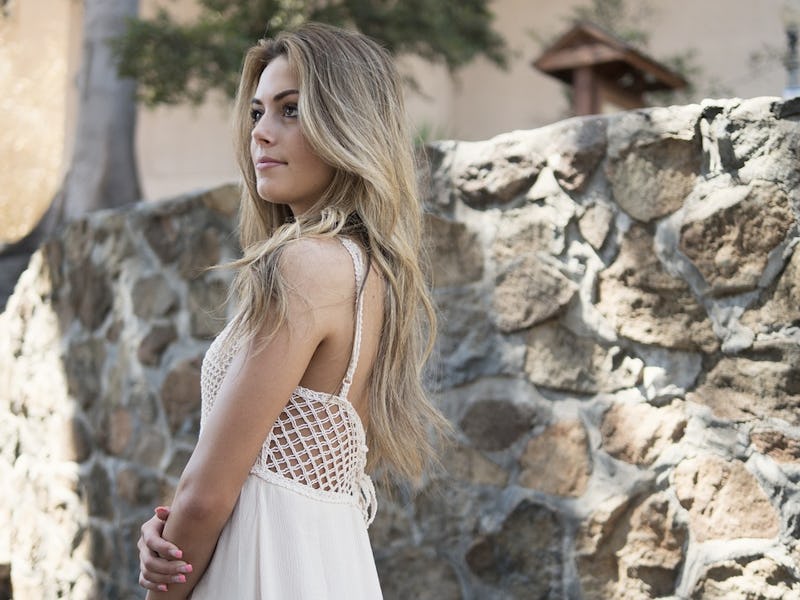 Thin hair doesn't have to be boring. In fact, there are several hairstyles that will instantly make your thin hair look fuller. It's all about simple styling tricks that will take your hair from limp and lazy to full and flirtatious in just a matter of minutes. The best part? Anyone can do them. You don't have to be a hair styling master to pull off any of these looks. All you may need is a teasing comb and few bobby pins to recreate most of these gorgeous styles.
If you're looking to boost your strands instantly, BuzzFeed suggested to start by changing your part. This will instantly plump up the look of your strands as it goes against the grain of what your hair is use to doing. In just a simple flip, you can transform your look. Another great way to enhance your thin strands is to invest in velcro rollers. These are amazing at creating volume at the root, and giving you an effortless looking hairstyle. Think beach babe, but better. It's a dream come true for those of us with thinner locks. Wondering how else you fake fuller looking strands? Here are nine easy-to-do hairstyles that make thin hair look full.
1. Bouncy Ponytail
Typically, ponytails can exaggerate the look of thin hair. However, with the right amount of teasing and pulling even the finest of hair can look thick and luscious in this hairstyle.
Try: Cricket Amped Up Tease Brush, $ 5.99, Amazon; Aussie Sprunch Hair Mouse + Leave-In Conditioner, $9, Amazon
2. Milkmaid Updo
Fake your way to fuller looking hair by creating this gorgeous updo with milkmaid braids. If you want even more texture and volume, tease your hair before braiding to pump up the height of the hair.
Try: Amika Un.Done Texture Spray, $27.50, Amazon
3. Messy Bun
Like ponytails, messy buns can be tricky to pull off with thinner hair. However, the beauty world has your back, ladies. Simply grab a rat-tail comb to tease, or even use a sock to plump up your strands.
Try: blowpro Faux Dry Shampoo, $20, Amazon
4. Braided Crown
Because every woman deserves a crown, obviously.
Try: Gold N Hot Crimping Iron, $28, Amazon
5. Twisted Updo
Grab a sock, ladies. It's about to get real.
6. Big Curls
Get Beyoncé-level hair with this easy-to-follow hair tutorial.
Try: Sebastian Shaper Hairspray, $13, Amazon; Conair Ceramic Curling Iron, $15.99, Amazon
7. Natural Perfection
If you're natural hair is looking less than stellar, turn up the volume by simply using a blowdryer. It's that easy.
Try: Conair 1875 Watt Ceramic Hair Dryer, $28, Amazon
8. Braided Side Part
Here's a style that is perfect for anyone in a time crunch. It seriously takes less than five minutes to do.
Try: Sexy Hair Volumizing and Texturizing Powder, $10, Amazon
9. Fresh Spiral Updo
Take your thin, curly strands to the next level with this flirty updo.
See? You don't have to live your life with boring, flat hair. Pump up the volume with any of these easy-to-do hairstyles.
Images: Pixabay (1)