9 Ways to Make Your Workplace Feel Less Toxic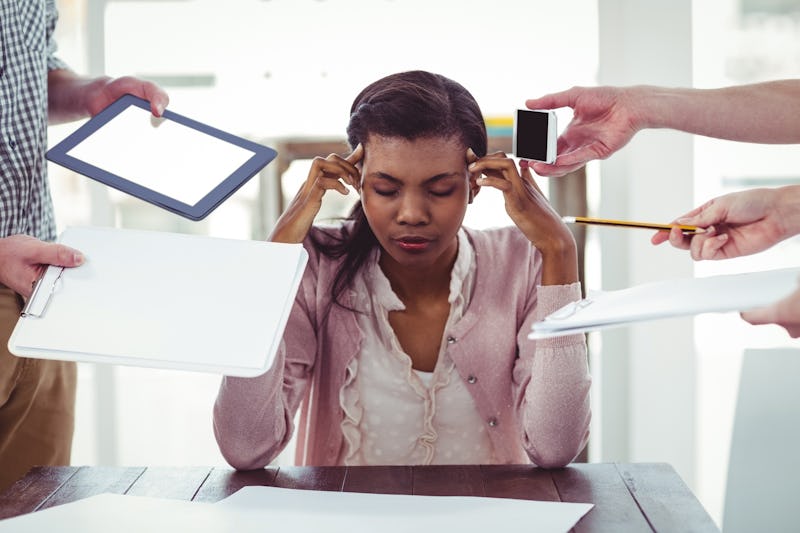 While we all like to think that our work doesn't define us, most people spend more time at work than they do socializing, or relaxing at home. For that reason (and others), I wouldn't wish a toxic workplace on my worst enemy — although, come to think of it, my worst enemies have tended to be toxic people in the workplace to begin with. Returning day in and day out to a place where people are immature, moody, and cliquey is an exhausting business. Worst of all, sometimes it's the boss — the same person who's specifically hired to make things go as smoothly as possible — who's creating the stress, implementing unrealistic standards, and playing favorites around the office. Then, after a stressful day, there comes the cherry on top of a fantastic day: The commute home.
Although it seems like something you'll never be able to escape, fortunately, our involvement in things like workplace drama really is voluntary. It is possible to hollow out a safe space at work, where no one is able to rattle you — a haven where you can go, get your work done, and get out without bringing anyone else's baggage home. With a few select habit changes and tools, you can turn your desk (or kitchen, register, wherever you operate from) into a place of productivity and optimism — despite all the delegations, complaining, stress, and gossip that's going on around you.
1. Learn How To Work With Toxic People
Toxic Workplace , $21, Amazon
If you've got a particularly social job where it's tough to block out negativity, the Toxic Workplace book could help make a big difference. Written by Dr. Mitch Kusy, a Registered Organization Development Consultant, the book educates you how to identify and successfully work alongside even the most toxic personalities, as well as how to stand up for yourself and rewrite your environment. Readers (and workers) everywhere are thanking Kusy for preserving their sanity, and commenters say that you'll never look at your coworkers the same way again.
2. Combat Work-Related Depression With Nature
Back To Roots Water Garden, $53, Amazon
A recent study found that being in nature alleviates symptoms of depression. Unfortunately, some people arrive at work before the sun rises, and get home after it's dark — leaving little time to spend outside. Fortunately, this water garden brings nature straight to your desk. This tank is its own little ecosystem: The plants feed the fish, and the waste feeds the plants. And because it's self-cleaning and quiet, once the plants are sprouting and a fishy friend is purchased (separately), you don't have to do anything but enjoy your own personal — and sustainable! — chunk of nature.
3. Carry Relaxation With You Everywhere
Eden's Garden Stress Relief, $5, Amazon; Essential Oils Diffuser Locket, $15, Amazon
If you're constantly moving throughout your work day, this essential oil diffusing locket allows you to take a relaxing scent with you wherever you go! This locket is equipped with absorbent felt pads that soak up essential oils, then slowly release them — creating a private aromatherapy experience just for you. The locket, which comes with a 30-inch chain and is meant to be worn like a necklace, is a perfect vessel for Eden's Garden stress-release oil, which is a high-quality blend of bergamot, patchouli, blood orange, ylang ylang, and grapefruit essential oils that are credited with stress-relieving and calming effects.
4. Modify Your Own Behavior
Don't Sweat The Small Stuff At Work , $12, Amazon
From the author of the national best-selling series, Don't Sweat The Small Stuff, comes this awesome book, Don't Sweat The Small Stuff At Work . Author Richard Carlson offers insightful tips and tricks to overcome work-related stresses by modifying the only thing that's actually within your control — your own behavior. Reviewers say it's unbelievably easy to read, and that it really helped them to let things go — from perfectionist habits to unpleasant encounters with bosses — so that they could again find their own peace and happiness at work.
5. Clean Your Deskspace
Mushroom Portable Desk Cleaner, $10, Amazon
An online survey conducted by The Huffington Post found that one of Americans' top five stressors is worrying that their space isn't clean enough. In fact, without even realizing it, your dirty and cluttered surroundings could very well be contributing to the anxieties you feel every day at work. This portable desk cleaner makes it easy to quickly clean up any dust, crumbs, eraser shavings, or lint on your desk or keyboard. Because it's small, wireless, and battery operated, this gadget is a great solution for any small work mess (not to mention it's pretty darn adorable, too).
6. Do A Quick Meditation To Process Emotions Better
"Guided Meditations For A Peaceful Heart," $7, Amazon
It might seem counterintuitive to stop and meditate when you're up to your ears in to-dos, but it's been proven that meditation restructures your brain — making it more efficient and better able to process emotions. The "Guided Meditations For A Peaceful Heart" MP3 album comes with seven different meditations that are short, sweet, and oh-so therapeutic. Short on time? There's a four-minute gratitude-themed option. But if you're looking for something a little longer, there's a 14-minute meditation that people are absolutely raving over for its calming music and gentle instruction that guide you into a stress-free state of mind.
7. Block Out Negativity With Headphones Great for Exercising, Too
Atill Bluetooth Noise-Canceling Headphones, $17, Amazon
Even if you're really good at tuning things out, everything you hear enters your subconscious brain. If what you're hearing is loads of gossip and complaining all day, it might take a toll on you. These bluetooth noise-canceling headphones deliver a high-quality stream of anything you want to listen to (whether it's music, a podcast, or meditation) with an impressive wireless range that connects to any and all of your devices. Because they're small and subtle, you can wear them without drawing any unwanted attention. They also come with a built-in microphone for calls, and they're sweat-proof so you can wear them when you workout, too.
8. Focus On Your Accomplishments
Panda Planner, $25, Amazon
This isn't your average planner. Instead of being a place to record meetings and dates, the Panda Planner provides prompts for you to answer. For example, it will ask you to write down things you're grateful for, daily goals, strategic focuses, positive affirmations, and even how your day went. It's an incredible tool to have when you're working a job that doesn't seem to appreciate all of your efforts and you need a visual reminder of how much you're actually accomplishing on a daily basis. The Panda Planner has enough pages to last up to 100 days, and because it's durable and hardcover, it can survive even the roughest commutes.
9. Squeeze Away Stress
Therapeutic Scented Stress Ball, $11, Amazon
I know a waitress who kept one of these in her servers' apron and used it as an alternative to more damaging stress relievers (like pulling out her own hair). This therapeutic stress ball releases a soothing jasmine scent into the air every time you squeeze it, and because it's made of a durable gel core, it's both satisfying and capable of withstanding any amount of coworker-induced rage. Reviewers say they went from being skeptical about stress balls to total fans shortly after receiving this little gem, and that's all because it genuinely helps them feel calmer and more relaxed with every squeeze.
Bustle may receive a portion of sales from products purchased from this article, which was created independently from Bustle's editorial and sales departments.
Images: Fotolia (1); Amazon (9)