Twitter Reacts to 'Walking Dead' Premiere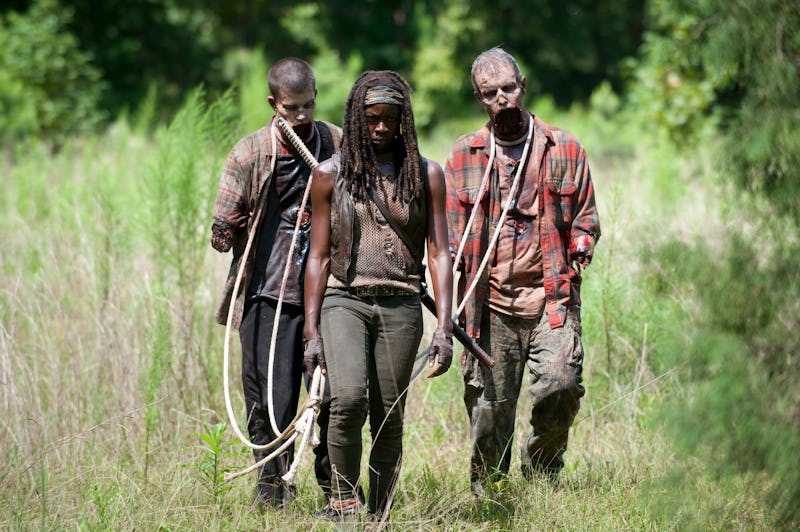 SPOILER ALERT: The Walking Dead returned for the second half of the fourth season on Sunday night. While some fans were let down by the show continuing on it's less-than-thrilling but always-anticipating-death streak, others were happy that the mid-season premiere picked right back up after the battle between The Governor's crew and Team Rick ended. Even so, more were ecstatic at Carl Grimes finally turning into a man by standing up for himself — and also eating a 112-ounce can of chocolate pudding.
The Walking Dead's creator and executive producer Robert Kirkman spoke about new plot twists and how the rest of this season will progress to Wired.
I think The Walking Dead show is a very cool adaptation, because people who have read the comic never really can guess what's going to come, Kirkman says.The mid-season premiere is very close to the comic. There are always going to be those key moments from the comics series that I feel make The Walking Dead [be] The Walking Dead, and you wouldn't have the same story without them. But I love the fact that those events always come when you least expect it, that we kind of meander and then suddenly you're thrown back on the path to the comic book. We'll continue that throughout the series, and definitely in this back half of Season 4.
So what did Twitter think?
Comments ranged from the interesting:
To the happy:
To the meh:
To the PUDDING:
Image: Gene Page/AMC