9 Weird Hair Hacks Every Lazy Girl Should Know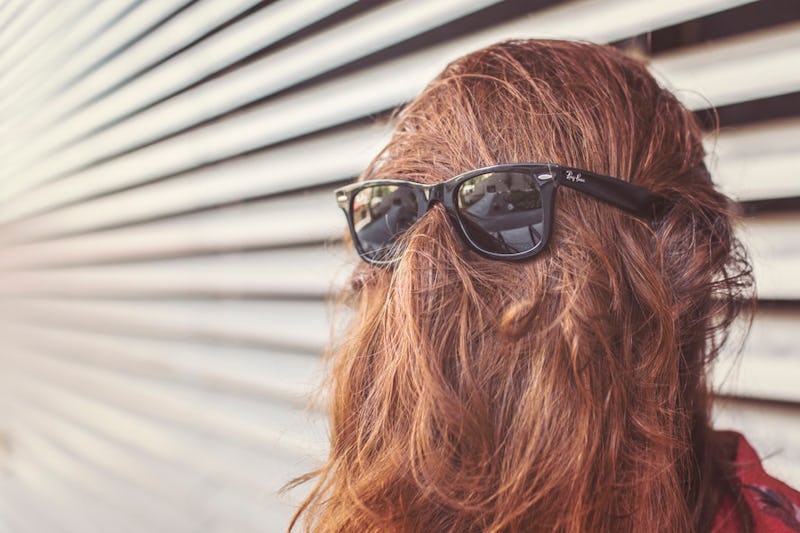 The internet can be weird. From funny cat videos to strangely entertaining listicles that somehow directly relate to your life, it's easy to find yourself sucked into the latest viral GIF or social media trend. When it comes to weird hair hacks that often pop up on Youtube or blogposts, too, all of it can often seem pretty left field. (I mean, if a beauty blogger tells you to dump Coca-Cola all over your head to add texture, does that mean you should just do it?)
Despite the fact that some hair tips are off the beaten path of traditional beauty products, there are many unconventional hair tips and tricks that actually work wonders for boosting shine, creating thickness, and giving hair soft and smooth texture. Your friends will be shocked to find out, for example, that your hair is so shiny from using shampoo that's infused with organic vegan beer. And if they're all combatting really annoying hat hair (while your beanie left your hair frizz-free), they'll finally understand why you insisted on bringing organic dryer sheets along with you to that outdoor music festival. So, unbelievers, read on — and be converted to the life of weird hair hacks. Warning: You may never go back to your trusted products again.
It's OK To Put Gelatin In A Thickening Shampoo — Your Hair Will Be Full Of Body & Bounce
Paul Mitchell Thickening Shampoo, Lemon Sage, $17, Amazon; Zint Pure Protein Gelatin, $18, Amazon
Adding gelatin to a shampoo infused with thickening agents will boost your hair's volume and add insane body. On its own, this thickening shampoo's natural extracts of lemon, sage, peppermint, and tea tree will rev your senses, while its thickening agents seal split ends. Once you add gelatin, you'll only enhance those effects. Pro Tip: You only need about 2 tsp. of unflavored gelatin to get the awesome volumizing results you want.
Spraying Non-Sticky Hairspray On Soft Bristle Toothbrush Tames Fly-Aways
Schwarzkopf OSiS+ Hairspray , $12, Amazon; Radius Totz Toothbrush, $11, Amazon
As long as you don't accidentally mix your hair tool toothbrush with your in-the-mouth toothbrush, this will be a fool-proof way for you to finally control frustrating baby hairs and cowlicks. The gentle and tiny bristles on this meant-for-tots brush will take the humidity-fighting, extreme-hold hairspray and apply it directly to the hairs that never seem to stay. This spray dries quickly and won't leave your hair feeling gross and sticky — so you'll never have to worry about one strand throwing off your day again. One user calls this hairspray the best she's ever used for keeping her hair looking good, even in the windiest cities. And because the toothbrushes come in threes, you get two extra glitter ones for travel. Score!
Intense Conditioning Hair Post-Shower/Pre-Swim Fights Off Chlorine Damage
It may seem bizarre but hear me out — the next time you're going for a dip in the pool, take a shower first. Run an intensely moisturizing conditioner through your hair, and leave it in when you step out of the shower. When you dive into chlorine water, your hair won't soak it in. Instead, it will be soaking in the moisture from the softening conditioner that has users praising its healthy hair effects.
Silk Pillowcases Protecting Hair From Breakage Is Not A Myth
You may have heard that tension created by your pillowcase is causing you to wake up with damaged hair, and it's true! Fret not, though: Silk pillowcases can save hair, making it soft and manageable come your a.m. alarm sound. As strands slide over the soft and silky fibers on this hypoallergenic, 100 percent mulberry silk pillow, it will keep hair hydrated and smooth.
Your Favorite Toast Topping Actually Deep Conditions Hair
Earth Science Olive & Avocado Deep Conditioning Hair Masque, $10, Amazon
A lot of people, including myself, are huge fans of avocados in our guac or on our toast — but not so much in our hair. If you'd rather not craft the DIY avocado mask yourself, this fragrant, olive and avocado hair mask will nourish your dry or damaged hair and restore smoothness. The best part about this deep conditioning mask is that your hair will be tangle-free, and it won't feel weighed down.
It's True — Adding All-Natural Dish Soap To Shampoo Does Remove Unwanted Hair Color
Biokleen Natural Dish Liquid, Citrus Essence, $6, Amazon
Whether you're bored with your recent hair color or unhappy with the results — sometimes ditching a certain shade is necessary. To avoid a costly or far-away salon appointment, just add a drop of dish liquid to your shampoo. You could be able to lighten your hair up to two or three shades from the new color. This all-natural, citrus-scented soap is the one to do it with because it has soothing aloe extract and plant based surfactants, so it won't damage your hair. Bonus: It also has no artificial fragrance, colors, or preservatives.
Brunettes Can Mix A DIY Dry Shampoo Using Arrowroot & Cocoa Powder
Healthworks Raw Certified Organic Cacao Powder, $10, Amazon
When you're between washes and your hair needs to be refreshed on the fly, whisk together some arrowroot powder and cocoa powder for a quick and easy DIY dry shampoo that can be swirled onto roots with an old makeup brush. This raw cocoa powder is cold pressed and turned into a fine powder, which won't be visible when you brush your dry shampoo onto your hair. The rich and natural fragrant scent will smell amazing — and you'll be glad you went the extra mile to mix your own!
Beer-Infused Shampoo Actually Adds Volume & Shine To Fluffy Hair
Having beer in your hair may sound like a Saturday night gone wrong, but it's actually a way to tame dryness or frizziness. If you're not ready to go full-on brew in the shower — this cruelty-free shampoo is a great way to get the same benefits in way that feels a little bit more sane. This shampoo contains an organic vegan stout beer and has proteins that make your hair look glossy and feel smooth. Bonus: It smells like a brandy, stout, and lemon cocktail, (aka: a good night out).
Rubbing Aromatherapeutic Dryer Sheets On Hair Really Is Great for Getting Rid Of Static
You may look ridiculous rubbing dryer sheets down your hair, but let's be real, nobody needs to see you doing it (and if it works, who cares?). These all-natural dryer sheets contain essential oils that won't harm your hair as you eliminate pesky static from messing with your look. These sheets will also leave a refreshing and light citrus scent lingering on your hair all day long — and yes, it's totally okay to tell people it's just the scent of your new shampoo.
Bustle may receive a portion of sales from products purchased from this article, which was created independently from Bustle's editorial and sales departments.
Images: Pexels (1); Amazon (11)