'Sharknado 4' Might Be Taking On 'Star Wars'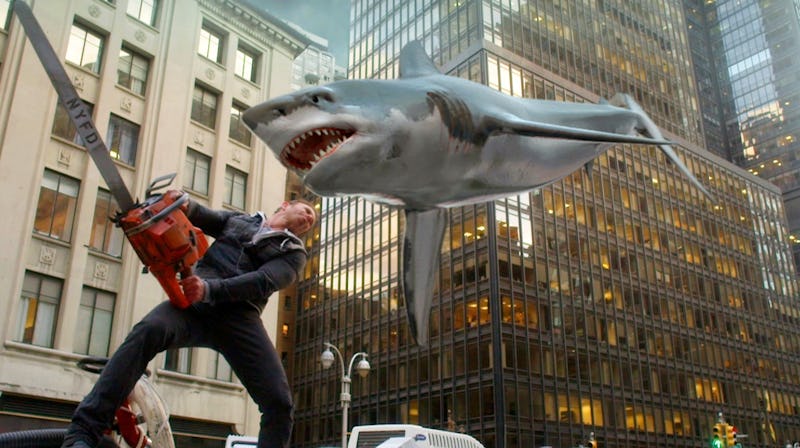 The Sharknado franchise is the gift that keeps on giving. The first installment premiered on the Syfy channel in 2013 and was met, strangely enough, with rave reviews. And it hasn't slowed down since. There have been two other films released in the years since, Sharknado 2: The Second One and Sharknado 3: Oh Hell No!, and, now, they are back with a fourth installment. Syfy has announced that Sharknado: The 4th Awakens will be released on July 31. If that name seems to be giving you déjà vu, don't worry. You're not the only one. It's obviously a reference to last year's biggest film, Star Wars: The Force Awakens.
Hopefully, the similarities among the two films will end at the titles. Not that it wouldn't be great to see some hilarious references to Star Wars, but a galaxy far, far away and sharks don't really have much to do with each other. Then again, we are talking about the Sharknado franchise here. Parody is the name of the game. The greatest part about these films is that they don't take themselves too seriously. It's all in good fun, so maybe a few references to the beloved Star Wars characters will only add to the hilarity.
If you haven't seen these films, then you are really missing out on some of the best straight to TV movies of this generation. Something about watching mankind fight to rescue this world from the likes of a shark tornado is just terribly amazing. Also, since the title leaves a lot to be desired in the parody department, you can of course expect some hilarious references. Here's to hoping that the sharks learn how to speak in this one, and someone finds out who their father is — but only if that person's name is Luke.
Regardless of whether or not there will be any Star Wars references — even though there should be — there will be some familiar faces in the film again. David Hasselhoff is returning, alongside Tara Reid who will reprise her role as April to end the #AprilLives or #AprilDies social media craze. Also, Cody Linley, who played Jake Ryan on Hannah Montana, will star as well. So, get ready, because the world will once again need to be rescued from shark attacks when The 4th Awakens.
Images: SyFy; Giphy