Kenzo Makes A 'Jungle Book' Inspired Collection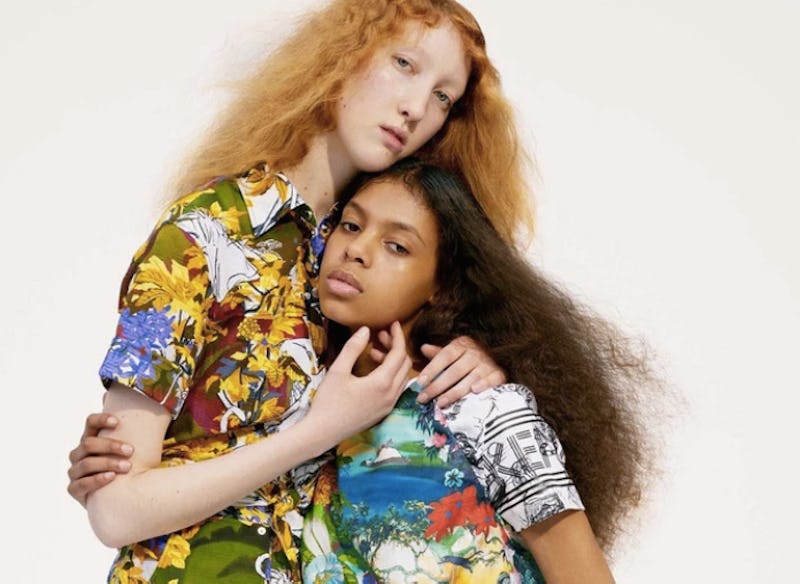 If you have ever loved a movie so much that you wanted images from it all over your body, you're now in luck. With its upcoming April 15 premiere, a Jungle Book fashion collection between Kenzo and Disney is now a reality, according to Mashable. The all-star cast includes Lupita Nyong'o, Scarlett Johansson, and Idris Elba among others — and now you can show up to the movie not only with a huge bucket of popcorn, but a chic salute to the favorite childhood classic.
Kenzo created skirts, shorts, tops, and shirt dresses decorated with a collages of jungle scenery and sketches of the original characters, like King Louie, Mowgli, and Baloo. Not only that but, as The Daily Times reported, "Even Kenzo's signature tiger sweatshirts and T-shirts have gotten the Jungle Book treatment, with Sher Khan replacing the brand's emblem." Now that is pretty adorable.
While you might think that decking yourself out in head-to-toe Disney prints might feel a little gimmicky or third grade-esque, the line is incredibly tasteful and chic, looking more like a print-heavy summer wardrobe than a Disney-inspired frock or playsuit. That was apparently Kenzo's goal.
The Daily Times reported that Kenzo designers Carol Lim and Humberto Leon said in a joint statement, "There is a slight nod to jungle/safari elements. Everything has been executed in a way that feels elevated and modern, which has been the collective goal of Disney and Kenzo from the very beginning of this collaboration."
So when can you get these pieces into your closet? Mashable reported that the line becomes available at Bergdorf Goodman starting April 8 and at Kenzo.com starting April 7.
But in the meantime, let's window shop a few of the pieces below.
1. The Shere Khan Shirt Dress
How fabulous does the black and white motif look layered with a jungle-printed top? Just the right amount of dizzy.
2. Collage Shirt Dresses
Decorated with a patchwork of scenes from the original Jungle Book, this dress is a beautiful homage to the beloved children's tale.
3. Sketches On Top Of Collages
Having black and white sketches matched with colorful, saturated prints makes for a fun contrast that's equal parts eye-popping and nostalgic.
4. Modern Silhouettes
Kenzo kept the collaboration feeling modern by pairing the Disney scenes with fresh and playful silhouettes, like this drop waist tent dress.
5. Psychedellic Prints
You'd barely be able to tell this was a Jungle Book nod if it wasn't for Mowgli on the breast pocket. But that's part of the reason why it doesn't feel so gimmicky.
6. Logos Re-Imagined
Kenzo's customary tiger logo got a playful redesign in the form of Shere Khan, which is equal parts cheeky and hilarious.
7. Quieter Prints
If you don't necessarily like an explosion of color and pattern when it comes to your wardrobe, there are quieter, black and white motifs in the collection that might still catch your eye. Take this monochrome jungle scene, for example.
One thing is for sure: After seeing the offerings of the collection, it's going to be hard to wait a few more days.
Want more fashion and beauty? Check out the playlist below, and be sure to subscribe to Bustle's YouTube page for more hacks and tricks!
Images: Kenzo (8)