Welcome To NYC's New Experimental Co-Living Space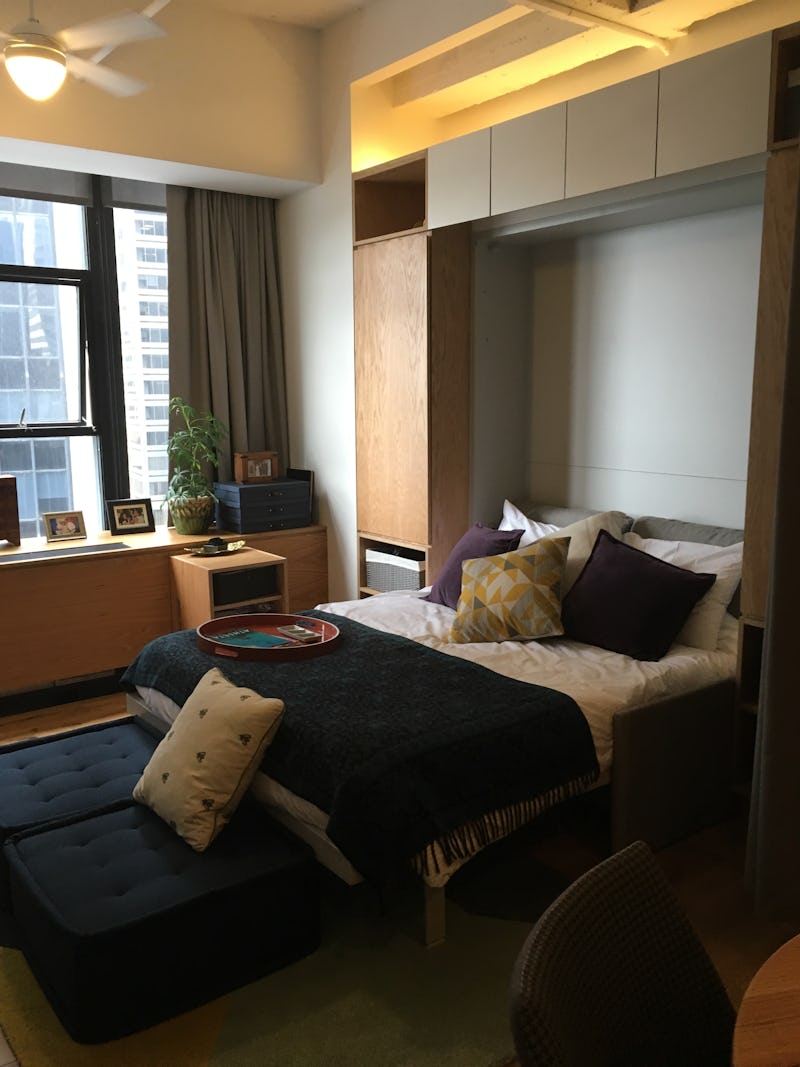 Moving to a new city can be an isolating experience, but an experimental residential complex in the Financial District of New York City is attempting to bridge the social gap and make the transition as stress free as possible. WeLive, a "co-living" experiment developed by the founders of WeWork, officially opened its doors to the public today, offering 50 available units at its premier location on Wall Street.
In a neighborhood defined by business and entrepreneurial spirit, it's fitting that WeWork, a company that rents attractive shared workspace creating a community-driven office environment, seeks to now expand the office into the home. Those who move into the WeLive building will be able to network with other young professionals around the clock — whether they are playing pool in the laundry room, cooking dinner in the shared kitchen, or typing away on their laptop in the elevator lobby.
After months of beta testing with WeWork members and other invited guests, the residential complex is offering fully-furnished, move-in ready apartments on a flexible month-to-month basis to non-members starting the first of May. The apartments' square footage may be small (like teeny tiny), especially for the price tag — but the shared amenities and community-bent attempt to make up for lack of private space.
Tiffany Tibbot, a WeWork member who owns and runs her own swimwear E-commerce business launched last June, was part of the beta testing and is staying for the rest of 2016. She gave up her studio apartment where she has lived for the past five years to move into the complex. "Really we all are self-starters here, and we can make connections and do everything," she told Bustle, describing the unique vibe. "It's like a WeWork office — but glorified." And indeed, half the building is devoted to WeWork offices, though they have a separate elevator bank.
The apartments range from 450 square feet for a private studio to 1,000 square feet for a shared four-bedroom. The studio apartment, starting at a pricey $2,550 a month, is complete with a fold-down murphy bed, a two-burner electric stovetop, and microwave. Like all the units, it is fully-furnished, and supplied with all household necessities ranging from a fridge stocked with Pellegrino, to specialty sheets and towels, to pots and pans. All residents have access to the larger shared spaces, such as the kitchen, with full stoves, multiple dishwashers, and a cleaning crew that works till one in the morning.
Every two or three floors are divided into what they call "neighborhoods," linked with an internal staircase and a similar thematic design. The interior design replicates a Williamsburg loft in lower-Manhattan, though sanitized (no mold or rats!). The complex offers all the appealing quirky and locally sourced artisanal hipster-chic touches with none of the unsightly dirt and grime of actually taking the subway to an outer-borough.
Residents also have access to a yoga studio which hosts a range of wellness classes and other "robust social offerings." Cooking classes, karaoke and game nights, TV viewing parties, and two hot tubs with views of the river give twentysomethings ample time to make business and social connections. As Tibbot confirms, "You can be a part of it all if you step outside your door — or you don't have to be. I mean, that's very much New York, that's the city." The building would make the perfect set for a reality TV show — with two hot tubs and a bunch of young professionals — who knows? You might even find the love of your life (or of the night). There is no need for Tinder, as the building even has its own app to connect you to neighbors and the events, as well as streamlining the scheduling of cleanings and other maintenance.
Students, young professionals in town on business, or a freelancer looking to make connections will thrive in this safe, social, though somewhat fratty environment. Though they stress that the property was designed for professionals of all ages, and shy away from comparisons to a super cool college dorm, sorority house, or fancy hostel on steroids — with a Big Buck Hunter in the laundry room, there is certainly a youthful "work hard, play hard" vibe echoing in the halls. Co-living is not for those who cherish their private space, or like to leave work at work. But if you are looking to make lots of friends and fast, as they say on the website, "by joining WeLive - you'll be psyched to be alive."
Images: Lily Feinn/Bustle, WeLive