Yes, The 'Powerpuff' Voices Are Different Now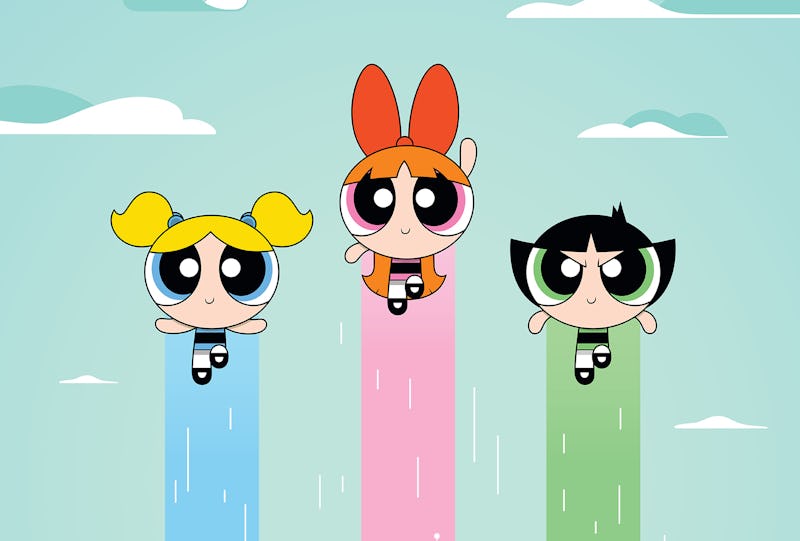 If you were a certain kind of girl — the kind who actively watched and enjoyed cartoons in the late '90s and early '00s — chances are you watched The Powerpuff Girls. And, whether you identified yourself as a Blossom, Bubbles, or Buttercup, you were like pretty pleased that such small girls could kick so much ass. And you're also probably quite pleased that starting April 4, Cartoon Network is bringing back The Powerpuff Girls for a new, huge, 40-episode run. But reboots are a mixed blessing and The Powerpuff Girls won't be exactly the same. Much of the voice cast has been replaced (though there are still some holdouts from the original run), namely the actors who voice our girls in the new Powerpuff Girls reboot.
Before we meet the new Blossom, Bubbles, and Buttercup, let me say that not everyone is happy about the change in behind-the-scenes staff. When the new cast was announced, Tara Strong, who was the original voice of Bubbles, tweeted that the change felt like "a stab in the heart" to her and her fellow voice cast mates. "I have NO ILL FEELINGS 4 the actresses in the new [Powerpuff Girls]," she tweeted. "We were just beyond hurt we were NEVER asked..every role I breathe life into I love."
Still, sadly, the show continues on without them. So, who are the new voices — and who are the returning ones?
Blossom
Amanda Leighton steps into the role as the fearless leader of the trio. Leighton is best known for her role as Emma on The Fosters.
Bubbles
Kristen Li is taking on Tara Strong's old role as Bubbles. She doesn't have a ton of credits to her name, but she did provide a voice for Monsters University.
Buttercup
Natalie Palamides plays the strongest of the three. She's had a couple roles in TV shows (the best-named one being "Sluts the Cat" in The Brat Cave), and she's also cast in the upcoming Uncle Buck TV series.
Mojo Jojo
This voice should be familiar: Roger L. Jackson returns to play the primate villain. No angry tweets are needed on his part.
The Narrator/Mayor
Tom Kenny returns from the old series to reprise his role as the Narrator and mayor of Townsville, USA. That makes sense, because he's a voice in basically every cartoon, so why wouldn't he do The Powerpuff Girls reboot, too?
The gang's almost all here. Here's hoping the new voices of our beloved girls can hold a candle to the originals.