9 Ways To Keep Your Bathroom Free of Mold & Germs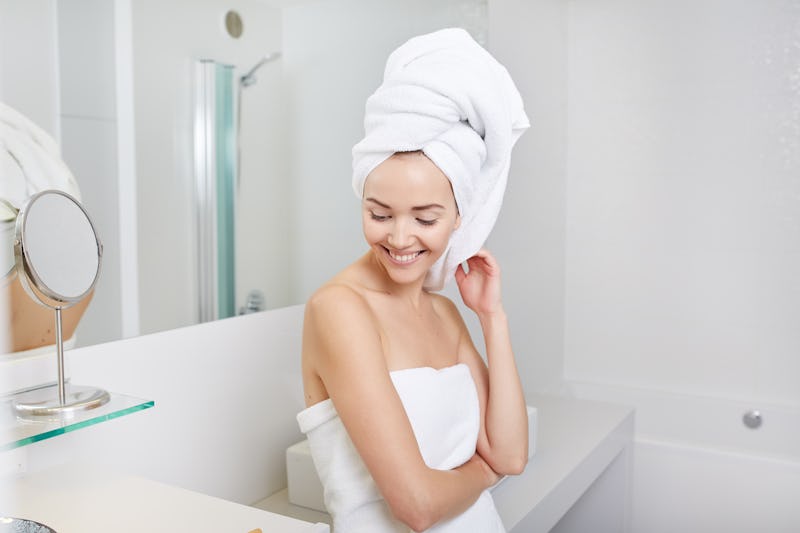 I'm a huge fan of irony. The fact that a tree planted specifically to commemorate The Beatles' guitarist, George Harrison, was killed by an infestation of beetles? Admittedly, pretty great. The fact that you clean yourself in a room that's one of the dirtiest in your house? Not so much. Fortunately, there are ways to keep your bathroom clean and sanitary, even despite the fact that some bathrooms have thousands of types of bacteria. While we've still got it better than Europe in the 1500s (when everyone flung everything out the window and into the street below), a little extra disinfecting never hurts.
Unsurprisingly, bathrooms are a storehouse for germs and mold. In addition to the harmless bacteria lurking in your bathroom, there are also way more strains that can cause stomach viruses, salmonella, staph infections, and outbreaks of athlete's foot if they manage to weasel their way past your immune system. Then you've got the various kinds of mold and mildew that get trapped in all the dark, warm places. They flourish any time you take a steamy shower, releasing spores into the air and possibly into your lungs. But, fear not! Here's a list of quick and convenient ways to tidy up your bathroom, so you can keep it fresh, sanitary, and spore-free.
Germ-Proof Your Toothbrush With UV Light
Violife Toothbrush Sanitizer, $21, Amazon
It's pretty gross to think that your toothbrush sits around all day and night, harvesting germs, and then it goes straight into your mouth. This Violife toothbrush sanitizer only needs seven minutes to kill 99.9 percent of germs using a UV sterilizing lamp. It's also great for travel because the included toothbrush fits right inside the convenient case, and because it's powered by batteries, you can bring it anywhere with you.
Keep Shower Products Mold-Free With A Rust-Proof Shelf
Bino Smartsuction Stainless Steel Caddy , $17, Amazon
Placing your shampoos and soaps on the ledge of your bathtub not only creates a habitat for mold — it creates a mess of toppling bottles and oily spills. This stainless steel shower caddy is an awesome solution because it's durable, rust-proof, and convenient. It has a shampoo shelf, a spot for soap, and two hooks, which hold everything from your shaving gel to your moisture-absorbing bamboo bag. Because it has slits in the shelving, water filters right through without collecting, and all you have to do for installation is stick its suctions on the wall.
Switch Out Your Towels For Antibacterial Ones
AmeriBamboo Bamboo 3-Piece Towel Set , $36, Amazon
Unlike your 100 percent cotton towels, which absorb moisture, hold onto it, and grow mold and bacteria, this set of eco-friendly bamboo towels is hypoallergenic and antibacterial, due the 40 percent bamboo and 60 percent cotton component. This cushy but durable set gives you one oversize bath towel, a hand towel, and a wash cloth, and you can pick your preference from five different colors. They're also ridiculously soft and super absorbent, and reviewers say that they dry quickly, wear well, and are really easy to care for.
Cushion Your Feet Without Harboring Mildew
Magnificent Bathroom Mat, $17, Amazon
If you're looking for floor covering that's sanitary (and doesn't sacrificing plush cushioning for fresh-from-the-shower feet), this mildew-resistant mat could be your bathroom's next best asset. It's made from ultra-soft memory foam material, but it's also all-natural, hypoallergenic, and antibacterial, so you never again have to worry about a bath mat smelling like mildew. It's also machine-washable and has a no-slip backing, and reviewers say they love how it dries quickly, won't slide around, and stylishly blends into any bathroom.
Create An Anti-Smell Force Field
Poo-Pourri, $10, Amazon
People who've used this product say they'll never again go anywhere without this in their purse (one even jokes that it saved their marriage). Poo-Pourri is designed to line the toilet water with an anti-smell force field, so that when you do your business, all odors get flushed down with it. It's good for 100 uses, and the formula is free of parabens and chemicals, as it uses only essential oils and other natural compounds. Just spray, go, and erase all evidence — even the air-bound kind.
Soak Up Odors And Excess Moisture
Jalousie Air Purifying Bamboo Bag, $14, Amazon
People are flipping over this air purifying bamboo bag. Not only does it use activated charcoal to absorb unpleasant odors and germs from the air, but it sucks up excess moisture, as well, preventing the growth of mold and mildew. It's entirely natural — a great alternative to chemical-filled cleaners and sprays — and all you have to do to renew it is place the bag out in the sunlight for two hours. Reviewers love it because it does its job and adds a colorful touch while hanging from any hook or shelf.
Fight Mildew With An Antibacterial Shower Curtain
Eforgift Waterproof Mildew-Free Shower Curtain , $15, Amazon
Not only is this shower curtain 100 percent waterproof, but its odorless material has enough weight to hang easily, blocking wayward water from making its way onto your floor. The metal grommets on top are rust-proof, too, and the clear stone pattern is easy to wipe clean, when necessary. Reviewers really like the frosted finish of the pattern, and one said, "This is my second time purchasing this shower curtain — I didn't realize how big of a difference a shower curtain could make until I bought this one!"
Cut Through Scum The Natural Way
Puracy Natural Surface Cleaner, $13, Amazon
I use bleach for the germiest places (like toilet bowls), but for everything else, it can seem like overkill. It can be really corrosive to your eyes, skin, and lungs, and that's why I prefer a natural cleaner for mirrors and countertops. Puracy's natural surface cleaner is made with plant ingredients, green tea, and lime, which fights soap scum, mildew, fingerprints, streaks, and dirt. Best of all, this particular cleaner can be used on any hard surface, and it contains no rough chemicals or overpowering smells. Reviewers love it because it cuts through just about anything, but it won't asphyxiate anyone while doing so.
Be Sanitary About Your Plunging
Kleen Freak Antibacterial Plunger, $23, Amazon
For anyone who's super grossed out by the fact that your plunger sits in its own filth (hint: likely everyone), this antibacterial plunger provides the peace of mind that comes with a germ-free bathroom environment. Both the plunger and the anti-leak, anti-collection holding tray contain an antibacterial lining to prevent germs and mildew. The tray has a convenient handle, so you don't have to touch anything gross while cleaning it, and the plunger forms a tight seal around any toilet bowl — a beautiful coupling of functionality and cleanliness.
Bustle may receive a portion of sales from products purchased from this article, which was created independently from Bustle's editorial and sales departments.
Images: Fotolia (1); Amazon (9)