'RHOC's Vicki & Tamra Involved In Scary Accident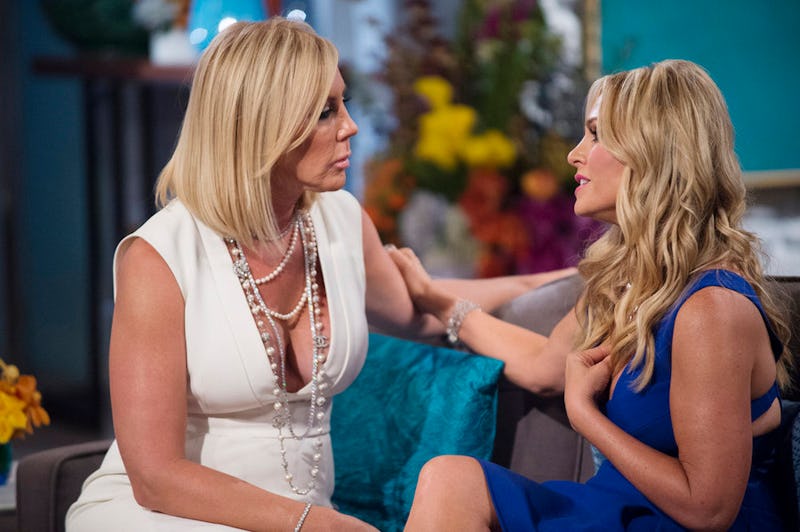 On Saturday, Real Housewives of Orange County stars Vicki Gunvalson and Tamra Judge got in a four-wheeler accident in Glamis, California, "law enforcement sources" told TMZ. The media outlet also reported filming was underway for RHOC Season 11 at the time. A production source told TMZ Tamra was driving a Polaris RZR and Vicki was a passenger. While driving, the four-wheeler rolled over several times resulting in Vicki being airlifted to a nearby hospital and Tamra also being hospitalized. Both women have since been released with minor injuries and we're taken to the hospital purely out of precaution, TMZ reports.
Both Vicki and Tamra took to social media to confirm TMZ's report. On Sunday, Tamra shared the following via Facebook:
So many text, tweets and phone calls asking if this is true. I can confirm it is. Thank you for your prayers and concerns. We are both beat up but very lucky to be alive. I've never been so scared in my life. As the driver I have an overwhelming amount of guilt and thanking God that the 4 of us are alive.
As for Vicki, she shared a photo of a helicopter (which may or may not be the one that airlifted her) along with the following caption: "Thank you everyone for your thoughts and prayers. #itwasntourtime @tamrajudge ,@heatherdubrow."
In Tamra's post, she mentions four people were involved. So far, only Vicki and Tamra have been confirmed as being involved in the accident. Vicki mentioned her RHOC co-star Heather Dubrow in her post, but it remains unclear whether or not she was involved as well. Heather did take to social media to respond to Vicki with the following tweet:
All that matters is no one was seriously injured and everyone walked away fine.
Image: Nicole Weingart/Bravo