Watch Christopher Walken & Amber Heard Duet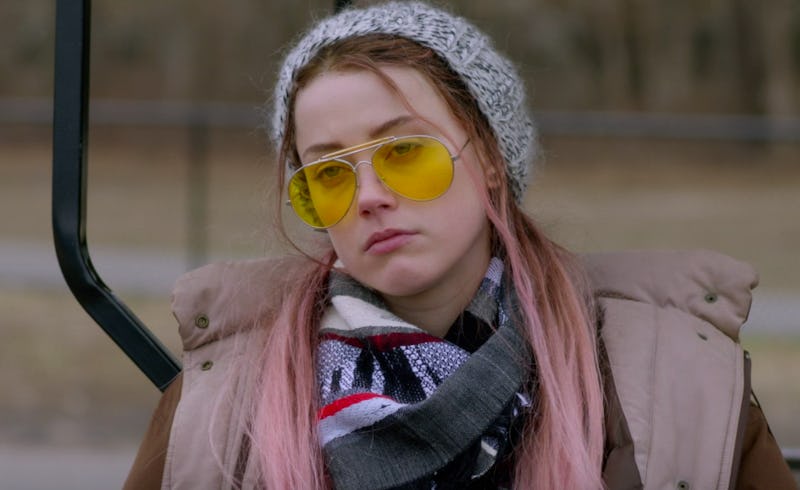 Before she joins the Justice League as Mera, the queen of Atlantis, Amber Heard is starring as a different kind of royalty: music royalty. In One More Time , Heard plays Jude, a struggling musician who is kicked out of her Brooklyn apartment and is forced to move back home to her famous crooner father's house. Played by Christopher Walken, Paul, Jude's dad, was a successful singer back in the day, and is searching for a musical comeback. One look at the father-daughter pair and it's clear that they're at odds in many ways, with Heard's bright pink hair and ripped jeans making a stark contrast to Walken's smooth coif and tailored suits. And yet musically, they connect, as you can see in the exclusive clip below.
In the video, you can see Jude reluctantly take a seat next to her father on the piano, before the two begin to sing harmony on "Days Gone By" during what looks like a family gathering. Though Heard and Walken are the focus of the clip, fans can also catch a quick glimpse at supporting players Kelli Garner (Pan Am), Hamish Linklater (The Big Short), Oliver Platt (Chicago Med) and Ann Magnuson (Panic Room).
The movie, a 2015 Tribeca Film Festival darling that's out on April 8, promises to explore what it's like to grow up with a famous parent, and all the complexities that come from wanting to do what said parent is famous for. As director Robert Edwards told The Hollywood Reporter in March, "This film sprung out of me wondering what it must be like to be the adult child of a larger-than-life artist or entertainer — to grow up in their shadow, and to be alone in the knowledge of how the real person might be very different from their public image." Sounds like something audience members, even those without famous family, will certainly find relatable.