9 Things To Help You Love Yourself More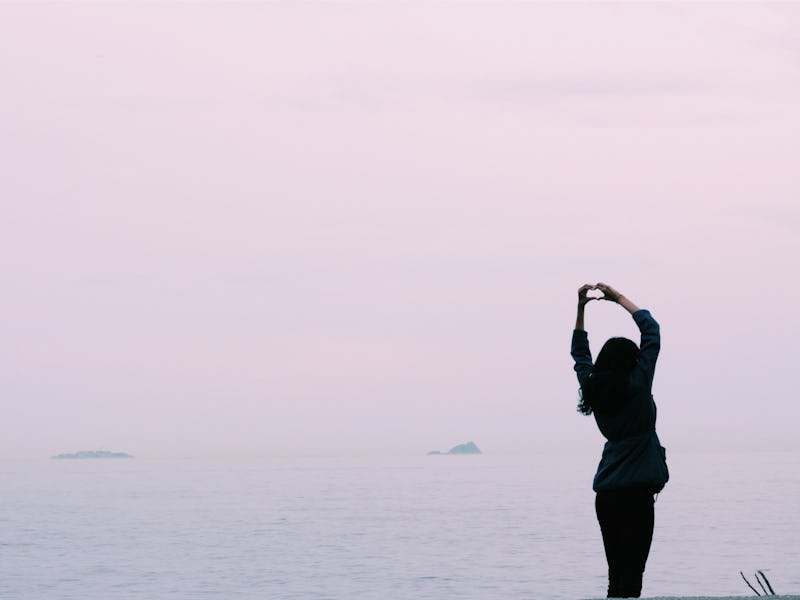 Anyone remember that amazing, ugly-cry-inducing video that came out a few years ago, in which Dove asked people to describe strangers to a forensic artist? The general (heart-wrenching) consensus was that people are way harder on themselves than they are on strangers, even though it's proven that self-love is way more effective than self-criticism when it comes to success. Treating yourself with compassion and understanding leads to higher motivation levels and an increased sense of happiness, and yet, most of us would never dream of treating anyone else on Earth the way we treat ourselves.
Take a second to reflect back on your day. If you're like most of the population, 80 percent of your thoughts are negative. So odds are, you picked your appearance apart in the mirror this morning, convinced yourself you didn't deserve something, and internally told yourself to shut up, all within the first half hour. Now imagine having those thoughts about a friend and verbalizing them. If you're of the belief that you could do with a little self-love (and in my opinion, everyone should be), then here's a list of the best ways to feel appreciated and cared for, all through your own efforts.
1. Look Forward To Something Great Every Morning
Have something to look forward to every morning, so that when your head hits the pillow at night, you're focusing on something positive. It might just keep your mind from wandering back into negative patterns, and who doesn't love starting the day off on the right foot?
If You Love Reading, Do It Over Breakfast (Without Killing Your Eyes)
A good old-fashioned book won't shine a backlit screen into your eyes, but neither will this Kindle. And this gadget can store thousands of books, in addition to accessing WiFi to choose from more than one million books all under $3. The battery lasts for weeks, and you won't have to pick between packing the funny autobiography or thrilling mystery novel when you leave in the morning — bring 'em all.
(...Or listen to your favorite book through Audible on your commute — you can test drive two free titles now for 30 days!)
If You Love Beauty Treatments, Adopt A Fun Morning Routine
24k Gold Collagen Eye Mask (10 Patches) , $6, Amazon
If you're a total beauty junkie but you're already stocked up on the essentials, then treat yourself to this weird but awesome morning eye mask. The 24k gold under-eye treatments look pretty silly, but they actually work well with a morning routine because they shrink down puffiness and lighten dark circles.
If You Savor 'Me Time,' Create Your Own Morning Sanctuary
Aromatherapy Essential Oil Diffuser, $20, Amazon; Majestic Pure Lavender Essential Oil, $11, Amazon
If you love hanging out with yourself (and who wouldn't?), set aside time in the morning for it. Create a zen-like atmosphere where you can let your mind really relax, which is easily done with calming lavender essential oil (scientifically proven to relieve feelings of stress). This aromatherapy oil diffuser is the No. 1 best-seller because it'll send out lavender in droves, in addition to replenishing lost moisture in your room. Bring on the relaxation and self-love!
2. Accept Yourself, No Matter What
Love Yourself Like Your Life Depends On It , $5, Amazon
Written by Kamal Ravikant, an esteemed speaker who's done everything from meditating with Tibetan monks to earning a US Army Infantry patch, Love Yourself Like Your Life Depends On It is widely considered one of the most important reads on self-nurturing and acceptance. Ravikant uses his honest and emotional voice to lead the reader through a narrative filled with insights and truths about loving yourself (despite external circumstances) with the same intensity that you'd use to save your own life — because after all, it just might.
3. Listen The Way A Friend Would
Guided Mindfulness Meditations , $14, Amazon
When a friend's going through something, you hopefully give them your full attention. Yet we spend most of our time evading and pushing down our own thoughts and feelings, as if they're not worthy of our time. This audible meditation guide is great for beginners and masters alike because it provides nine soothing exercises that effortlessly guide you from a place of criticism to acceptance. Tara Branch has a voice that's both soothing and captivating, and because the sessions range from nine to 20 minutes, you can fit one in just about any time of day. Meditation is one of the best things you can do for yourself because it allows for the kind of self-awareness that prompts you to notice and accept your thoughts.
(Psst! You can also find this title on Audible.)
4. Don't Forget to Treat Yourself
Ropalia Mini Dress (Sizes S-XL), $8-$14, Amazon
People often feel guilty about treating themselves, even when they wouldn't think twice about buying a present for a friend or family member. This low-neck party dress is your simple one-stop shop when headed out with the girls or on a date. Its ornate lace bodice will feel (and look) beautiful, and its 100 percent cotton ensures you feel super comfortable, too. Sheer scalloped sleeves add a sophisticated touch to the party dress, and one happy reviewer said, "It looks so classy with a little flirty look to it."
5. Show Compassion For Your Body
Spoonk Organic Acupuncture Mat, $50, Amazon
Physical touch is one of the best ways to show compassion, but we very rarely allow time for it ourselves. People are going nuts over this Spoonk acupuncture mat because it allows for all the relaxation and positive benefits associated with acupuncture, but without the need for an appointment. This mat is awesome because it's durable, antibacterial, organically made, and comes in a convenient carrying bag, and reviewers love the results they're getting. Simply lie down and allow stress and pain to leave through your pressure points for an experience that's therapeutic in more ways than one.
6. Compliment Yourself When You Least Expect It
Crafty Croc Liquid Chalk Markers , $25, Amazon
You might feel like perpetual tough-love is helping you out, but if your boss gave you the kind of criticism you gave yourself on a daily basis, you'd give up real fast. These wipe-off chalk markers make it easier to provide yourself with the personalized kind of inspiration that'll motivate you to face the day with optimism. Scrawl your favorite affirmation across the top of your bathroom mirror or bedroom mirror. That way, even if you're caught off guard with a darker mood, you'll be reminded when you least expect it with the exact thing you knew you needed to hear.
7. See How Far You've Come
Letters To My Future Self , $9, Amazon
I've been on a few self-improvement retreats, and one of the most common exercises is writing a letter to yourself that won't be opened until a specific date. The Letters To My Future Self kit makes it easy and convenient to document your thoughts and goals, and then preserve them for later. The 12 envelopes come with small writing prompts (like "I never want to forget this," "I promise to myself," and "This is where I want to go,"), beautiful designs, and a "to be opened on this date" line, so you can create a thoughtful time capsule that'll eventually show you how much you've grown, and how much you've accomplished.
8. Track Your Accomplishments
Life Progress Planner, $28, Amazon
When you've got really high expectations of yourself, it's easy to forget about your successes the minute you achieve them. This geniusly curated planner allows you to set goals for yourself on a daily, weekly, and monthly basis, but more importantly, it makes for an eye-opening visual representation of how many things you achieve in a 24-hour span. This journal is durable and has plenty of space for you to write, and reviewers say it was ridiculously helpful in both planning and feeling accomplished every single day.
9. Forgive And Forget
Buddha Board, $35, Amazon
One of my closest friends introduced me to the Buddha Board, and I think it's an awesome tool for self-acceptance and forgiveness. If you tend to keep all of your failures in the forefront of your mind, simply write down what's ailing you, and make a promise to yourself that the second the message disappears, you'll release that negative thought once and for all. This board comes with a brush, a dipping box, and the board itself. The water evaporates shortly after you paint your message, and reviewers say it's both satisfying and very zen to watch their worries disappear into the universe.
Bustle may receive a portion of sales from products purchased from this article, which was created independently from Bustle's editorial and sales departments.
Images: Pexels; Giphy (2); Amazon (12)