Meet Martha, the NYFW Street Style Illustrator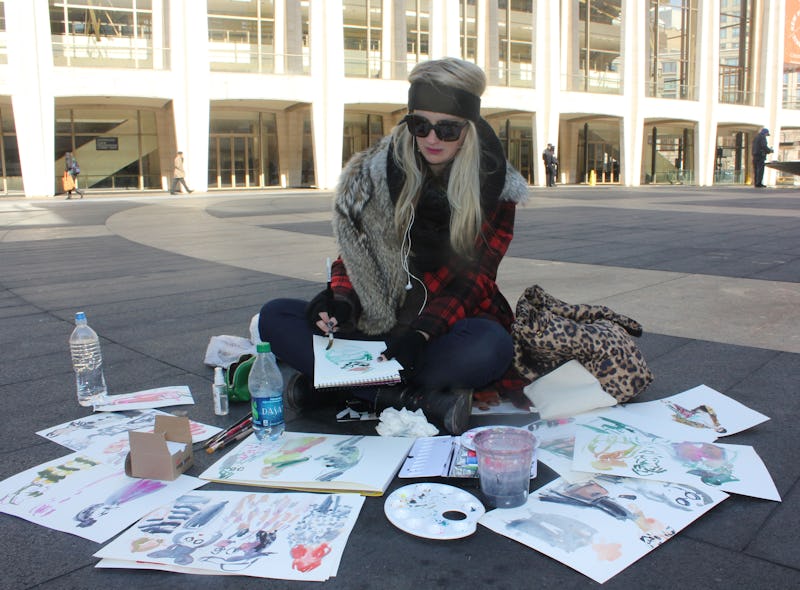 The scene at Lincoln Center between fashion shows can only be described as hectic. As models, editors, and bloggers leave the tents, photographers dash to take their photos — imagine the paparazzi, but in fashion form.
Now imagine sitting and drawing the fashion you see, as cameras flicker around you. When I saw Martha Napier doing just that, I knew I had to ask her who she is and what she was up to.
Tell me who you are and what you're doing.
My name is Martha Napier, and I am a full time illustrator at Marnani Designs. It's my own brand, and basically I do illustrations for corporate clients, bloggers, all kinds of different stuff. But obviously it's Fashion Week, so I figured I'd come here. I live very close to [Lincoln Center], so it would be a crime not to come and watch all the spectators. I was a designer for Michael Kors actually for several years, so, I'm more familiar with what's going on inside and less familiar with what I like to call the real show, which is outside. I just love seeing people put themselves together and present themselves at Fashion Week.
What about fashion inspires you?
I was a painter for a while, and [during] my first trip to the fabric store, everything just kind of exploded in my mind, and it just translated very easily. So to me, fashion is an art form. I don't understand why people see fashion and art as being so separate, because to me they are so synonymous.
So then are you more inspired by street style than the designs in the shows?
I wouldn't say that because I have so much respect for so many designers — maybe one day I'd like to even do my own unique collection.
I would say it's a combination. When designers get it right, it's because it's really inspired, and when someone on the street gets it right, it's because they're really inspired, so it's kind of the same thing.
How would you describe your own style?
Right now I'm warm, hopefully. Feminine but like a little funky, always sparkly. I love pink. I tried to not embrace it for a long time, since I went to design school where people wore mostly black, [but] I love color and I love patterns so…
For more about Martha and her illustrations, check out Marnani.com.
photo credit: Rebecca Shinners