7 Sexist Valentine's Gifts You Definitely Should Not Give Your Significant Other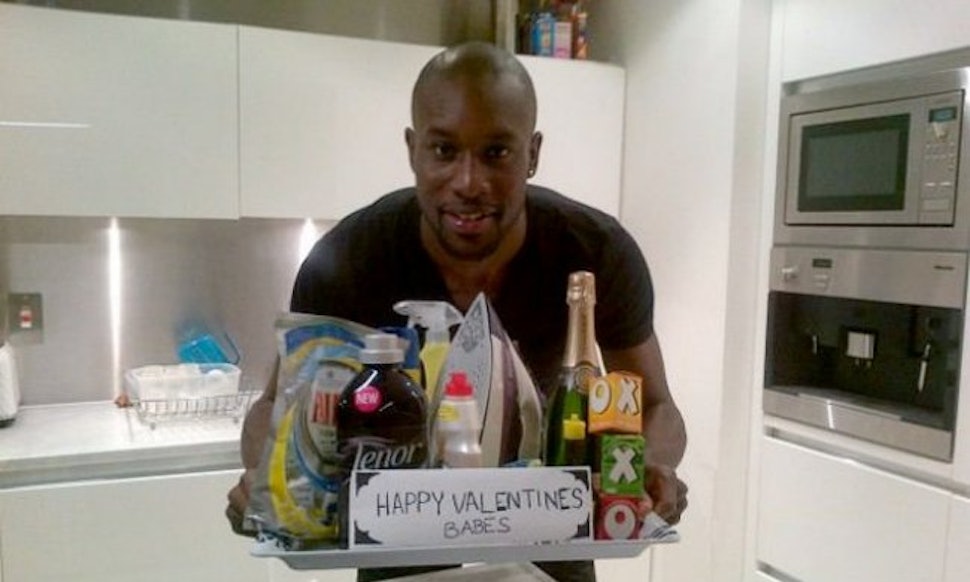 A quick search for sexist Valentine's Day gifts will correct you to "sexiest" Valentine's Day gifts, because how could this day of love and romance bring out the inequality between the sexes? Hopefully most heterosexual couples won't suffer this type of crazy power play, but check out some of these sexist gifts available, yes, in 2014.
image: Twitter/CarltonCole1
This Craft
Even if your boo is trying to be funny…it's not funny! There are much more humorous cross-stitches out there.
image: Etsy/PurpleHippoCraft
A Womanly Figure
For the spaghetti lover in your life, this helpful measurer makes sure that woman and 10-12-year-old children eat appropriate portion sizes.
image: Etsy/sksp
Cleaning Supplies
Last Valentine's Day, British football star Carlton Cole tweeted this pic of himself showing off his gifts to his sweetheart. No, cleaning supplies are not romantic, even if you add champagne.
image: Twitter/CarltonCole1
This Mug
For those who love obeying their husband on the go, there's a travel version as well!
image: Cafepress/Susan Peterson
This Apron
An apron may be an appropriate gift for anyone who likes to cook, but "Born To Shop, Forced to Cook" (forced!) isn't exactly the most feminist message.
Image: Bed, Bath, and Beyond
A Gym Membership
You may know that your partner needs or wants to get in better shape, but encouraging her to slim down, even for her benefit, is not acknowledging that you love her for her sharp wit and sparkling personality.
image: Someecards
A Giant Teddy Bear
Yeah, they might be cute, but these huge stuffed animals are infantilizing grown, educated, independent women who probably don't have room in their apartments to store the most impractical and impersonal gift a person could give. Save the large plush toys for your toddler niece.
Image: Getty Images