When Will Nordstrom Have The Ivy Park Collection?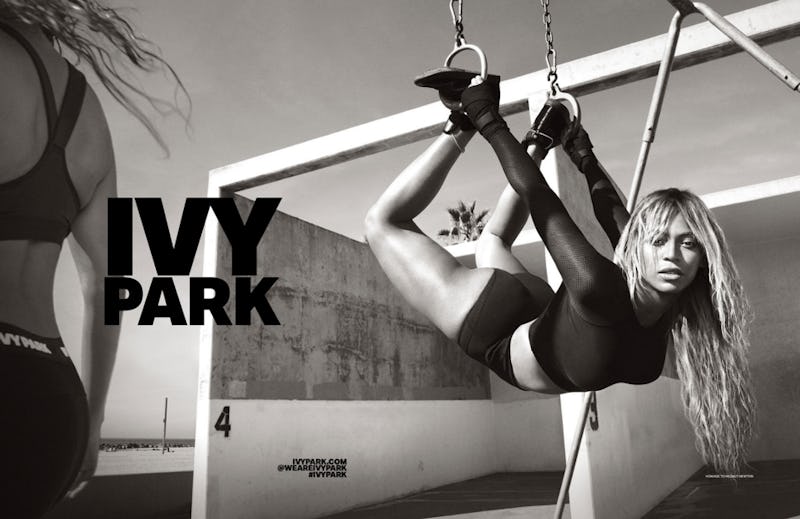 Nordstrom is the largest North American retailer slated to sell the already popular, not-yet-released active wear line Ivy Park, co-founded by none other than Beyonce. So, it's probably no surprise that fans and fashionistas alike are all asking the same question: when will Beyonce's Ivy Park collection come to Nordstrom? Fear not, Beyhive, because it's only a matter of days before you can shop the new line at your favorite department store.
According to both the Ivy Park and Nordstrom websites, Ivy Park will be available to shop at select Nordstrom department stores and online at Nordstrom.com on Apr. 14. The range will be available at a handful of other retailers, both in-store and online, but considering a total of 53 Nordstrom stores that will carry Ivy Park, it's a great option for U.S. fashionistas hoping to get their hands on this range.
And there's no need to play the guessing game if you're wondering whether or not your local Nordstrom will carry the collection. The retailer has already identified which Nordstrom stores will stock Ivy Park. But be sure to contact your nearest location for any details you may need to ensure you leave with some Ivy Park gear. Things are bound to get a little competitive with a range this good.
According to Vogue, the collection will have 200 items, ranging from sweaters, sports bras, crop tops, body suits, shoes, and even tailored leggings. From the images and videos that have been released so far, it's clear the clothes and accessories are super cool with graphic prints, unique designs, and innovative fits.
While Beyonce has tried her hand at fashion design in the past, going at it with Sir Philip Green, owner of Topshop, this time around definitely seems like right move.
So mark your calendar for next Thursday, April 14, and scope out a perfect spot to pounce at your local Nordstrom store, or make Nordstrom.com your homepage until you're finally able to get your hands on the collection.
Because, let's be real, at this point you're probably convinced you need it!
Want more fashion and beauty tips? Check out the video below and subscribe to Bustle on YouTube!
Images: Courtesy of Ivy Park