Zendaya Coleman Is Winning Fashion Week's Front Row, and She's Only 17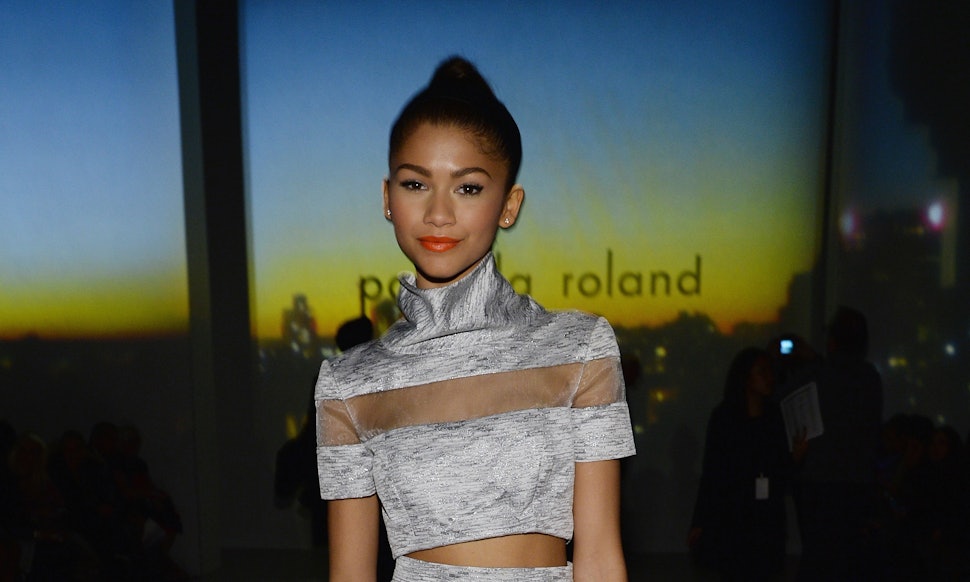 Larry Busacca/Getty Images Entertainment/Getty Images
At 17, I'm not sure I had a clue about Fashion Week (except for the bits and pieces I gathered from Sex and the City). So I'm not just envious of singer/actress Zendaya Coleman's presence at this year's most covetable front rows, I'm also super impressed.
You may not know who this long and leggy teen is unless you're under the age of 12. She was the former star of the Disney show Shake it Up and went on to become the youngest contestant on Dancing with the Stars. But enough about that, more about what this girl is wearing. Thanks to Coleman's bold sense of style and the help of her genius stylist Law Roach, here are some of her best outfits from the past week. Coleman isn't just going to Fashion Week — she's BRINGING it.
Image: Getty Images
EFFORTLESS CHIC
Outside Monday night's Alice + Olivia show, Zendaya's sleek, patterned bomber jacket, long white trousers and pointed pumps made for the perfect chic, yet comfortable look.
Image: Getty Images
OUTSIDE LINCOLN CENTER
Zendaya set the bar high for street style at NYFW with a cool and casual daytime ensemble of slouchy boyfriend jeans, a Dior coat and Saint Laurent shoes.
Image: Zendayamaree/Instagram
CLASSIC BEAUTY
For Day 2 of Fashion Week, Zendaya kept it simple in Charlotte Ronson and Prada pumps.
Image: Getty Images
BOLD AND BRIGHT
For the Opening Ceremony show, Zendaya went avant-garde in a Miuniku coat, 3.1 Philip Lim tee and Louboutin pumps.
Image: Zendayamaree/Instagram
ZENNY FROM THE BLOCK
Zendaya was the epitome of downtown cool in head-to-toe Rebecca Minkoff and vintage Dior sunglasses.
Image: Getty Images
COLORBLOCK CUTIE
And here's how you stay warm and bright in the cold, wintery conditions: a Miuniku coat, Acne shirt, Rag & Bone jeans and Louboutin shoes.
Image: Zendayamaree/Instagram
DKNY ALL DAY
Zendaya was a vision in shades of DKNY pink, from pale rose to bright coral.
Image: Getty Images
DIAMOND DUSTED
And here's what it looks like to look absolutely stunning in diamonds and Dior.
Image: Zendayamaree/Instagram