'The Cheerleader Murders' Is A Dark, Familiar Tale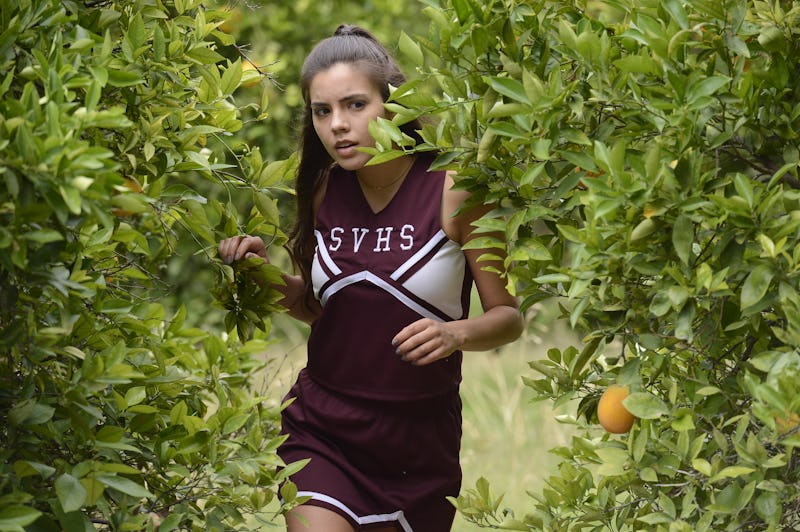 Considering that Lifetime's latest movie features cheerleaders, black magic, murder, and kidnapping, this may seem like an odd question, but I have to know, is The Cheerleader Murders a true story? See, so many Lifetime movies, no matter how dramatic they may seem, are based on real events, it makes you question the origins of every film — even The Cheerleader Murders, which premieres on Saturday, April 9 at 8 p.m. ET.
In this case, I certainly hope it's not a true story. Just look at the synopsis for The Cheerleader Murders via Lifetime's website, and tell me this movie doesn't sound terrifying to watch, let alone experience IRL:
Ellie lives in a cursed town with a string of tragedies — the most recent being the murder of her sister and father. She hopes the darkness is behind her, but when her fellow cheerleaders Dee and Morgan are kidnapped, Ellie knows the curse is at work again. After Morgan is found dead, Ellie becomes determined to rescue Dee and expose the killer, but it may already be too late...and she may be next. As the police struggle to find a lead, Ellie begins an investigation of her own — but each step closer to the truth is a step closer to death.
Thankfully, there's no indication that these events ever actually happened to anyone, and The Cheerleader Murders isn't included in Lifetime's round-up of movies based on true stories, so it seems this film is purely a work of fiction.
However, there have been plenty of real-life murder cases involving cheerleaders, some of which have become Lifetime movies over the years. One of the most famous and campiest is Death of a Cheerleader , starring Tori Spelling and Kellie Martin. The 1994 movie tells the true story of high school student Bernadette Protti, who was convicted of second-degree murder in the death of her classmate Kristen Costas, as reported by People. Protti was worried Costas would tell people she was "weird," the Times Wire Services reported after her conviction in 1985. In Death of a Cheerleader, Martin's character is similarly driven to stab Spelling's character to death because she repeatedly calls her "weird."
There's also The Positively True Adventures of the Alleged Texas Cheerleader-Murdering Mom. Say that movie title 10 times fast, why don't you? This 1993 HBO film starred Holly Hunter as Wanda Holloway, who went to trial for allegedly plotting to kill neighbor Verna Heath after her daughter Amber made the eight grade cheerleading squad and Holloway's daughter didn't, a 2012 People article looking back on the case detailed. According to The Daily Mail, Holloway was originally convicted of solicitation of capital murder, but after the conviction was overturned, she pleaded no contest and was sentenced to 10 years in prison.
If you're looking for a cheerleading movie that is more related to the evil spirit element found in The Cheerleader Murders with no basis in truth, look no further than 2009's Jennifer's Body. This Diablo Cody-penned horror film stars Megan Fox as a high school cheerleader out for blood after she becomes possessed by an evil demon. As if high school wasn't hard enough to get through, am I right?
But if you want a more lighthearted movie involving more cheerleaders and less murder (which is more up my alley, to be honest), Bring It On is always worth another watch. Either the original or one of its many sequels is sure to cheer you up in no time.
Images: Mar Vista Entertainment, LLC; Giphy