13 Beautifully Written Novels About First Love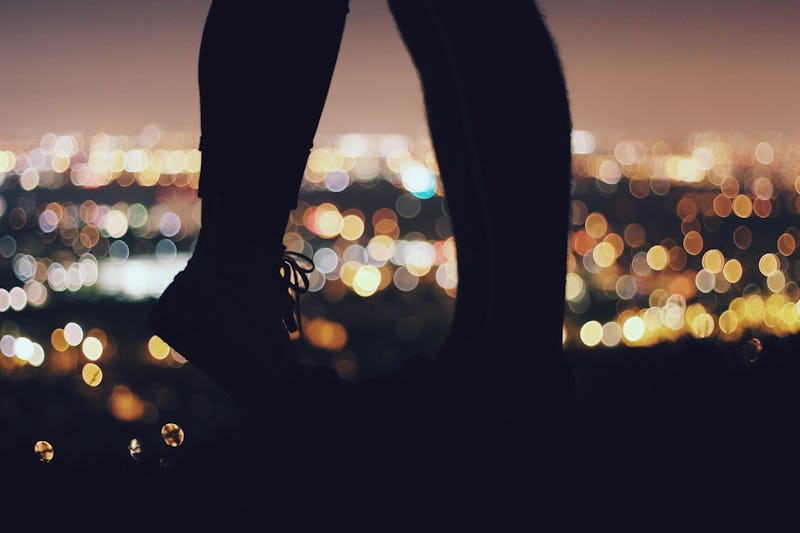 There's nothing quite like a beautifully written first love story. As readers, before we had first loves in our real lives, we had first loves in stories — and they taught us what to look for in our own life-changing romances. How the feelings of an entire lifetime could reverberate through a single glance, how a hand run through tangled hair could send shivers up a spine, how sometimes the sappy lines are exactly the one's you'll fall for, even though you know how bad they really are.
I mean, be honest, you've had those early lines of The Notebook committed to memory since the first time you heard them: "I am nothing special, of this I am sure. I am a common man with common thoughts and I've led a common life. There are no monuments dedicated to me and my name will soon be forgotten, but I've loved another with all my heart and soul, and to me, this has always been enough..." And they still make your heart flip a little. (Although, imagining Ryan Gosling reciting them to you probably doesn't hurt either.)
Here are 13 beautifully written novels about first love, that you will totally lose yourself in, from the first page to the last. Dig in.
Henry is Clare's first, and only, love. She met him when she was only six years old, married him at 23, and has spent her entire life waiting for Henry to disappear and reappear at random. Why? Because Henry, affected by something called Chrono-Displacement Disorder, is a time traveler. With little control over when he travels or where he ends up, their romance is infused with an exciting and devastating spontaneity and a fraught sense of urgency. Beautiful and painful, The Time Traveler's Wife is a love story that isn't quite like any other.
2. Americanah by Chimamanda Ngozi Adichie
Ifemelu and Obinze fell in love as teenagers in Nigeria, but growing up in a country under military dictatorship meant that each dreamed of finding different lives for themselves far away from home. These dreams take Ifemelu to a university in the United States and Obinze — who was denied entry into the U.S. — to London, where he lives undocumented. Americanah is a novel about all kinds of first loves — romantic love, love for one's homeland, love of one's childhood dreams — and a novel about the journey to love and realize oneself. It is both beautiful and powerful.
3. Blankets by Craig Thompson
At a whopping 592 pages, this graphic novel stands in a subcategory of "beautiful first-love novels" that's all its own. Blankets tells the story of a coming-of-age romance between Thompson and Raina — fraught with meaning, a little sappy, and beautifully illustrated in black-and-white artwork. Alongside the narrative of Thompson and Raina is the story of two brothers, simultaneously rivals and allies, whose Wisconsin childhood is informed by the religious fervor of their family and community.
The funny thing about first love is, sometimes you spend a lot of time thinking you've found it, until someone comes into your life that makes you realize everyone before them was just practice for the real thing. For Lou Clark, she's pretty sure she doesn't love her boyfriend — but what is real "love" anyway? In Me Before You , the answer to that question resides in Will Traynor, a young man who's been paralyzed following a motorcycle accident. Their friendship, which will leave them both changed forever, is the stuff of all great first loves.
I'm kind of a sucker for an unrequited first love story — probably because I've experienced my fair share of them myself (haven't we all?) — and Wuthering Heights is the ultimate unrequited love story. It's got the unrestrained and infuriating Catherine Earnshaw, the eager, brooding, and slightly dangerous Heathcliff, and a whole lot of blustering English countryside to go flailing about in. One grows up to be an independently wealthy, but unrefined woman; the other a vengeful, self-made man. Everything that can go wrong in a first love story does in this beautifully written classic.
6. Hotel on the Corner of Bitter and Sweet by Jamie Ford
A quiet storm of suspense, conflict, revelation, and urgency, Hotel on the Corner of Bitter and Sweet tells the story of the Chinese-American Henry Lee and his love for a Japanese girl, Keiko. They both live in Seattle during World War II, and they are both faced with the harsh realities of fear, racism, and internment camps. At its core, this book is a love story — about love for one's community, love for one's country, love for one's heritage, love for one's family, and that deep, profound, life-changing first love of another human being. It's a mesmerizing story that is impossible to put down.
This is a novel readers either seem to love or loathe, but if you ask me it's absolutely worth taking a chance on. Another novel about a first, mistaken love gone horribly wrong, The Yonahlossee Riding Camp for Girls is a beautifully rendered, emotionally consuming novel about forbidden love and traversing the unfamiliar landscape of girlhood to womanhood. Far removed from the real world — of Great Depression-era United States — 15-year-old Thea Atwell has been effectively banished from her family due to a scandal that she herself exists at the center of. At the Yonahlossee Riding Camp, however, her troubles — those of both her past and her future — are far from over.
George Stillman and Amina Mazid live worlds apart: he is from Rochester, New York, and she is from Bangladesh. The two meet online and plan for Amina to move to the United States, where they will get married. But as it turns out, Amina's first love — a love she might not yet be over — isn't George. When Amina returns to Bangladesh, she has to make peace with her past, or risk throwing away her future forever. The Newlyweds is a novel about hope and dreams, love and loss, and the things we must leave behind in order to grow.
Sometimes your first love is your only love — even if it takes 50 years, nine months, and four days for the other person to realize it. Florentino Ariza and Fermina Daza fell in love when they were only teenagers, but ultimately Fermina choose to marry for status and wealth. Florentino isn't deterred. As he waits for Fermina's husband to die, he wiles away the time in a number of affairs. Love in the Time of Cholera is a story of first love and last love, centered around one hopelessly romantic man who never gave up believing that his first love was the only one for him.
Gorgeous and disturbing, The Museum of Extraordinary Things takes place in New York City, circa 1911 — specifically, within the dimly-lit rooms of a Coney Island freak show. Coralie Sardie is the daughter of the "Professor" in charge of the Museum of Extraordinary Things, and Eddie Cohen is a Russian immigrant tailor-turned-photographer. Their stories merge in an explosion of fantasy and reality, romance and mystery, injustice and violence. Together, they will help one another to escape their current lives, and explore the possibilities of new ones.
This wouldn't truly be a list of beautifully written novels about first love if it didn't include John Green in the line-up, and The Fault in Our Stars might just be his most beautifully written of all those novels he's explored first love in. When the terminally ill Hazel Lancaster meets Augustus Waters in a Cancer Kid Support Group, the stage is set for an unforgettable first-love story. With lines like: "You gave me a forever within the numbered days, and I'm grateful," there's no question why this title makes the list.
San Piedro Island is a strange, isolated community filled with its own secrets, prejudices, and mysteries. When a drowned fisherman is discovered and Japanese-American Kabuo Miyamoto is charged with his murder, long lost secrets of the island begin to rise to the surface. At their center is a love story — one of a young white boy and a young Japanese girl in the years of World War II Japanese internment camps, forbidden and impossible. Snow Falling on Cedars is a haunting and beautiful novel, filled with unexpected twists and turns.
Seventeen-year-old Madeline has never left her house. She is, as she describes, allergic to the whole world, or so she's been told. Then Olly (you've met him before: tall, dressed in black, hair just begging you to run your fingers through it) moves in next door and Madeline finally discovers something — or rather someone — willing to risk stepping outside for. Everything, Everything is all about the risks we take to fall in love, especially the first time.
Image: Christopher Sardegna/Unsplash