Here's How Often You Should Exfoliate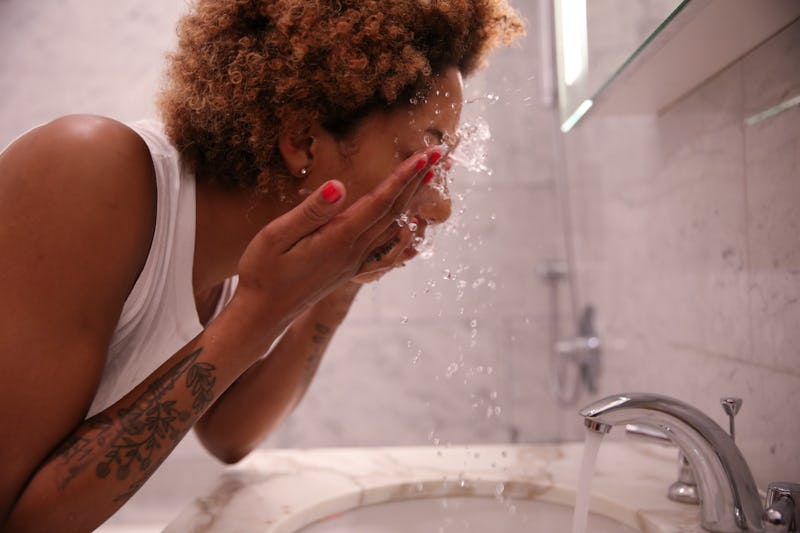 If you suffer from acne, signs of aging, or just want fresh, glowing skin, then you may swear by exfoliating — but hold up. There's a chance you could be doing it too much. If you're wondering how often you should exfoliate, here's the truth on how much is too much, and what can happen if you go a little overboard.
If it's not already in it, exfoliating is definitely something to incorporate into your skincare routine. It can unclog your pores, remove dead skin cells, and keep your skin healthy, fresh, smooth, and acne-free. So you may be wanting to do that, like, every day, but don't. Exfoliating, while beneficial, can also dry out and irritate your skin. When it comes to exfoliating your face, you want to keep it to once or twice a week — definitely not every day. According to dermatologist Dr. Rachel Nazarian, your skin will let you know if you've been over-exfoliating. "Over-exfoliation will leave your skin red, tender, and sensitive," she told Marie Claire.
So what about your body, then? Can you go a little harder on it since it isn't as sensitive as your face? Nope. Same rules apply — stick to twice a week, but if you have really sensitive skin, keep it to once. Over-exfoliation can dry your skin out and cause irritation.
Looking for a new exfoliator? Here are seven to shop for your face and body.
J.R. Watkins Sugar And Shea Grapefruit Scrub, $11, Amazon
Spoiler: This all-natural scrub smells amaze.
Plant Sea In A Scrub, $3, Amazon
This product uses Brazilian sea salt to naturally exfoliate your skin.
Yes To Coconut Polishing Body Scrub, $5, Amazon
Because you can always use more coconut in your beauty routine.
Fresh Sugar Face Polish, $62, Sephora
This all-natural face polish is more gentle than a traditional scrub.
Thalgo Softness Exfoliator, $28, Amazon
If you have sensitive skin, this product is a good bet.
Elemis Gentle Rose Exfoliator, $40, Amazon
Hydrate while exfoliating.
Kiehl's Pineapple Papaya Facial Scrub, $28, Nordstrom
It smells like the tropics — sold.
You Are Amazing Coconut Water Exfoliating Scrub, $15, Amazon
Coconut oil lovers will love this delicious smelling scrub.
Want more fashion and beauty tips? Check out the video below and subscribe to Bustle on YouTube!
Images: Fototalia; Target; Nordstrom