How To Apply Eye Makeup Like A Pro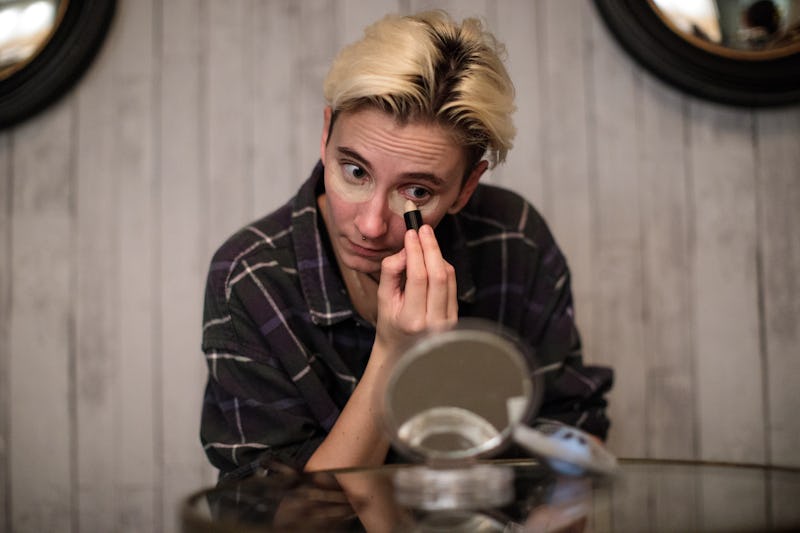 Jack Taylor/Getty Images News/Getty Images
Mastering eye makeup is arguably one of the hardest parts of the makeup application process, specifically because there are so many steps and products working together to form the completed look. But beginners shouldn't fret; there are plenty of eyeshadow tips, tricks, and hacks that will make the process infinitely easier and give you beautiful — and most importantly — achievable results.
Much like other trickier parts of the makeup process (ahem, contouring), solid eye makeup application is important, since when it's done well it looks really, really good, but when it's done poorly it can really show. I've seen enough cringe-worthy photos of my high school years to know that eye makeup has the power to overwhelm our faces if we're not careful. It can just be far too easy to mix and match different tricks and tips until we've just gone way overboard with the whole thing — especially when we're first learning.
If you're new to wearing eye makeup, or generally keep it really light and are looking to branch out into more creative territory, there are a ton of tricks that can help you master this particular frontier. So without further ado, here are 11 hacks that will make a huge difference in your life (you're welcome in advance).
Urban Decay Eyeshadow Primer Potion, $20,Sephora
Eye primer is a pivotal first step in the eye makeup process according to just about every makeup professional out there. According to Vogue, it can double or triple the longevity of your eye makeup, as well as prevent creasing or drying.
2. Be Super Careful With Darker Shades
Milani Bella Eyes Gel Powder Eyeshadow, $9, Amazon
According to a compilation piece on Gurl.com on hacks and tips for your eyes, you should be extra careful when using darker shades of eyeshadow, as dark colors will make your eyes look smaller — especially when applied to the lid. They instead recommended sticking to light colors on the lid and brow bone and a medium shade on your crease when you're just starting out. This will prevent the "overdone" trap some makeup novices might fall into.
3. Don't Use The Applicator That Comes With The Eye Shadow
The team over at DailyMakeover.com stressed the fact that the eye shadow applicators that come with most eye shadows should usually just be tossed, since they're usually super poorly designed for actual application. The spongy material will attract too much pigment and gives you very little control.
4. White Eyeliner Is A Must-Have
According to makeup artists Susan Yara with New Beauty Magazine, white eyeliner is one of the most versatile products you can have in your makeup bag. It can be used to enlarge and brighten your eyes, to highlight certain areas of your face, and as a base that makes eye shadow pop. See the above video for the best ways to use it.
5. Eye Shape Matters
Smashbox's lead makeup artists Lori Taylor Davis said that when it comes to eye makeup application, eye shape matters just as much as body shape does when you're buying new clothes: one color or technique doesn't fit all unique shapes. Because of this, it's important to know what your eye shape is and the looks that work best with it. Check out the above video from Davis to figure out yours if you're not sure.
6. Do Your Eye Makeup Before You Apply Foundation
Dailymakeover.com recommended doing your eye makeup first — even before foundation and concealer, since eye makeup application can often be a little messy or require makeup remover to perfect. This way you won't disrupt parts of your face that have already been completed. And if you really want to be careful, consider purchasing eye shields specifically for eye makeup application, like the ones above.
Bobbi Brown Shimmer Wash Eyeshadow, $20, Nordstrom
Champagne-colored eye shadow that is. In a piece for Refinery29, makeup artist Troy Surratt noted that if you're unsure which colors best suit your eye shade, keep it simple and stick with champagne, as it suits literally every skin color and "it's an all-over shade that will brighten the lids."
8. Blending Is Vital
YouTube makeup vlogger Shaaanxo stressed that blending — as well as a quality eye blending brush — is the most important step of all when it comes to the eye makeup application process. This is because it will create a much more natural, open look, as opposed to stark lines and contrasts that can make your eye area look a lot smaller.
9. Connect The Dots
You've probably heard about a few different methods for creating a perfect winged eyeliner look — from the edge of a business card all the way to taping your face. However, probably the simplest technique is simply the connect-the-dots method as illustrated by YouTuber Eimear McElerhon above. You can make your winged liner as subtle or extreme as you'd like.
10. Use Eye Shadow Instead Of Eyeliner
A compilation piece from Cosmopolitan noted that if you're not great with eyeliner pens or gels, you can consider simply applying a dark shade of eyeshadow with a super thin, angled brush. This will create a less harsh, blended look and is truly an awesome alternative for beginners looking to make their eyes pop.
11. Line Just Under Your Lid For A Super Natural Look
The Cosmopolitan piece also recommended lining just under your lid, as opposed to the traditional above the lid area, for an incredibly natural "no makeup makeup look." I love to use this technique when I want to look nice, but don't want a high maintenance look.
Eye makeup can definitely be challenging, but there are definitely super helpful work-arounds for those of us non-professionals. And remember, just like with anything, practice makes perfect.
Image: Jack Taylor/Getty Images