Beauty Tips To Save You Major Time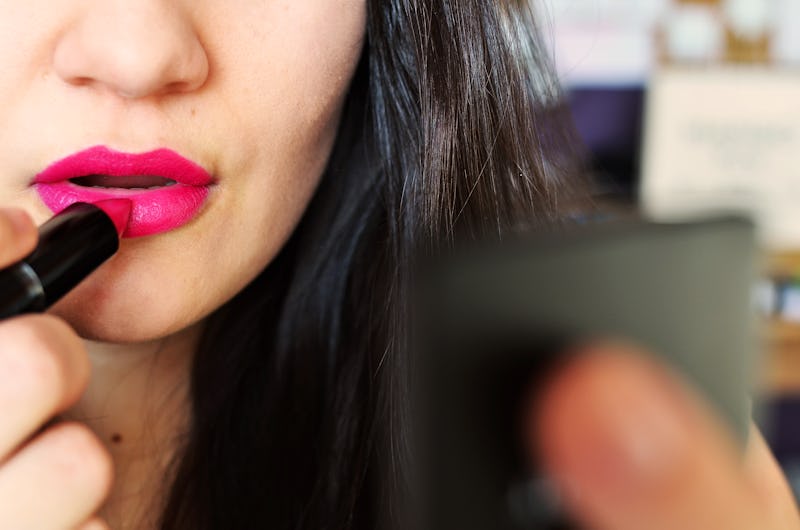 If you're like me, getting up an hour early on a weekday to perfect your makeup is kind of like waking up next to a unicorn — it's not gonna happen. The good news is there are beauty hacks lazy girls will love that will also save you an insane amount of time throughout your week. So you can put your energies towards more important things, like, you know, actual sleep.
I used to think that looking "made up" meant you had to put a lot of time into your daily beauty ritual. However, if experience (and necessity) has taught me a single truth, it's that you actually don't need to do a ton to look put together. For me, it usually just entails concealing my under eye circles, applying mascara, and slapping on some lip color. It instantly takes me from drab to looking fresh and well-rested.
While spending a ton of time slaving away on primers, foundations, contouring, and blending might make us feel awesome and like a beauty badass, at the end of the day the undiscerning eye usually won't really be able to tell the difference between 15 minutes of face prep time and an hour and 15 minutes.
If you're routinely on the go and just don't have hours to spend on beauty, here are 11 hacks that will save you some serious time all week.
1. Invest In Long-Lasting Nail Products
Nailene Sensational Nail Starter Kit, $27.74, Walmart.com
Nothing makes you feel as put together as manicured nails, but nothing can suck up more time than having to do them at least once a week. I recommend investing in at-home gel manicure products since your manicure will last so much longer.
And if you're not into gel (the color selection admittedly isn't as diverse as regular polish), then I'd invest in some fast drying top coat. It's a beauty junky favorite because it prevents premature chipping and extends shine like magic.
2. Dry Shampoo
Batiste, $4.99, BeautyPlusSalon.com
f you haven't used dry shampoo in a few years — or maybe you tried it once and didn't like it — I definitely recommend giving it another shot. I used to find that it either made my hair look greasier, or technically worked, but turned it white. However, now there are a ton of awesome products available for all different hair colors that genuinely really work. If you don't have time to wash and dry your hair every day this is a must-have.
3. Use An Epilator
Braun Silk-Epil 3 Legs Epilator Power Razor, $39.99, Jet.com
An epilator is a hair removal device that removes your body hair at the root at a super fast pace, meaning the results last way longer than regular shaving. xoVain contributor Allison wrote, "After getting used to the sensation of having a little machine tweeze out your hair, this became a favorite step in my routine. It is so worth it to me to do a once over my legs every other week to keep my legs fuzz free."
4. Consider Laser Hair Removal
OK, I know this one might seem like a big (and pricey) step, but if you really are tired of putting time into shaving places like your underarms or bikini line, laser hair removal may be right for you. Plus, many medi-spas have deals and Groupons for their services throughout the year, and you'll definitely save money in the long run if you regularly pay for waxing.
5. Blow Dry Your Face
In a piece on time-saving tips for busy people, on-the-go Director of Worldwide Outer Nutrition Education Jacquie Carter said that when she needs her moisturizer and foundation to set fast so she can move on to the next stage of her makeup routine, she simply sets her hair dryer to cool and blow dries her face.
6. Buy Multi-Use Products
Dior Sheek and Lip Glow, $37, Bloomingdales.com
So I used to shy away from multi-use products for no other reason than they just seemed less fun. I just like having separate products and shades for different areas of my face. However, the reality is when you're in a rush, a combo lip and cheek stain, or using an eyeliner that can also act as a brow pen (or even an eye shadow if you smudge it) will often look just as good as if you spent 30 extra minutes carefully picking out your color palette.
7. Use Facial Wipes Instead Of A Water-Activated Cleanser
Face Wipes, $5.95, Honest.com
I started using facial wipes instead of traditional facial cleanser about six months ago and I've never looked back. I now have a fully cleansed face in about 30 seconds.
8. Grab The Champagne (Eye Shadow)
Eye Shadow, $15.29, Jet.com
Don't have time for blending three different eye shadow hues for your favorite precise eye makeup look? No problem. Just throw on a more understated champagne color over the whole area. In a piece for Refinery29, makeup artist Troy Surratt said it suits literally every skin color and "it's an all-over shade that will brighten the lids."
9. Use Loose Powder On Your Lips
PlusModel.com recommended applying a layer of loose setting powder to make your lipstick last way longer (ergo, no need to spend time reapplying). I find this tip works way better than purchasing actual "long-lasting" lip colors, as they tend to dry out the lip and are generally more expensive.
10. Use Eye Shadow As Eyeliner
UK-based makeup artist Faye recommended using eyeshadow with a thin brush for days when you just don't have time to apply a meticulous layer of eyeliner. It will create a softer, less intense look that's great for day time wear. Check up Faye demonstrating the best way to do this in the above video.
11. Get Your Red Lip On
Natalie Clarke, beauty writer over at Stylist.com, said when in a rush, go for a bold red lip. "Red lipstick instantly can pull your face together, giving the illusion that you have put on your makeup, despite only just having gotten out of bed a few minutes ago," she wrote. And I find this to be true of basically any bright, bold lip color if red isn't your thing.
Life can get insanely busy, and we don't necessarily all have the ability to get up an hour early to put on our "faces." The good news is, you don't actually need as much time or as many products as you think to look totally rockin'. Trust me.
Images: Pexels (4)