Enjoy A First Look At The 'Gilmore Girls' Revival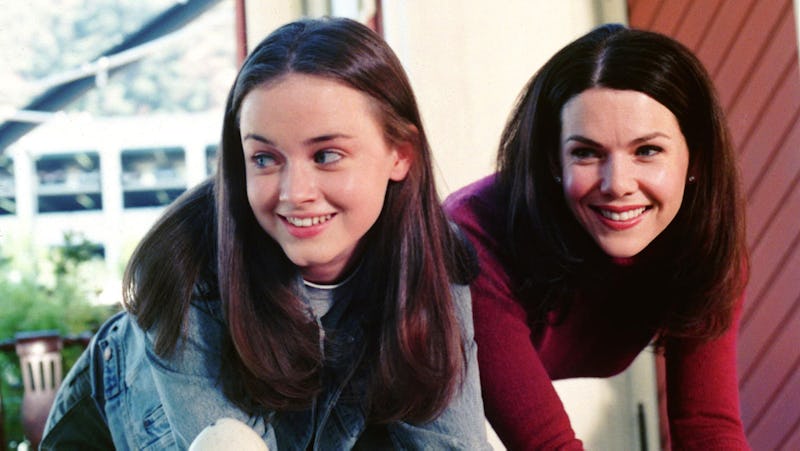 Entertainment Weekly has never done us wrong you guys, and Thursday was no exception. In the next issue of the magazine, fans of Gilmore Girls are going to get their first ever look at photos from the Gilmore Girls revival, and EW is giving us a taste in the form of the upcoming cover and a behind the scenes video. It's hard to know what to even talk about first, because it's all so insanely good that I don't blame you if you need to stop and cry first. I mean, Rory and Lorelai are back, and, even better, they've got their coffee cups in hand. It's literally like coming home, you guys, and Entertainment Weekly feels the same way.
In the behind the scenes video, we get an inside look into the background of the article and what we can expect to find out from what was surely the set visit to end all set visits. But the more interesting part of the video is the glimpse that we get of the glossy magazine covers — aka the glimpses we get of the scenes that we can expect to watch in the upcoming show. They give fans a lot to think about, that's for sure.
For example, one shot clearly shows Rory in the front of what appears to be a classroom, while another gives us a peak of what could be Luke and Lorelai holding hands. Let the speculation run rampant, you guys, because my mind is racing way too fast to even make sense of what I'm seeing here. If ever there was an issue of Entertainment Weekly that you needed to buy, like, now, this would be it. How else are you going to find out all things Gilmore Girls before anyone else?
Check out the EW cover below, and try not to weep. The girls are back, and they're bringing us home.
Image: Warner Bros. Television; Chris Craymer/Entertainment Weekly