11 Ways To Stay Inspired Daily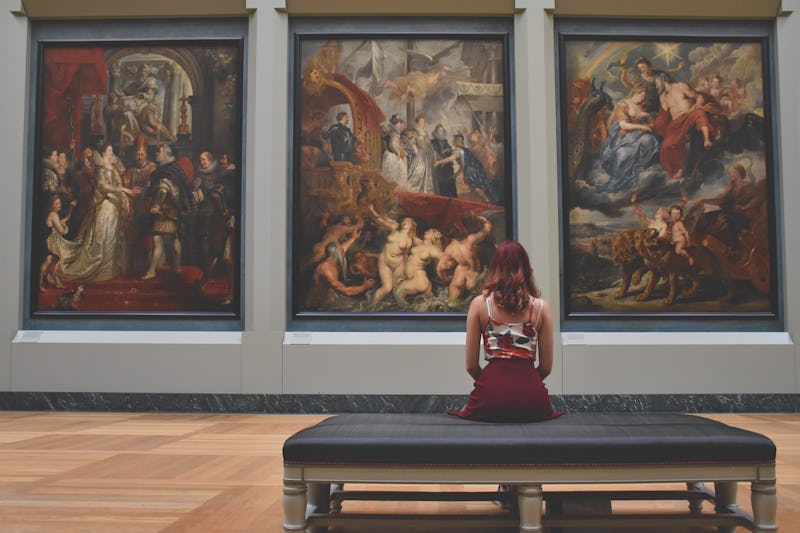 When it comes to our daily routines, we often focus on habits that can help keep us healthy. Although all of those are great, we also should focus on our mental health and motivation, such as how we can stay inspired daily. It's easy to get caught up in the hustle and bustle of life and get stuck in a rut, but if you pick up habits that can help boost your creativity and encourage your drive, your days will not only feel better, but you'll likely be more productive as well.
"Too often we put our own needs and wants on the back burner in order to handle things we give a higher priority to, such as the needs of others, work etc.," says Toni Coleman, LCSW, CMC over email. "When we do this, we all but lose sight of our own desires and why they matter to our life. Inspiration provides us with motivation and continued desire. Without that inspiration we can easily become apathetic or discouraged, which is how we get off track and give up on something that we had decided was important to us."
If you're looking to add a positive and encouraging spin to your day, consider utilizing these 11 ways to stay inspired daily.
1. Write Stuff Down
Whether you're writing down your goals, jotting down those quickly fleeting ideas, or just messing around with creative writing, taking your thoughts and putting them on paper can have some powerful effects. A study from Dominican University found that writing down your goals makes you 21 percent more likely to actually achieve those goals.
2. Connect With Someone Motivating
"Connect with someone who inspires you and invite them to coffee," says Kelley Kitley, LCSW over email. "If we surround ourself with motivated people, it is contagious." Having someone to look up to can also encourage you to succeed. One study from MicroMentor.org found that 49 percent of people that received mentoring actually ended up started their businesses, and 82 percent survived for one to two years, which is 13 percent higher than the survival of an average new business.
3. Read A Book
"Read books and authors who are doing what you want," says Kitley. "Create a library of authors and books that inspire you. When you wake up in the morning or before you go to bed at night read a few pages so that your starting or ending your day inspired."
4. Get Moving
"This can involve taking short walks around the office or neighborhood," says Coleman. "Or you can get up, stretch, go up a flight of stairs instead of taking the elevator, etc. Movement clears our head, helps us to focus, and provides us with energy." A study from Stanford found that creative thinking improves when walking and for a time shortly thereafter.
5. Use Affirmations
"Use affirmations," says Coleman. "This may sound cliche, but they work and its easy. Tell yourself you can do something that you may not always believe you can. Remind yourself about something you did well yesterday. Think about and meditate on one or two of your strengths and how well you have used them this recently."
6. Practice Gratitude
"Every day, meditate briefly on something in your life that is good," says Coleman. "It can be anything at all, large or small. This helps us to stay positive and to keep our emotional energy flowing in the right direction." According to Harvard Health, studies show that gratitude helps people feel more positive, relish good experiences, and deal with adversity.
7. Schedule Time For Yourself
Schedule a time each day to reflect on and take a simple step towards your present goal(s)," says Coleman. "This could be as simple as spending 20 minutes creating a meal plan, with recipes that would help you stay on track. It could also involve identifying resources for helping you with your goals — finding information online, identifying a class, calling a professional who can help you, etc."
8. Unplug From Electronics
"Insist upon times for an electronic lockdown," says leadership coach Geraldine Markel, PhD over email. "Allow time for brainstorming sessions when the creative juices can flow without interruptions." Disconnecting from technology can encourage you to switch to another activity, whether it be something new or something you haven't picked up in a long time but enjoy.
9. Use Visualization
"This technique encourages the use of your mind's eye," says Markel. "Forming a mental picture heightens your awareness and brings clarity and specificity about situations you confront. Winning athletes use visualization to simulate a competitive situation and mentally rehearse their moves. You can use this technique to reduce stress and increase motivation."
10. Create A Morning Routine
"Quiet time helps me to set my intention for the day," says Kitley. "I light a candle and write attainable, tangible goals for the day. I become more inspired when I feel like I'm moving in the right direction."
11. Surround Yourself With Reminders
We are only human, and sometimes we get down on ourselves, so it can helpful to have visual reminders that everything will be okay. "Put motivational quotes in all areas of your day to day — on the mirror, on the coffee machine, in the car, on your desk — so when negative thoughts creep in, you have gentle reminders," says Kitley.
Although we are all not motivated by the same activities, making a conscious effort to focus on your inspiration and drive can only help lead you closer to your goals.
Want more women's health coverage? Check out Bustle's new podcast, Honestly Though, which tackles all the questions you're afraid to ask.
Images: Pixabay (12)