9 Holy Grail '90s Products That Need To Come Back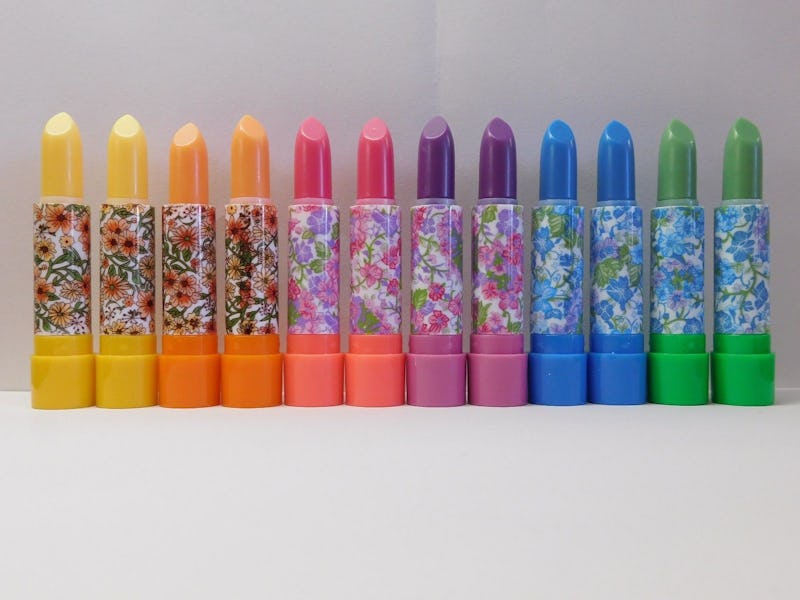 There was no better time to be alive than in the '90s. Filled with candy-scented perfumes and edible body lotion, it was a time of true beauty experimentation. New brands were coming out left and right, along with all sorts of crazy makeup inventions. Unfortunately, some of the most beloved beauty products from the era aren't as much of a thing today. Although they weren't always the most practical, there are still some '90s cult beauty products that deserve to still be sitting on the shelves at Sephora or the local drugstore.
If the scent of roll on glitter doesn't bring a smile to your face, then I don't know what you were doing during the '90s. Thankfully some of the best beauty brands from that era are making a comeback in this time of '90s revival, but a few of the most memorable cult products were left in the dust. Gone are the days when mood lipstick and push-up lipsticks were the norm, but that doesn't mean people wouldn't wear them if they were brought back, right? I know I would certainly be on board.
Thinking back to all the different beauty products form 20 years ago, it's clear to see how much time has passed. I mean, Kylie Jenner, the makeup maven behind the biggest must-have beauty product of the moment, wasn't even born when some of these cult classics came out! A lot might have changed, but one thing is for sure — you'd buy these nine '90s beauty products if they were still on the shelves without any shame.
1. Hair Mascara
Joyous Professional Temporary Hair Color, $10.18, eBay.com
Before boxed dye was a staple for many middle schoolers, hair mascaras were the best thing for switching up your look. I'm willing to bet that people would still experiment with these if the ones from the '90s were still around today.
2. Bottled Emotion Perfumes
Bonne Bell Bottled Emotions Perfume, $20, eBay.com
Because how easy would life be if people could still tell what your emotions were just by catching a whiff of your perfume? Sure, they might have all smelled vaguely similar, but they were too fun not to collect.
3. Lip Shades Lipstick
Bonne Bell Lip Shades, $15, geb.ebay.in
There was no better feeling than pulling one of these out of your tiny handbag and sliding this plastic-y smelling lipstick up to apply some. They'd still be perfect for those days when you need some effortless, on-the-go makeup.
4. Caboodles
Caboodles On-The-Go-Girl Swag, $13.10, target.com
You're in luck, because they actually do still make these today. This was a '90s tween's dream come true. You could throw all your makeup, hair supplies, or even nail polishes into this bag with a guarantee that it would make it to your destination in one piece.
5. Lisa Frank Makeup
Lisa Frank Lipstick Bank, SOLD, etsy.com
If there was anything better than Lisa Frank folders and notebooks, it was the Lisa Frank lipstick bank. Not only did you get a bunch of loose glitter and nail polishes with this, but you also got a beauty lovers ideal piggy bank. Tell me you wouldn't still love one of these today and you'd be lying.
6. Roll On Body Glitter
Roll On Body Glitter, SOLD, amazon.com
Hear me out for a second. I understand that there is a time and a place for roll-on glitter (aka, the past). But since strobing is trending, I think there's definitely a market for this right now. It might not have been the most natural looking makeup, but it stayed on all day, which should count for something.
7. Lip Rageous
Lip Rageous Assorted Lip Balms, $50.99, amazon.com
These things were great because they could fit right in your pocket. Believe it or not they had Aloe and Vitamin E in them, so they'd be able to compete with any of the lip balms on the market today.
8. Bath & Body Art Stuff
Bath And Body Art Stuff Glitter Splash, $15, eBay.com
Bath & Body Works is still going strong today, but the Art Stuff line seems to be gone for good. It had everything from glitter spray to foam that you could write on the shower wall with, and I wouldn't mind those things coming back to a mall near me.
9. Mood Lipstick
Princessa Mood Lipstick, $7.50, eBay.com
Mood lipstick is slowly starting to become a thing again, but nothing will ever beat the packaging from back in the day.
I would gladly stock my makeup arsenal with each and every one of these cult '90s products.
Want more fashion and beauty tips? Check out the video below and subscribe to Bustle on YouTube!
Image: Courtesy Brands (9), eBay.com (1)