14 Mother's Day Gifts Under $20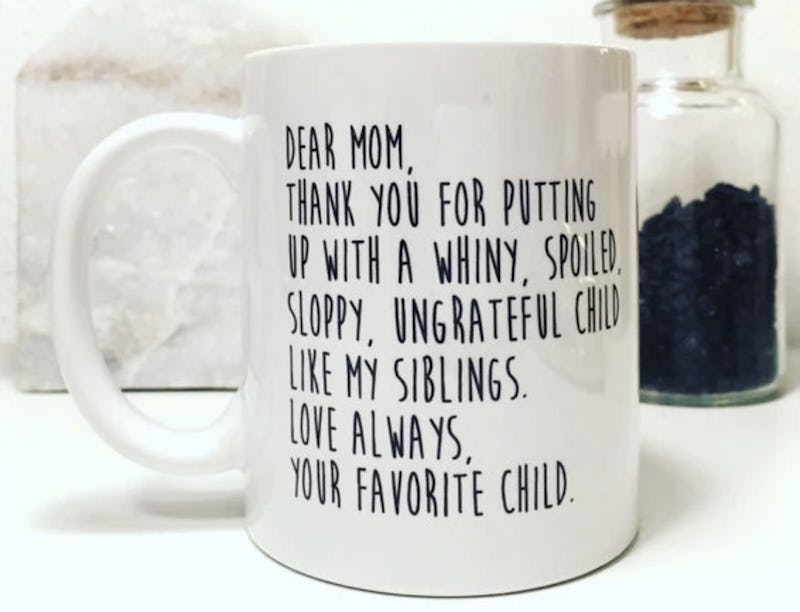 It would be easy to wow your mom on Mother's Day with a luxurious, expensive gift — but if you're like most working daughters, you probably can't afford such an extravagance. Look to these cheap Mother's Day gift ideas instead. Luckily, you don't need to shell out big bucks to give your mom a little something thoughtful. When it comes down to it, Mother's Day is all about pampering our hardworking mamas. As long as you give her something that leaves her saying "treat yo self!" the price tag doesn't matter. Just be prepared to spend 20 minutes painstakingly showing her how to look up that Parks and Recreation video on her phone. (Hey, isn't that what us kids are for?)
Getting someone a great gift is so much easier when you know them well, and who do you know better than your own mother? And like all women, all moms are different. So forget about generic scarves and the same old flowers she gets every year, and get the woman who gave you life something a little more personal — and memorable. I've rounded up a selection of great gifts under $20 so you can win at bargain shopping. And in the meantime, you and your mom can still daydream about the crazy things you would do with unlimited funds. Just don't forget to take her on that mother-daughter trip to Fiji if you ever do win the lottery.
1. A Floral Candle
With such a pretty tin, she'll appreciate this candle even when it's not lit.
Petite Decorative Candle, Voluspa, $9.00
2. A Ceramic Planter
If she doesn't have a green thumb, she can just use it as a pencil holder.
Ceramic Planter, 1220CeramicsStudio, $15.00
3. A Movie With Hilarious Female Leads
Get some popcorn, settle on the couch with Mom, and let two of the funniest ladies out there crack you up.
Sisters, Amazon, $16.99
4. Pajama Pants
So she has something to wear while she's doing all that relaxing.
Poplin Sleep Pants, Old Navy, $9.50
5. Relaxing Teas
Upgrade her afternoon tea game with this delicious set.
Super Spice Teas, David's Tea, $14.00
6. A Feminist Print
Make her proud of how she raised you to be a feminist.
Feminist Quote Print, dothandmade, $17.00
7. On-Trend Sunglasses
A woman can never have too many sunglasses.
Metal Temple Round Sunglasses, Forever 21, $7.90
8. A Witty Mug
Guaranteed to make her chuckle. Watch out for any siblings lurking around when she unwraps this one!
Your Favorite Child Coffee Mug, GiftedLights, $14.00
9. Sweet Bathtime Treats
When you can't afford to take Mom to the spa, take the spa to Mom.
Buttercup Wrapped Gift, Lush, $14.95
10. A Personalized Wine Label
She loves drinking wine, you love drinking wine, so here's a fun label to stick on a bottle you can drink together.
Personalized Wine Label, iCustomWine, $5.00
11. A Novel She Won't Be Able to Put Down
This bestselling novel, about the relationship between a mother and daughter, is a no-brainer pick.
My Name is Lucy Barton by Elizabeth Strout, Amazon, $15.91
12. Pretty Earrings
They're a classic gift for a reason!
Raw Amethyst Stud Earrings, ivolvebeauty, $15.00
13. Custom Tote Bag
Putting her name on it is like a promise you'll (almost) never borrow this cute tote without asking first.
Personalized Tote Bag, WishfulPrinting, $18.99
14. A Mother-Daughter Bike Ride
Or take a mother-daughter run, walk, whatever. This might sound corny, but spending time together is something that will make your mom happy. Bonus points for free bonding while getting some exercise.
Image: GiftedLights; Fotolia