8 Shower Mistakes That Are Bad For Your Skin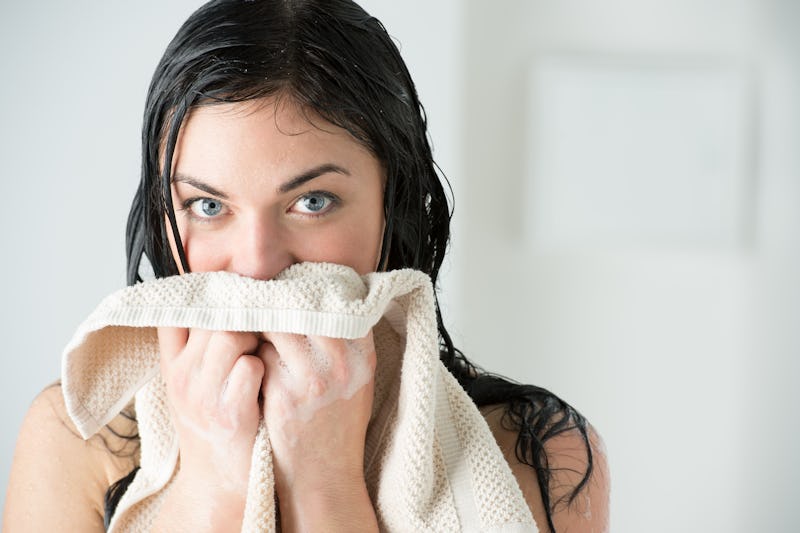 The world is filled with ironies, like how Alfred Bernhard Nobel invented both dynamite and the Nobel Peace Prize, and that Steve Jobs didn't let his own children possess iPads. However, in my opinion, one of the worst (yet lesser-known) ironies is that most of the things you should never do in the shower are the ones people routinely practice every day — all for the sake of staying smooth, clean, and blemish-free. Studies are finding out that it's not even healthy to shower every day, let alone use flora- and pH-stripping chemicals and soaps on our bodies. Not only do they cause oil imbalances that result in breakouts and kill healthy bacteria that form a natural barrier against invaders, but they dry skin out and seriously impact its elasticity.
Unfortunately, as much as I'm a fan of natural and holistic health practices, I've never been able to jump on the skip-your-shower bandwagon. That's why I've made it a point to rearrange my shower habits so that they're as healthy and non-abrasive as possible. Here's a list of the most common mistakes people make in the shower that really damage their skin, as well as a few tips about how to fix them once and for all.
Exfoliating With Plastic Microbeads That Tear At Skin
Blueberry Oxygen Facial Scrub, $18, Amazon
Microbeads (those little tiny plastic things in your facial wash) are bad for your skin, as they cause little tears in the epidermis. They're also terrible for the environment because they don't break down in the sewage system, so they end up in the ocean. This blueberry oxygen facial scrub uses jojoba beads, which are both gentler and biodegradable, as well as antioxidant-rich blueberries, cranberries, and soothing aloe vera. Reviewers love it because it exfoliates dead cells and impurities without hurting skin or drying it out, and combined with the good-for-you, good-for-the-environment ingredients and awesome smell, this one's a home run for you (and little fishies everywhere).
Moisturizing With Chemicals When Skin's Especially Susceptible
Coconut Oil Moisturizing Cream, $10, Amazon
Tons of moisturizers are filled with parabens, sulfates, and artificial fragrances. However, this coconut oil moisturizing cream uses only organic and chemical-free ingredients like chamomile, lavender, and coconut oil, which has been shown to protect skin and promote new growth. It's great for dry and oily skin alike, as well as those with sensitive skin, and reviewers use it for everything from foot-healing to shave lotion. Your skin is entirely porous, especially when it's wet, so if you moisturize when you're supposed to (within three minutes of getting out of the shower, according to dermatologists), all of those toxins are absorbing into your body along with the hydration. Keep yourself free from harmful chemicals (and fully hydrated) with this easy-pump cream.
Cleansing With Harsh Shampoos & Conditioners Daily
Matrix Biolage Cleansing Conditioner, $23, Amazon
The shampoo-and-conditioner combination is actually really rough on your skin and hair, as it strips all the natural oils from your body and then replenishes them with synthetic ones that clog pores. I wasn't ready to stop washing my hair altogether, though, so I found a middle-ground — switching to a cleansing conditioner. This one leaves your hair's natural oils in place, just stripping dirt and build-up, which means the skin around your hairline won't get clogged with synthetic oils (aka no breakouts!). Reviewers love it because it leaves hair feeling silky and clean without drying it out, and because it's made specifically for fine hair, it also helps with volume and thickness.
Leaving Pollutant-Filled Makeup Behind Overnight
Bee Friendly Organic Makeup Remover, $28, Amazon
Most brands of makeup can be toxic and filled with carcinogens, but people aren't about to stop wearing it. That's why it's super important to fully remove it on a daily basis. Instead of using an abrasive agent to do that, Bee Friendly's organic makeup remover uses nothing but natural oils and bee products (like honey and beeswax) to easily and effortlessly take off makeup without harming skin. While it's awesome at cleaning everything from mascara to lipstick without any residue, reviewers love it so much, they've started to use it as their daily face wash.
Using Abrasive Soaps Not Formulated To Calm Skin
Aspen Kay Aloe Vera & Calendula, $9, Amazon
Antibacterial soaps – especially ones loaded with chemicals — strip skin of the good bacteria that fights against acne and eczema. However, if you're not willing to give up soap altogether (as most people aren't), there are all-natural options. This aloe vera and calendula soap is made with only organic ingredients that are super gentle and ultra nourishing, like olive oil, shea butter, and essential oils. Because both aloe and calendula have healing and moisturizing qualities, reviewers say their skin has never felt softer or healthier. And, as an added bonus, it smells incredible.
Showering Without Filtering Out Chlorine
Hotel Spa Rainfall Filtered a, $25, Amazon
Chlorine (along with other chemicals, like fluoride) are added to your water supply as cleaning agents and disinfectants, but they can actually be super bad for your body, hair, and skin, as they kill flora and dry everything out. This Hotel Spa filtered showerhead removes all of that from your shower water, along with heavy metals, bacteria, and pesticides. It has six settings (including heavy jet and relaxing rainwater), and because it's made from high-quality materials and has a tools-free installation, reviewers absolutely love it.
Soaking Up Soap With Synthetic And Bacteria-Filled Sponges
Facial Sea Sponge, $10, Amazon
Another irony: Sponges are great at soaking up bacteria and mildew, which then transfer to your skin and cause irritation and breakouts. This facial sea sponge is all-natural and sustainably harvested, but it's also ultra gentle on your skin and inhibits the growth of bacteria. It can be easily disinfected in a cup of water and baking soda, and because it's entirely organic, you won't have to worry about leaching chemicals into your skin. Reviewers say it's high quality and ridiculously soft, and it's great for both hydration and gentle exfoliation.
Shaving With Low-Quality, Nick-Prone Razors
Gibson Classic Safety Razor, $30, Amazon
Tons of people (both men and women) are making the switch from disposable razors to old-fashioned safety razors. They're economical and, when utilized correctly, provide a way closer shave. Most people don't know, however, that they're better for your skin because they cut the hair at a safer angle that doesn't irritate the follicles, pull at the root, or cause bumps and irritations. This Gibson classic safety razor is one of the best on the market for both men and women because it's sturdy, durable, and easy to use. It's made of stainless steel, so it's easy to clean and harder to transport bacteria, and this particular kit comes with ten replacement blades, a sleek razor case, and a box to store it all in. Reviewers say it makes an awesome gift, but it's also great for people who are trying to break into the art of safety-shaving. Best of all, no bumps — only smooth skin.
Bustle may receive a portion of sales from products purchased from this article, which was created independently from Bustle's editorial and sales departments.
Images: Fotolia (1); Amazon (8)