11 YA Novels By Asian-American Authors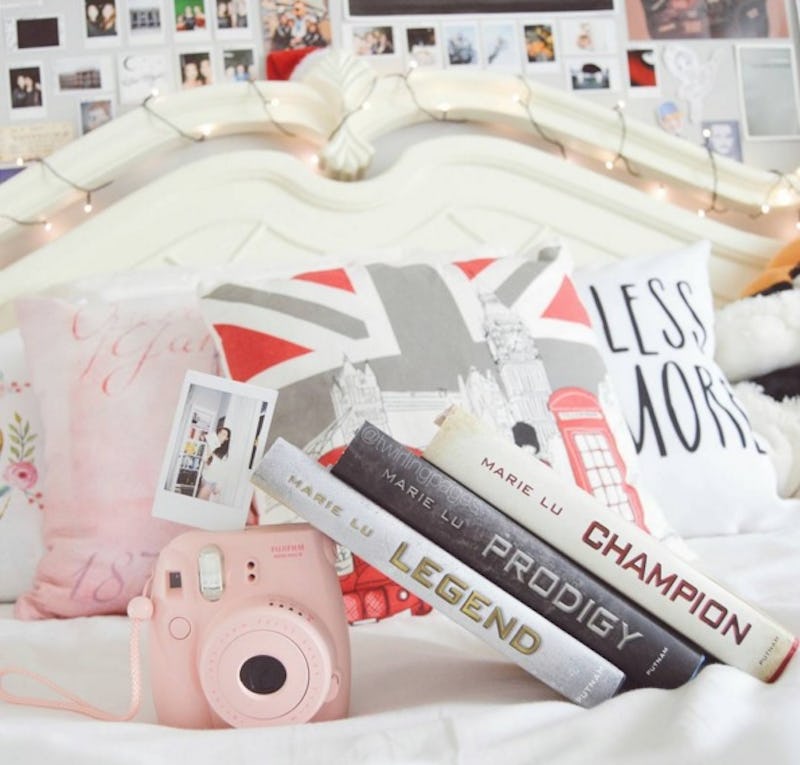 If you're looking to add more diversity to your young adult literature bookshelf, these Asian and Asian-American authors can be a good place to start. YA novels by Asian-American authors run the gamut in theme and genre, from fairy tales to dystopian fiction to contemporary realism to historical to fantasy and more, so you'll definitely be able to find a book (or 12) that will be the next must-add to your TBR pile.
A quick note: For the purposes of this piece, it won't include South Asian authors, because they deserve (and will get) their own separate list.
Some of these YA author names you will recognize immediately, as their novels have skyrocketed to the tops of the bestseller list. Others you may be happily introduced to. Some books were written years and years ago, and others are just hitting the shelves in the last year.
We Need Diverse Books, #100BlackGirlBooks, and many other organizations and movements have worked to ensure that people are reading widely and diversely, from across the globe and all different cultures, so that publishers get the message we want stories from Asian, African-American, Middle Eastern, Native American, Latina, and all other voices — not just books told from the perspective of middle class white Americans. By reading more diversely, we can ensure that message is loud and clear. And to be clear: These 11 writers are only the start of incredible Asian-American voices in YA.
1. Ash by Malinda Lo
This LGBTQ spin on the classic Cinderella story ensures that the women in the fairy tale are no damsels in distress. Ash's life is dismal, living with her evil stepmother and dreaming of fairy tales. But when she forms a bond the queen's huntress Kaisa, her life becomes full of adventure, love, and difficult decisions.
If you measure your life in summers, you'll be whisked away by Jenny Han's The Summer I Turned Pretty and its two sequels. The best time of every year is when Belly spends her summers at the beach house with her mom's friend Susannah and her two sons, Conrad and Jeremiah. Through the years, the boys have been her best friends, her brother figures, her crushes, and her loves. But as she's getting older, she's going to have to choose.
If your childhood was spent fording the river and staving off dysentery in the PC game Oregon Trail, then you need Stacey Lee's Under a Painted Sky. The story follows two outcasts, a runaway slave named Annamae and a young Chinese girl named Samantha, as they travel the Oregon Trail dressed as boys. Both are escaping for their lives, and the result is a unique, vibrant survival story that embraces the power of female friendship. If you like this one, Lee has a new book, Outrun the Moon, coming May 24, and a third, The Secret of a Heart Note, scheduled for December.
Higgs Boson Bing was named by his NASA scientist mom after the "god particle." And he's doing well following in those uber smart footsteps: he's won several debate championships and is headed to Harvard in the fall. However, his parents seems more interested in keeping his late older brother Jeffrey in their focus than Higgs Boson or his sister Charlie. Things start to further go off the rails when Roo, Higgs Boson's girlfriend, asks one seemingly simple question: "If I needed a kidney, would you give me one?"
Thanhha Lai's National Book Award-winning Inside Out & Back Again is inspired by Lai's own experiences fleeing Vietnam during the Fall of Saigon and immigrating to Alabama. The book veers more middle grade, but you won't be disappointed. You'll fall in love with our protagonist Hà as she grieves and remembers her homeland and tries to adjust to life in a new world.
Ai Ling is the kind of fantasy hero you're going to love rooting for. She's mentally tough, and she relies on her wits and much as she does her physical strength. After fleeing from the idea of marrying old man suitors and spending her life as a dutiful wife, Ai Ling embarks on a journey to find her father. She and her fellow travelers encounter mystical beings (including zombies!), but Ai Ling's emerging magical powers help them move forward.
7. Legend by Marie Lu
Marie Lu's sparkling debut is told from the POV of two completely different teenagers living in a dystopian United States, known as the Republic. There's June, who has been groomed to join the elite military since she was a child. And there's Day, the Republic's most wanted outlaw, who is searching for a cure to the plague that ails his family. When June is assigned to hunt down Day, the two collide in an epic cat and mouse game, where secrets are slowly revealed. You're going to be hooked.
The kickoff to Karen Bao's Dove Chronicles introduces readers to the quiet Phaet Theta, who lives in a moon colony. When her mother is arrested, she enlists in the Militia to protect the moon against Earthen attacks and save her younger siblings from having to live in the Shelter. All she has to do now is rank high in training so she can free her mom and bring the whole family back together. But nothing is that easy.
Historical fantasy based in ancient Korean lore? Um, yeah sign us up. Kira is the greatest warrior in the entire Seven Kingdoms, and she's the only girl in the entire King's army, acting as bodyguard to the Prince. When a seeming demon invasion hits her home, Kira goes on the run with the prince to protect him in this action-packed opening to Ellen Oh's series.
First of all, Since You Asked has one of my absolute favorite book covers. Second, it centers on a Korean-American teenager who struggled to reconcile her parents' traditional values with her teenage life in the U.S. And things only get amplified when Holly Kim lands a gig writing a sarcastic column for the school newspaper, and she uses the outlet for her rants.
Janie and Micah consider themselves best friends, soul mates. But Amy Zhang's novel reveals that sometimes we don't know the people we love as much as we think we do. When Janie's house burns down and she vanishes, police question Micah, whose memory is disjointed due to frequent drinking. But the dual narratives skip in time to uncover what truly happened to Janie.
Image: twirlingpages/Instagram