Nyle DiMarco's 'DWTS' Samba Is Super Meaningful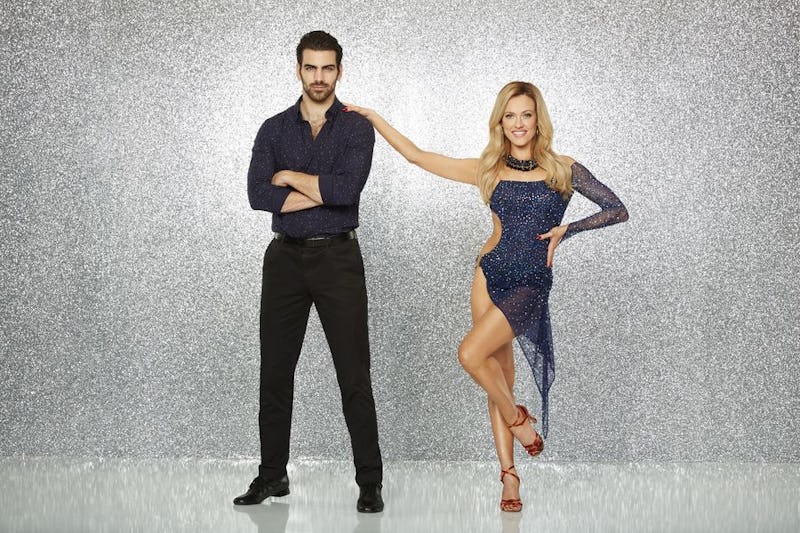 Week 4 of Dancing With the Stars Season 22 kicked off with a jubilant Disney theme (picture Donald Trump's ex-wife Marla Maples in a mermaid costume dancing to "Part of Your World"). And while every contestant gave each dance their all, transforming into classic Disney characters in the ballroom, no one embodied their part quite like deaf model Nyle DiMarco's transformation into Tarzan. While the sweaty and shirtless Tarzan was kind of a no-brainer for the undeniably sexy model (who looks equally as good in a loin cloth, TBH), DiMarco's reason for choosing to embody Tarzan went well beyond the physical. In fact, it had to do with communicating with his pro partner Peta Murgatroyd.
"Tarzan and Jane, when they first met, they couldn't understand each other," he told Murgatroyd before their number. "That's exactly what's happening with us. I always wished that I could actually be Tarzan."
And, like Tarzan and Jane, the two quickly realized that they have the ability to connect seamlessly — despite any language barrier getting in their way. Watching their performance, the two were undeniably in sync throughout the whole number, delivering a sultry, on-point samba that scored solid eights and nines from all judges. I believe the phrase "Emmy for Best Supporting Loin Cloth" was uttered.
Despite the fact that DiMarco cannot actually hear the music, he never missed a beat, stomping his feet Tarzan-style and keeping up with the rhythm in such a precise way that many of his hearing contestant counterparts cannot. He revealed that he is able to stay on the beat thanks to his partner's movements — yet another way the whole Tarzan/Jane "connecting-without-actually-speaking" thing comes into play.
"I have to say, honestly, being born deaf — I think that actually helps me because sound never existed for me," DiMarco explained. "So basically I just follow Peta's movement and I just act it out. I can see the beats from Peta and I think that's how we do it."
It's clear from their performance that DiMarco and Murgatroyd not only embodied Tarzan and Jane physically (and damn, did they look good doing so), but on a deeper, emotional level as well. It is that clear connection, even without actually speaking, that makes them the competition to beat this season.
Image: Craig Sjodin/ABC