The Plus Bus Is Making IRL +Size Shopping Possible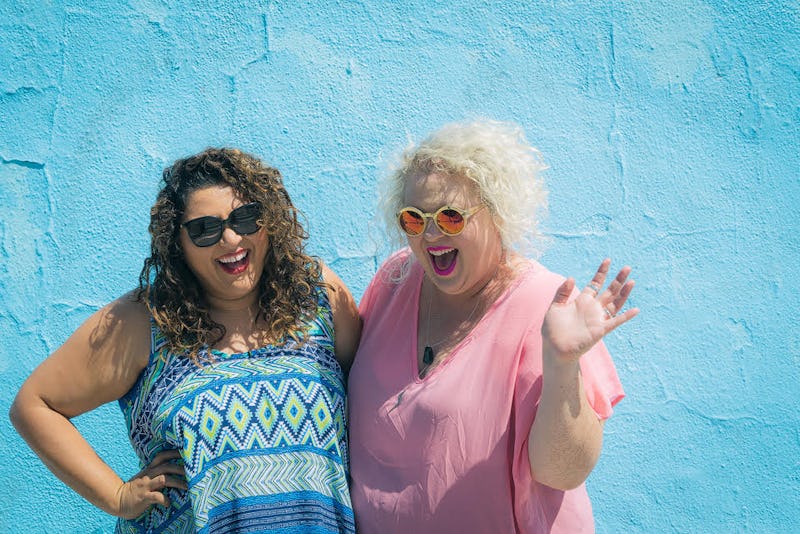 Reselling clothing as a plus size woman is a must in my book — in part to help me make money, but mainly to stay on-trend and share the wealth with other fatshionable babes. Now we're getting The Plus Bus, a size 14+ resale experience that will follow my ideologies. After all, a gorgeous dress you're never going to wear again is sure to better serve another fashion-forward plus sizer than the back of your closet. And in turn, you can purchase a second-hand garment at a heavy discount (as compared to a brand new purchase) and take another gorgeous piece home to replace your sartorial loss.
Launching on Apr. 14 in Los Angeles, The Plus Bus is an extension of a business already started by founders Marcy Guevara and Jen Wilder in Jan. 2016. Originally a retail pop-up that offered the same resale services, Guevara and Wilder are now setting up a brick and mortar store in the Chipp's And Mark building in the Glassel Park area of Northeast Los Angeles.
By bringing in their unwanted clothing, customers will be offered cash or store credit and are encouraged to continue the cycle by purchasing in store. The premise is that visitors will want to take part in the swap shop culture because, unlike other stores, The Plus Bus is a safe, plus size-specific shopping experience. That means a person wouldn't have to trade in their gorgeous size 22 outfits only to find one crappy rail for plus size styles.
The Plus Bus' website promises so much more than just a shopping destination as well, but a body positive experience for customers looking to refresh their wardrobes. Services include one-on-one sessions to help you curate the perfect wardrobe, personal stylist advice and appointments, environmental sustainability, as well as a sense of community, according to the press release.
Long gone are the days when my mom might have felt embarrassed by shopping at Evans. Slowly but surely, plus size fashion has become a marker of community that celebrates larger-sized people.
Guevara tells me via email that she sees the launch of the store as a step forward for body positivity, as women will get to shop for and try on clothes in a comfortable and accepting environment, instead of placing online order on top of online order.
Co-founder Wilder adds, "The whole experience of shopping in a boutique is missing for the plus customer in Los Angeles. We are the only consignment boutique in LA that caters specifically to sizes 12 and up! That to me is so mind blowing — it's about time!"
"We seek to bring brands offline and into the real world so that plus shoppers can experience firsthand the fit and quality of different brands," Wilder says. "Many of our customers have never tried on a lot of the brands we carry and this is a great bridge to not only build our own customer base but to support plus size brands by exposing more people to their wares. We are so excited about all the future holds in this space far all plus size people and we plan to maximize the space for all types of community building. I can't wait to meet more of Plus LA!"
Guevera and Wilder have found a niche in the ever-expanding plus size market and they are filling it themselves. Plus size women providing for plus size women is a revolution in and of itself, and I can't wait to see how the store succeeds in the upcoming months.
Want more radical self love? Check out the podcast below, and be sure to subscribe to The BodCast for more body positivity!
Images: Courtesy The Plus Bus