We Almost Had A Different Captain America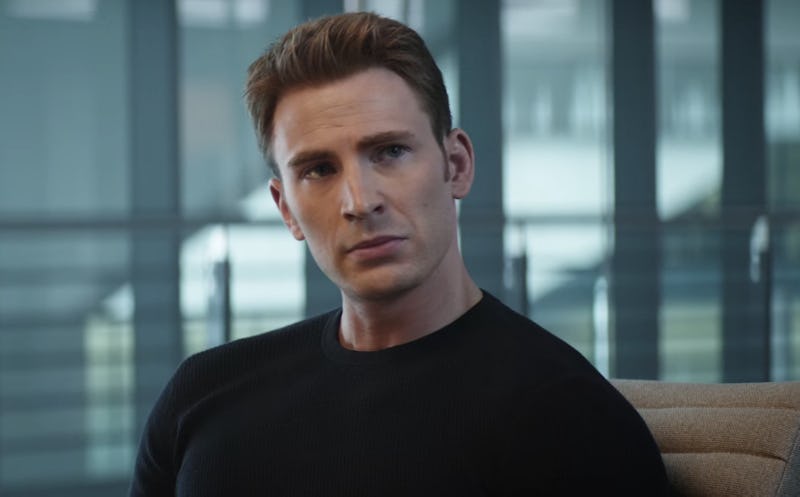 The superheroes that make up the Avengers are household names, and the actors that play them will forever be associated with their iconic characters. However, back when the casting process was underway, the actors we know and love today weren't officially on board. In fact, according to Captain America actor Chris Evans, he needed some convincing to take on the role of the World War II hero. As the man himself revealed, Evans almost turned down the role of Captain America, which sounds literally ridiculous. Not just because of character-actor association, but because, literally, Evans is basically Steve Rogers in real life.
On Monday night, the actor revealed the shocking news on Jimmy Kimmel Live: "I was scared because at first it was a nine-picture contract, and there are parts of me that have a little bit of social anxiety with this industry. Doing movies one at a time, if all of a sudden you decide you don't want to do them anymore, you're afforded the opportunity to take a step back and recalibrate. When you have a giant contract, if all of a sudden you're not responding well, too bad, you gotta suit up again. That was scary." So sweet, right? Luckily for us, he quickly changed his mind. "It started to kind of make sense that I was saying no out of fear. You can't be doing something because you're scared. So it ended up kind of clicking to me in the way of looking at it as 'whatever you're scared of, push yourself into it.'"
Is that Chris Evans who was talking there? Or Steve Rogers? Honestly, it's hard to tell with the kind of bravery and logical thinking he put into his late-night talk show statement. Clearly, this casting was meant to be. While I, personally, don't even want to think about another actor playing the role of Captain America, the fact that it almost happened is pretty scary. Odds are, we wouldn't have even known the glory we were missing out on.
Chris Evans makes the perfect Steve Rogers turned Captain America. For starters, his resemblance to the drawing of the character in the original comic books is pretty spot on. Between his blonde hair, blue eyes, and totally ripped bod, he basically stepped out of the pages of the comic book. However, even before Evans got in shape for filming, he was a clear perfect match. The youthful, eager soul that he carried in the first film, Captain America: The First Avenger, grew into the strength and confidence he has today as the films went on. Beneath the strong movie star image, Evans remains a person who is always out to do the right thing.
While he may not necessarily be a war veteran, Evans has always put the needs of others before his own in the form of charity work, including regular visits to children's hospitals, supporting the Breast Cancer Care organization, and even doing his part for the military as a supporter of the Got Your 6 foundation. And, in spite of it all, he still remains humble and unaffected by his own movie star status.
Much like Steve Rogers' steadfast love for Peggy Carter, Evans also happens to be quite the romantic. "I'm a pretty romantic guy," he told People magazine in an interview. "I don't necessarily limit the notion of romance to people, though. I think I have a romantic relationship to art, to music, to nature. [...] I went camping once for three weeks by myself, which is very romantic. It's true. It was very romantic, but maybe not in the conventional sense." Swooning right now.
Seriously, could there possibly be a better actor for the role out there? I highly doubt it. I'm just happy I'm not in the parallel universe where the Captain America suit is missing Chris Evans' presence. And now we get to look forward to more of him in the coveted superhero role in Captain America: Civil War — hitting theaters May 6.
Images: Marvel Entertainment/YouTube; Giphy