Get Excited For MAC X Selena Collection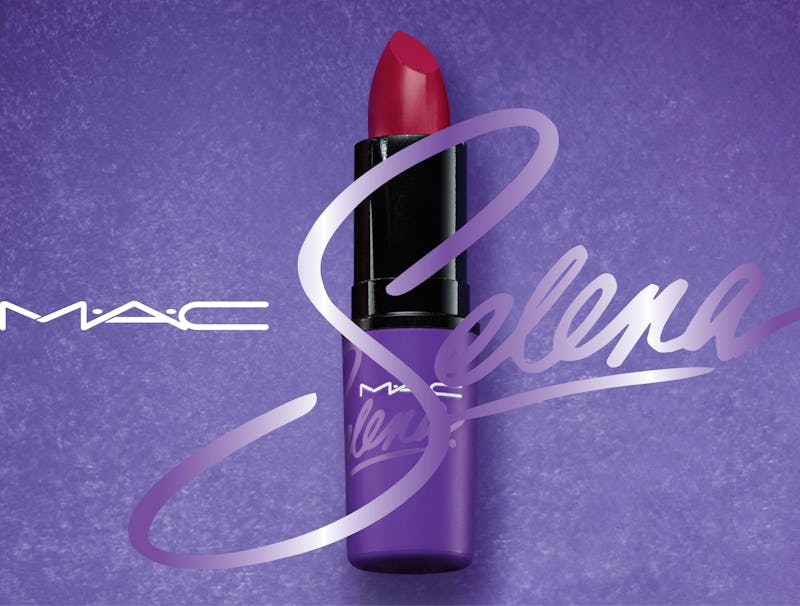 After watching Jennifer Lopez in the 1997 Selena movie, I became quite a big fan of the late Latin pop star, so when news broke of a MAC Selena-inspired makeup line back in July, I was insanely excited. Since then, the brand has remained pretty tight-lipped, releasing no further details about the collection — until now. MAC Cosmetics unveiled the first image from their new Selena line, and from the looks of it, this collection is going to be epic. Only one question now remains — what does the new MAC X Selena collection include?
The mega-popular cosmetics label took to Instagram on Tuesday to share a sneak peek of the highly anticipated line. The photo reveals a cherry red lipstick named "Como La Flor," after one of Selena's smash hit songs from the '90s. The crimson-colored lippie is quintessential Selena, and totally captures that bold red lip look that was so signature of the songstress.
Unfortunately, there isn't much information available as to what else will be included in the line, but I predict that there will be a handful of other lipsticks. Suzette Quintanilla, Selena's sister who curated the collection, tells MAC, "I wanted the colors to be about her personally, what she wore on and offstage." Notice how she said colors, as in plural? We may not know exactly what kind of products will be in this line, but we do know it will include lots of color. After all, Selena was known for her fun, vibrant makeup styles.
Here is the first look at the lipstick.
Not only is the shade gorgeous, but how stunning is that packaging?!
See how closely it resembles her signature shade?
I could see a black liquid eyeliner in the collection, too, as Selena always seemed to have a killer cat eye on.
Maybe there will be a mauve-colored lippie inspired by this look?
Selena was also known for her #OnFleek brows, so perhaps some brow products will be included in the line?
The full collection drops in October, so we will have to wait until then to know what's in the collection for sure.
Want more fashion and beauty tips? Check out the video below and subscribe to Bustle on YouTube!
Image: MAC