11 Books to Read if You Loved 'Me Before You'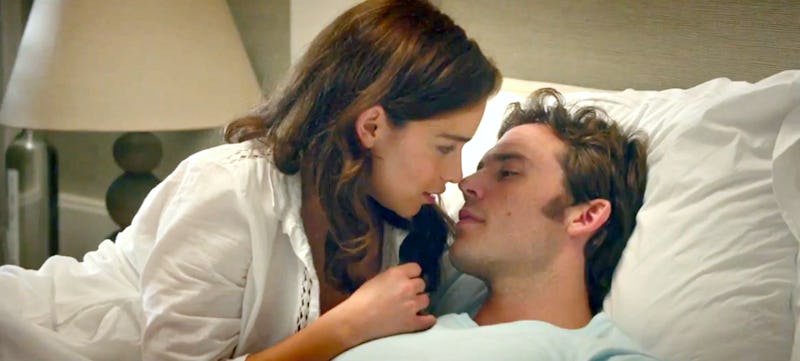 How excited are you for the upcoming film adaptation of Jojo Moyes' Me Before You ? I bet you're pretty excited — for good reason. While the film itself is shaping up to be an excellent adaptation, it really just gives you an excuse to stay up all night, crying and re-reading the book. Who can resist the beautiful and ultimately tragic love story between the aimless Lou and the tragic Will Traynor? Who doesn't want to stay up at night with a giant box of tissues and work their way through that sad but totally hopeful story once more?
Of course, after you re-read, you'll be looking for more books like Me Before You . Sure, there's After You , the sequel, but that's only one more book. Where else can we get that devastated-read-with-an-entire-box-of-tissues feeling that we all obviously crave? Luckily, you don't even need to worry, because I've compiled a list of 11 books that you will love if you loved Me Before You. These books are full of tragedy, but they also contain so much hope, and isn't that what we look for in a book? Take a look, grab some tissues, and enjoy.
At the age of 36, Hope McKenna-Smith has actually gotten used to bad news: she's lost her mother to cancer, her husband left her for a much younger woman, and now she's nearly bankrupt running a bakery in Cape Cod with a moody preteen. To make matters worse, Hope's beloved French grandmother, Mamie, has been slowly slipping into Alzheimer's. But in a moment of clarity, Mamie realizes that she must unload the secrets of her past so that they aren't lost forever. After revealing mysterious bits and pieces of her tragic past, Mamie sends Hope to France to uncover a 70-year-old mystery.
Rabbit Hayes is happy in her life: she loves her 12-year-old daughter Juliet, she loves her man, Johnny Faye, and she loves every member of her family. However, Rabbit's happy life is about to come to an end due to terminal cancer. As she lives out her last days in hospice, a custody battle soon erupts around poor Juliet. Don't expect your eyes to remain dry, but this is the beautiful story of a family coping with a tragic loss.
It's the year 1987, and the only person who ever truly understood 14-year-old June Elbus, her Uncle Finn, has died. He was far too young, and he died of a mysterious illness that June's mother refuses to name. At the funeral, June spots a mysterious stranger lingering just beyond the crowd, and later that day she receives a package in the mail containing a teapot that once stood in Finn's apartment. Also included is a note from the stranger, Toby, who requests some time to meet. They begin an unusual friendship, and June realizes she isn't the only one who misses her uncle.
Newly orphaned 15-year-old Ivy Hart has been left to care for her grandmother, big sister, and nephew, all while struggling with her sister's mental illness and her own epilepsy. Jane Forrester is a social worker who has recently started working in Grace County. She swiftly becomes emotionally invested in the lives of her clients, especially the Hart women, and it soon begins to bother both her boss and her new husband. After becoming closer to the Harts, she soon uncovers a deep running darkness to the family, darker than she could have guessed, and must decide whether to take drastic action to help them, or risk losing against her own sense of wrongness.
5. Wife 22 by Melanie Gideon
Alice is 45 and completely bored with her marriage, so she decides to take part in in anonymous online survey about marriage without telling a single member of her family. Relabeled as Wife 22, Alice soon begins an unlikely correspondence with the researcher running the survey, a person she only knows as Researcher 101. Gradually she spills the entire story of her marriage, and Wife 22 and Researcher 101 embark on a strange emotional affair that might destroy everything. This one is a little more lighthearted than some of these other tearjerkers.
The first time Molly and Ryan kissed, Molly knew that she was going to love him forever. They're both very different people: Molly wants to go out and experience life, while Ryan is a bit of a homebody. Alternating back and forth between the past and present, this is more than just a love story. This is an encouragement to "just be." This book also requires a large box of tissues while reading.
Lucy Houston and Mickey Chandler are an unlikely couple plagued by terrible genes: Mickey suffers from bipolar disorder, and Lucy has a history of breast cancer. Cautious to the end, the two put their understanding in writing, and things seems to work out wonderfully... until a routine physical before their 11th wedding anniversary ends with a diagnosis that will rock their marriage.
Heartbreaking with a magical twist, Yesterday's Sun centers on newlyweds Tom and Holly after they've moved to a picturesque manor on the English countryside. One day while exploring, Holly discovers an overgrown moondial with a crystal mechanism, but little does she know that this moondial is cursed. Once a month, Holly can see into the future, but she always sees the same thing: a world where her husband is holding their daughter, Libby... while he mourns Holly's death in childbirth. Soon Holly must make a choice: erase her beloved daughter from existence or sacrifice her own life.
9. The Life List by Lori Nelson Spielmen
When Brett was a naive teenager, she compiled a list of life goals. Now at the age of 34, she seems to have completely forgotten about it. Granted, her life is pretty perfect right now: she as an awesome job, a handsome boyfriend, and an incredible loft. However, when her mother suddenly dies, Brett's life is turned completely upside down — especially because her mother refused to hand over her company unless Brett completes her childhood list from so long ago. Unfortunately, some of the things on her list seem impossible. I mean, can she really have a relationship with her father who died seven years ago? Can she actually become an "awesome teacher" without reinventing her entire life? After each attempt, her mother leaves her a letter, and soon Brett realizes that the most unexpected adventures lead to the best outcomes.
When a tragic accident takes the life of Richard Glass, the lives of Evie and Nicole — his widow and his ex — are upended. Evie realizes that this death means she'll be able to get rid of Nicole once and for all. Unfortunately, Evie didn't expect her own children to develop a bond with their baby half-brother, and Nicole seems desperate to hold on to any remains of a family. Facing financial woes, she offers her home to Nicole and the baby. While Nicole seems bent on changing more than just the decor, Evie begins to wonder who to trust... and what family really means.
Victoria Jones has a gift for flowers, but unfortunately that never seemed to help with her sad life, bouncing back and forth in the foster system. Now that she's 18 and out of the system, Victoria is forced to sleep in the public park, where she has planted a little garden of her own. Soon a local florist discover's Victoria's talents, but a mysterious vendor has her questioning whether or not it's worth risking everything for a second chance at happiness.
Image: Warner Bros