This Is What Hair Chalk Is Made From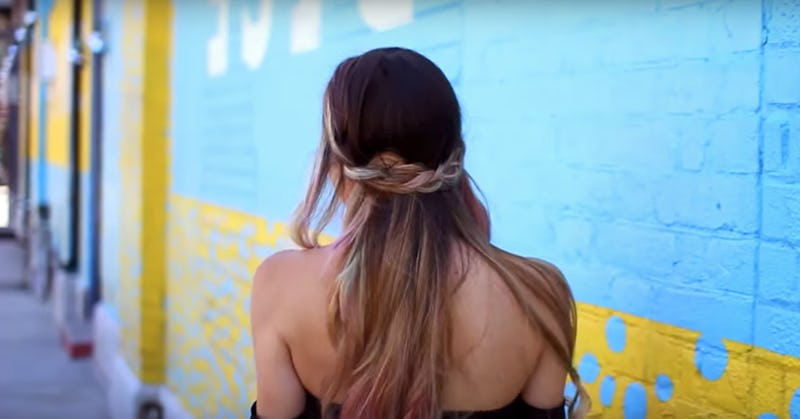 I've dyed my hair, used colored extensions, and read about crazy colored hair trends for years. But I've never looked into what exactly hair chalk is made out of. The look has really become popular over the past few years, after it began appearing on the catwalks of designers like Prabal Gurung, Jean Paul Gaultier, and Prada, according to Yahoo. "There's really one person to credit for the chalking trend: It's Lauren Conrad," Kristen Perrotta told the publication. LC talked about hair chalking on her blog and it took the Internet by storm.
That being said, I've never been clear on how hair chalk is different from regular chalk. Why can't I just streak my hair with the chalk I already have?
The simple answer is that hair chalk is made with soft pastels, according to The Beauty Department. Pastel artist Thaneeya McArdle explained on Art is Fun, "Pastels are made by mixing dry pigment, some chalk, and a binder together."
Artist Sheila Evans explains on her pastel FAQs page that "[c]halk is composed of calcium carbonate mixed with silt and clay. It is white or generally light in color and much harder than pastel. Some chalk may, however, be used together with pigment to create paler tints of pastel."
Pastel Hair Chalk Set, $20, Claire's
So, while the sticks may look like your sidewalk chalk or what you used in middle school art class, the properties of hair pastels are inherently different. Additionally, you should keep in mind is the brand of chalk you're working with. In 2013 the FDA released a statement that warned, "The products may contain ingredients such as dyes or colorants, chemicals and preservatives, which are not allowed and may cause allergies and adverse reaction on the scalp, head, eyes, and skin."
But, if you're ready to go and know that you have the right products, there are some extra steps to take before you throw chalk on your hair like Lebron James. According to SELF Magazine, you should prep your hair with product like dry shampoo and keep the chalk "more than two inches away from your hairline, or the color will run like crazy." If you find the color lacking, the publication recommends using a white base beforehand. Lastly, lock the color in with hairspray.
Now that you know about chalking, here are a few cool chalk looks that'll inspire you to DIY.
1. The Dip Dye Look
This dip-dye look is a classic and simple to replicate!
2. The Roots Look
This is especially helpful to those who haven't gotten color done in a while!
3. The Little Mermaid Look
You can be Aquamarine super easily!
4. The Summer Chalk Looks
I love these looks, but the one with the crow braid is a-mah-zing for Summer '16.
5. The Chalk Bun Look
Princess Leia is ready for Coachella with these colored buns.
6. The Ombre Look
I love the dark two-toned ombre.
7. The Heated Chalk Look
This shows you how to put light chalk colors on dark hair!
Images: LaurDIY/YouTube, Claires