11 Self Tanner Hacks For Glowing Skin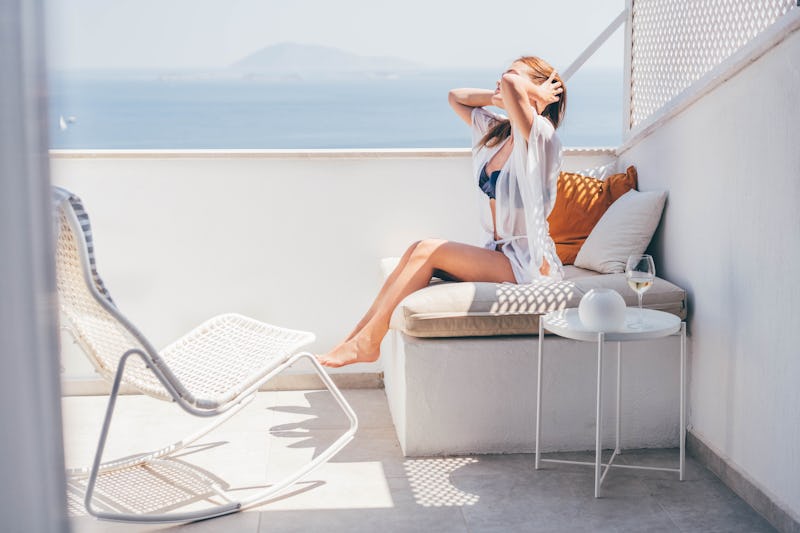 Maria Korneeva/Moment/Getty Images
From orange palms to tiger-like streaks, there are plenty of things that can go wrong when applying self-tanner. However, this simple beauty process isn't something to be scared of. In fact, self-tanning is a perfect way to get a natural looking tan without ever stepping in the sun's harsh rays. Personally, I'm a huge advocate of the process as it gives the body such an amazing glow. Think of it as a magic wand that can even out your skin tone from head to toe.
However, as great as at-home tanning is, there are still a handful of things that can go wrong in the process. But don't fret just yet. You just need to get the steps down. Like any beauty routine, there are steps that you have to take to ensure that everything messes together. From proper exfoliation to laying off heavy moisturizers, there are plenty of do's and don't when it come stop self tanning. Once you've had orange palms, you never want to go back to that Oompa Loompa lifestyle. Wondering what you can do to get your best fake tan yet? Here are 11 self tanning hack that will leave your gorgeous, glowing skin from head to toe.
Jergens Natural Glow Color Primer In-Shower Scrub, $6, Amazon
When it comes to prepping your skin for self tanner, everyone knows to exfoliate. However, are you choosing the right body scrub? According to Shape, we should all be reaching for an oil-free exfoliator as those with oil can leave a barrier against the skin that won't allow the tanner to adhere evenly.
2. Shave At A Certain Time
While shaving is a great way to exfoliate the skin prior to self-tanning, be sure that you're giving your skin enough time to rest before applying tanning products. According to Redbook, you should shave 12 to 24 hours prior to tanning in order to allow your pores to close. This way your tanner won't settle into the open pores, which can create a speckled appearance on the skin.
Vaseline Petroleum Jelly, $5, Amazon
StyleCaster.com reports that a great way to prevent your tanner from clinging on to dry patches is to apply a thin layer of vaseline to the area beforehand. Be sure to swipe the jelly along your hands, elbows, and the back of your heels to prevent excess creasing or staining.
4. Keep Your Feet Clean
Using a spray product to tan your body? Cosmopolitan wants you to mind your feet. The website recommends placing tape to the bottom of your feet in order to avoid stepping in any pigment that might have fallen on the floor.
Johnson's Baby Powder With Aloe Vera & Vitamin E, $2, Amazon
To keep your self tanner from creasing, Cosmopolitan recommends applying a talc-free baby powder post-tan to your elbows, knees, and armpits. As these areas can fold, they have a higher chance of creasing and streaking. The powder will help to further set the tanner to prevent any possible smudging.
6. Use A Milk Mask
Remove a splotchy tan by using a milk and lemon mask. Brydie.com recommended adding a lemon slice to a glass of milk to curdle the liquid, and apply to your skin for 15 minutes. Milk contains lactic acid is that a gentle exfoliator, and great at removing streaking tans.
7. Use Ice
Keep breakouts at bay by rubbing an ice cube along your face before applying your fake tan. According to Brydie, the ice will help to close your pores, and therefore, keep these tanner from clogging your skin.
8. Skip The Pool
Avoid the pool for up to 24 hours after you apply your fake tanner. According to POPSUGAR, the chlorine in the pool can fade or remove your freshly applied tan.
9. Glove Up
Forgo orange palms, yellow nails, and creased knuckles by wearing disposable gloves when applying your self tanner. It's a simple way to keep a natural looking tan without any staining or streaking.
10. Sleep On It
The best time to apply your self tanner is right before bed. According to DailyBeautyHack.com, sleeping warms the body and helps the product to soak in throughly. Worried about staining your sheets? Be sure to throw down a few towels just in case.
11. Remember That Once Is Enough
Unlike a manicure, you don't need to apply a second coat of self tanner. TheFashionSpot.com reports that a second coat will only add more product without any added benefit. In fact, it might just wash off in the shower.
See? Self-tanning isn't so scary after all.
Images: Getty Images (9); Courtesy Brands