'HSM4' Might Not Be The Last 'HSM' Movie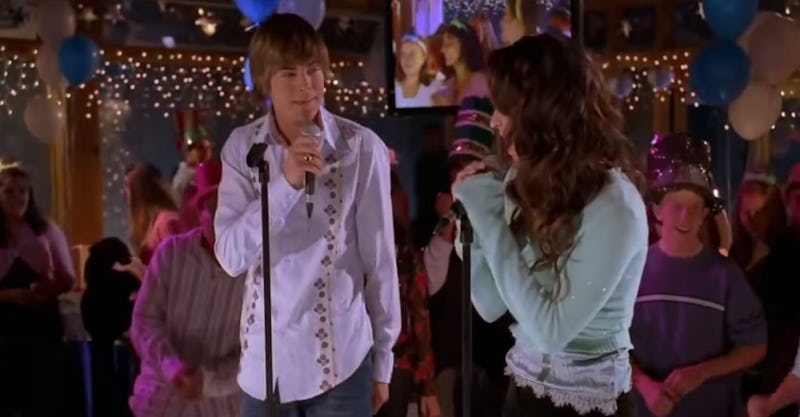 Get warming up those vocal chords, because things are about to get musical: a Disney casting call for High School Musical 4 has been announced, and it's an open casting call, so anyone can apply. If you know your do-re-mi from your fa-so-la-ti-do, and you're outgoing, you should totally sing your way into a place on the East High Wildcats (and into their 2016 Zac Efron equivalent's heart). Location's no big deal, since the channel is accepting applications by video via the Disney Applause App (available on both iOS and Android) up until Monday May 2. There seems to be a whole bunch of characters available for you to try out for, because Disney appears to be sourcing an entirely new cast. Which makes me — amateur TV sleuth that I am — stop for a second to question if Disney is planning a whole new trilogy for High School Musical.
A sequel to the sequel's sequel's sequel, if you will. I mean, this isn't just great news for aspiring thespians and wannabe Vanessa Hudgens, but its also a huge headline for High School Musical fanatics. This could be a whole new generation of modern takes on Romeo and Juliet but set to unbelievably catchy tunes that stay in your head forever.
High School Musical, High School Musical 2 and High School Musical 3: Senior Year all focused on the trials and tribulations of life at high school for one particular group of students: Gabriella Montez, a transfer student with a knack for figures, Troy Bolton, the handsome captain of the basketball team, Sharpay Evans, who was used to getting whatever she wanted — until Gabriella came along and took the role she had her heart set on — Chan Danforth, Troy's best friend and fellow basketball player, Taylor McKessie, Gabriella's best friend, and finally, the talented school choreographer, Sharpay's twin brother Ryan. Yes, it could get a little cheesy at times, but that's why you loved it, right? The warm, warm feelz.
High School Musical 3: Senior Year was the only installment to be released in theaters, and what a release that was. The film opened with $16 million for the biggest opening day for a musical film ever until Les Miserables stole its crown in 2012. Given that the film did so well with audiences and at the box office, it would be surprising if Disney opted to recruit a whole new cast for just one movie. And given the entertainment industry's passion for trilogies — Fantastic Beasts and Where To Find Them, The Purge 3 and X-Men: Days Of Future Past are all trilogy installments out this summer — it seems, ahem, very likely that this is going to be a whole new trilogy rather than just one more movie. So, if you win big in the casting lottery and get cast as the star, get set to dedicate some serious time to this one: the smart money says you're going to be singing your heart out for a good few years yet.
Images: Disney Channel; Giphy