Here's How You Can Meet John Corey Whaley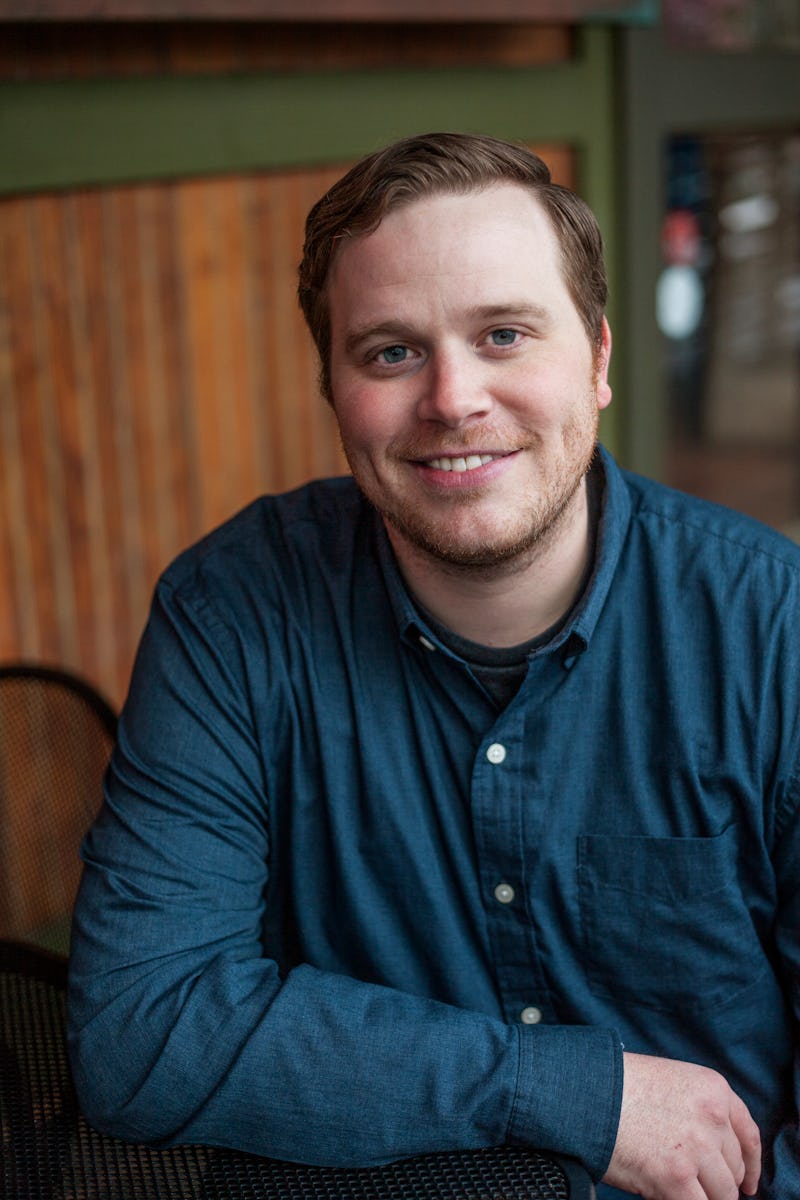 This spring, Printz Award-winning author and National Book Award finalist John Corey Whaley returns with his third young adult novel, Highly Illogical Behavior, a charming, heartwarming and hopeful tale about a 16-year-old agoraphobic teenager and the two friends who teach him it's OK to be vulnerable, it's OK to be weird, and it's OK to be yourself.
Three years ago, Solomon Reed stripped down to his boxers, sat in the fountain in his middle school's courtyard, and tipped his body backward until he was entirely submerged underwater. Since then, Solomon hasn't left his house — and he's totally OK with that. Admittedly, it sounds like a pretty sweet deal: he does his schoolwork in bed in his pajamas; he watches (and rewatches) his favorite episodes of Star Trek: The Next Generation; he rarely gets fully dressed, and he doesn't even own a pair of shoes! Mostly, he just hangs out with his surprisingly chill parents and his super supportive grandma. Maybe he's not happy, but he's content. He's finally "in control." He isn't sick. He doesn't need to be fixed. Right?
Enter Lisa Praytor. Ambitious, fearless Lisa wants to get into the second-best psychology program in the country, but in order to do so, she must write a knockout essay about her personal experience with mental illness. Since she doesn't have any personal experience with mental illness, she decides to track down the kid from the fountain and "fix" him. She recruits her handsome, athletic, and sweet boyfriend Clark, and together, they befriend Solomon. Before long, Solomon has stopped being a "project" and has started being their very best friend. As the three teens navigate Solomon's mental illness, their strange new clique, and their first loves, they learn a thing or two about the nature of friendship, the importance of trust, and the absolute joy of acceptance.
Highly Illogical Behavior is a novel about mental illness, sure, but it's also a novel about embracing who you are and about finding friends who accept you, love you, and like you no matter what.
Inspired by Whaley's own experience with panic attacks, Highly Illogical Behavior painfully illustrates the emotional and physical trauma that accompanies Solomon's mental illness. "I wanted to make sure that my readers got some sort of visual and emotional glimpse into what [panic attacks] feel like," John Corey Whaley tells Bustle. "It's something that's hard to explain emotionally to someone. The very nature of anxiety, in my opinion, is how irrational and how illogical it is in the moment when it's happening. But in that moment, it feels like life or death — because it is. It's an illness."
Highly Illogical Behavior is available for pre-order and will be available everywhere on May 10. John Corey Whaley is also embarking on a nationwide Highly Illogical Behavior book tour this spring and summer, and Bustle is proud to exclusively announce the dates and locations of the tour. See them all below!
May 10, 2016 @ 7 PM – Los Angeles, CA
Barnes & Noble – The Grove | 189 The Grove Dr. K 30, Los Angeles, CA 90036
In conversation with Tahereh Mafi, New York Times and USA Today bestselling author of the Shatter Me series
May 11, 2016 @ 7 PM – Upland, CA
Upland High School Library | 565 West 11th Street, Upland, CA 91786
In conversation with Holly Goldberg Sloan, New York Times bestselling author of Counting by 7s
Books sold by Barnes & Noble – Montclair Place
May 12, 2016 @ 6 PM – Denver, CO
Tattered Cover Aspen Grove | 7301 S. Santa Fe Dr., Littleton, CO 80120
In conversation with Len Vlahos, author of The Scar Boys, co-owner of Tattered Cover Book Stores
May 13, 2016 @ 7 PM – Chicago, IL
The Book Stall | 811 Elm St, Winnetka, IL 60093
YA Panel Event featuring John Corey Whaley (Highly Illogical Behavior), David Arnold (Mosquitoland), Jennifer Niven (All the Bright Places), and Sabaa Tahir (An Ember in the Ashes); moderated by Jeff Giles, former Deputy Managing Editor of Entertainment Weekly and author of the forthcoming novel The Edge of Everything
May 14, 2016 – Chicago, IL
Appearing at BookCon | West Building at McCormick Place, Chicago, IL 60616
May 16, 2016 @ 7 PM – New York, NY
McNally Jackson Books | 52 Prince St, New York, NY 10012
In conversation with Cristina Mari Arreola, Books Editor at Bustle
May 17, 2016 @ 7 PM – Washington, D.C.
Arlington Central Library | 1015 N. Quincy St, Arlington, VA 22201
In conversation with Barrie Hardymon, Books Editor at NPR's Weekend Edition
Books sold by One More Page Books
May 18, 2016 @ 7 PM – St. Louis, MO
St. Charles Public Library, Spencer Road Branch | 427 Spencer Rd, St. Peters, MO 63376
Books sold by Main Street Books
May 19, 2016 @ 7 PM – Dallas, TX
Irving Public Library | 601 Schulze Dr., Irving, TX 75060
In conversation with Julie Murphy, New York Times bestselling author of Dumplin' and Side Effects May Vary
Books sold by B&N - Stonebriar Mall
May 20, 2016 @ 7 PM – Shreveport, LA
Barnes & Noble | 6646 Youree Dr., Shreveport, LA 71105
In conversation with Judy Christie of The Shreveport Times
May 24, 2016 @ 7 PM – Portland, OR
Powell's Books at Cedar Hills Crossing | 3415 SW Cedar Hills Blvd., Beaverton, OR 97005
In conversation with Sara Gundell of Novel Novice