12 Photos of Women Olympic Snowboarders That Prove They're the Coolest Ladies in Sochi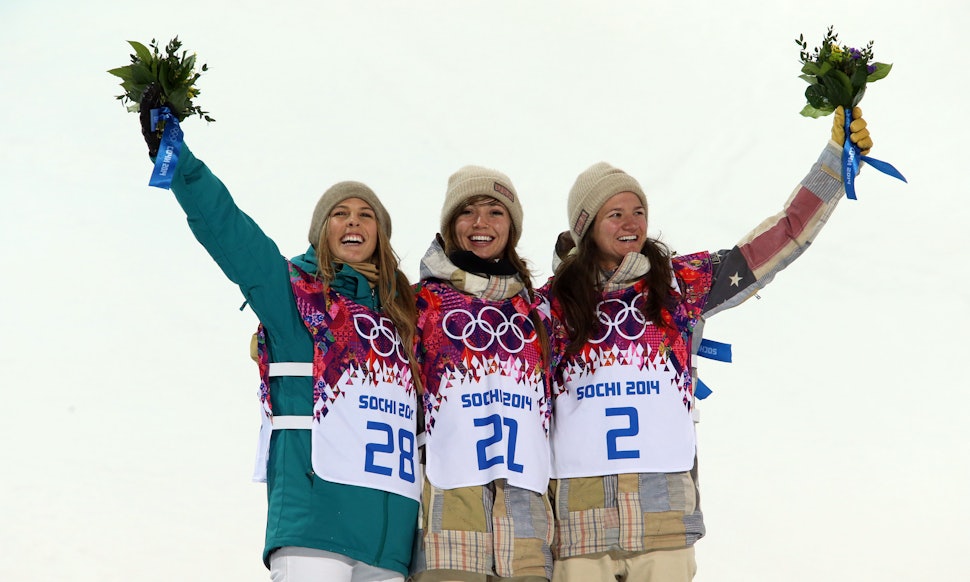 Christophe Pallot/Agence Zoom/Getty Images Sport/Getty Images
The wonderful women of snowboarding killed it at 2014 Winter Olympics! Team USA snowboarders Kaitlyn Farrington and Kelly Clark medaled with gold and bronze, respectively, while Team USA boarder Hannah Teter sat pretty in 4th place. Plus, we can't forget the adorable Australian boarder Torah Bright, who took home the silver medal for her country.
We love these kickass ladies, and can't wait to learn more about them. Luckily, the boarders all have Instagram accounts that have given us a sneak peek into their 2014 Olympic experience. Click here to see some personal photos of the lovely ladies of the half-pipe.
Images:
Instagram/hannahteter; Instagram/kellyclarkfdn; Instagram/torahbright; Instagram/kaitlynfarr
Girl Power
Gold medalist Kaitlyn Farrington goofs off with snowboarder Arielle Gold and bronze medalist Kelly Clark before the Opening Ceremony.
Get Lucky
Who's that girl looking like a member of Daft Punk? None other than the 4th place snowboarder Hannah Teter.
#TeamUSA
Gold medalist Kaitlyn Farrington poses with fellow Team USA boarders Faye Gulini, and Jacqueline Hernandez.
Go Team!
Hannah Teter poses with gold medalist in women's snowboard slopestyle, Jamie Snow. (How perfect is her name, right?)
Girl's BFF
Kelly Clark poses with an adorable pup in Sochi. Think she'll bring him home?
Board Buds
Torah Bright prepares to hit the slopes with some of the Olympic guys.
Board Time
It's board time, not bed time, for Hannah Teter, who takes to the Olympic arena.
Free Time in Sochi
Kaitlyn Farrington hits the powdery slopes in Russia and takes an Olympic-style #selfie.
Action Shot
Who is that shredding down the mountain? None other than bronze medalist Kelly Clark. (We wonder what filter she used…)
Sisterly Love
Aww! Torah Bright posts this Instagram video of her sister and her friends doing a dance to support her Olympic dreams — complete with "We Heart Torah" tee-shirts.
First Days
Hannah Teter commemorates her first day practicing on the Olympic half pipe.
Half Pipe Dreams
Kelly Clark has someone snap a pic of her in front of the Olympic half-pipe, which she'll go on to tackle later.