Maks Chmerkovskiy Wants To Do More 'Fuller House'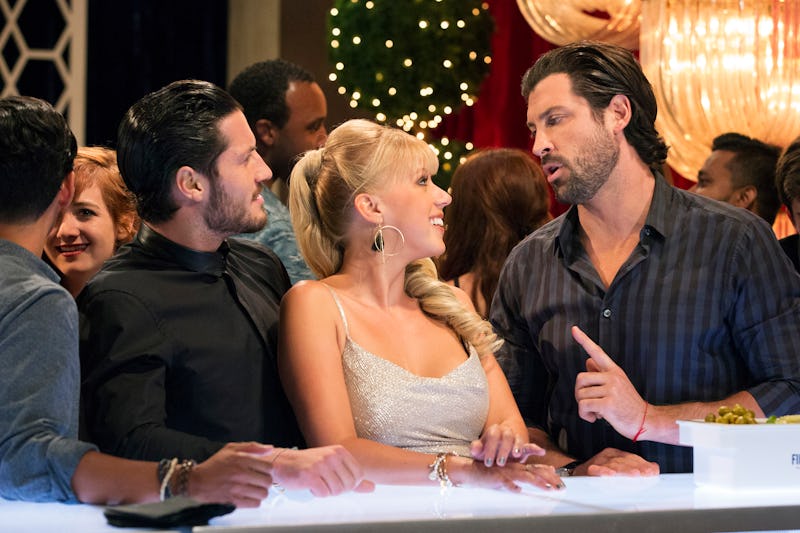 Fuller House premiering on Netfix this year has meant the world to Full House fans and '90s kids — including guest star and Dancing With The Stars alum-turned-judge Maks Chmerkovskiy. The professional Latin ballroom dancer and his brother Val appear in Season 1's third episode "Funner House," in a super fun nightclub sequence in which Maks and Val play two characters who are handsome, talented dancers named, well, Maks and Val. Maks Chmerkovskiy talked about his Fuller House appearance in an interview with Bustle during a Beverly Hills Culinary Week event for Dysh App at Nespresso's flagship cafe in Los Angeles, and made sure to mention how he'd love to return to the show.
In the episode, Maks and Val danced up a storm, but they also charmed D.J. (Candace Cameron Bure), Stephanie (Jodie Sweetin), and Kimmy (Andrea Barber) at the nightclub Euphoria, played a lot of rock-paper-scissors, cracked meta jokes about DWTS, displayed ace comic timing, and looked like they were having the best time. Chmerkovskiy says that's because they really were having a good time. "It's one of the best jobs I ever had," he says. "We just spent four days having a blast. I would absolutely come back. It's not about the money — it's that I appreciate Candace and her friendship, I appreciate [creator] Jeff [Franklin] and his vision for us, and I appreciated everyone on set who made it so easy for us to come in and have fun with it."
Once Fuller House premiered in February, Chmerkovskiy's guest appearance has gotten rave reviews and opened up doors for him in acting. "Industry-wise, people were calling me up from my past saying, 'Hey, let's work together. You have a future in acting,'" he says. "And I'm working on it. That was always the goal, I just didn't think it was going to be that [role] to set it off."
Before Fuller House existed, Cameron Bure finished in third place with Mark Ballas during Dancing With The Stars Season 18, which was won by Chmerkovskiy and Olympic ice dancer Meryl Davis in 2014. A year later, Fuller House got picked up by Netflix, began shooting, and she called good friends Maks and Val for a guest appearance. On the night before the episode began filming, Chmerkovskiy said he and Val fully realized how big a deal it was for them to be on Fuller House. "It's a giant deal," Chmerkovskiy says. "We're talking about an iconic show that has generations of fans that grew up with it. Us included."
The Chmerkovskiy brothers grew up in the Ukraine and came to the United States in the early '90s, when Full House was at the height of its popularity. "Our English language introduction was television and street signs," Chmerkovskiy says. "Val was into Family Matters — he'd do his version of Urkel — and we watched Full House. It was one of those shows we religiously watched. They were so fun and so positive that it took us out of the not positive mental state of the country where we came from."
It looks like no matter who you are or where you come from, Full House has a lot of meaning to, well, everyone. If Maks and Val really do end up returning for another episode of Fuller House, I would definitely be willing and ready to tune in.
Images: Michael Yarish (2)/Netflix; Giphy