What's Virginia Thomas Doing Now?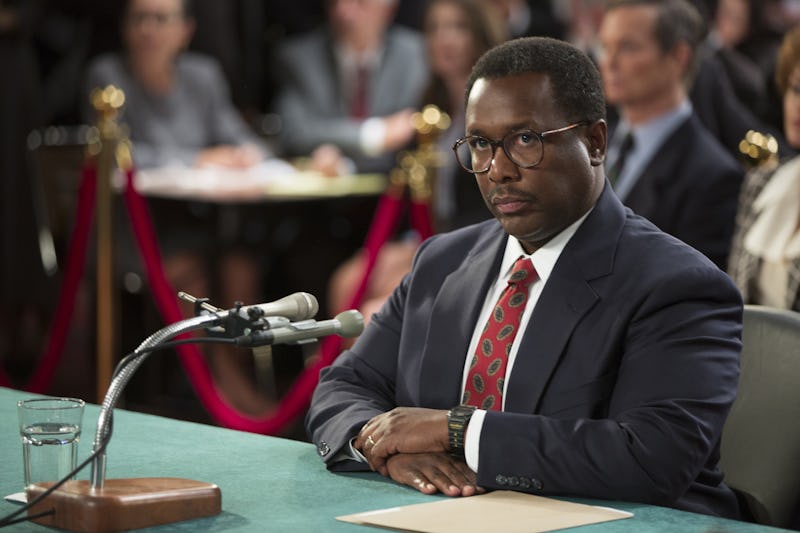 The TV movie Confirmation, which will air on April 16 on HBO, is sure to spark a lot of controversy because it's based on a real-life controversy — namely the 1991 Clarence Thomas hearings, when Thomas was nominated for the Supreme Court in October 1991 and a woman he'd preciously worked with, Anita Hill, claimed that he'd sexually harassed her. What followed was a public examination of Hill's claims that would go on to jumpstart the conversation surrounding sexual harassment. The film also includes the perspective of Thomas' wife, who stood by his side throughout the hearings. Naturally, viewers may be left wondering what Thomas' wife Virginia Thomas is doing today.
Thomas stood by her husband throughout the very public accusations against him, and, as recently as 2010 spoke out about the case. After she left a voicemail for Hill on October 9, 2010, asking that Hill apologize for her past actions, Thomas later released a statement to The New York Times regarding the phone call. She said:
"I did place a call to Ms. Hill at her office extending an olive branch to her after all these years, in hopes that we could ultimately get past what happened so long ago. That offer still stands. I would be very happy to meet and talk with her if she would be willing to do the same."
But that's far from the only thing that Thomas has done in the last 15 years.
In 2009, Thomas founded Liberty Central, a non-profit group that lobby against the Democrats, though she stepped down in 2010 because, according to the Washington Post, she didn't want any "distractions" for the organization due to her "media celebrity." Thomas is also a member of Groundswell, another group of Conservative lobbyists. As you'd expect, much of the scrutiny surrounding Thomas's businesses affairs is due to the potential financial and political conflicts which may arise considering her husband is an Associate Justice of the Supreme Court. His position certainly hasn't stopped Virginia Thomas from voicing her own political opinions, and lobbying wherever possible.
According to Ginni Thomas's Facebook Page she's currently a correspondent for the Daily Caller News Foundation, and describes herself as "a social entrepreneur who loves liberty." One of her photos is a selfie taken with none other than Tom Selleck, which seems pretty legendary to me. Her hobbies and interests are completely relatable, and include "Keeping up with Downton Abbey, Revenge, Homeland, The Killing, Nashville and looking for more 'addictive' distracting programming!" She's certainly not afraid to put herself out there on social media, and interact with the general public.
When Confirmation airs, it's sure to draw even more attention to the lives of the people it features, including Virginia Thomas. Based on the trailer alone, it looks as though actor Alison Wright has transformed herself into the '90s incarnation of Thomas, and that's exciting to see.
Images: FrankMasi/HBO; HBO/YouTube