Beyonce's Ivy Park Lives Up To The Hype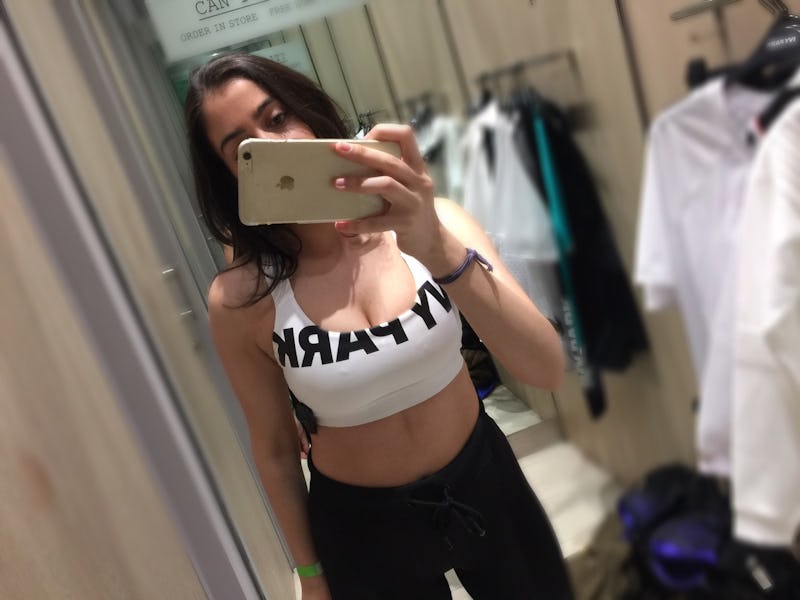 Unless you live under an actual rock, you are probably aware that Beyonce's Ivy Park clothing line officially arrived on Thursday, landing in Topshop and Nordstrom stores as well as online. Unless you called out sick from work or played hooky, you probably haven't had a chance to check out all the athleisure goodies first-hand, but luckily, I have done that for you. After weeks of buildup and anticipation, you must be wondering — is Beyonce's Ivy Park collection worth it? Celebrity clothing lines are often overly publicized, and the quality of the clothes gets lost because of the star's celeb status. I'm glad to report, however, that this one totally lives up to the hype.
Upon my arrival at Topshop in NYC on Thursday morning, I grabbed as many Ivy Park items as I could get my hands on and dashed straight to the fitting room. After going through nearly all the pieces in the collection, I feel like I have a pretty good grasp on the quality, and I must admit that I was pleasantly surprised. You know how some activewear is so constricting, it feels like you can barely move in it? Thankfully that isn't the case with Ivy Park. The gym-wear pieces, like the leggings, sports bras, and racerback tanks, really are optimal for peak performance. You can easily work out in all of them.
The bras provide pretty good support, too.
The more leisure-type items, including the honeycomb bomber jacket, sheer mesh sweatshirt, and the logo-embossed bodysuit are the perfect combination of comfort-meets-style and can definitely be worn from the gym to the streets.
I'm completely obsessed with these blue leggings.
How cool is this sheer mesh sweatshirt?! Perfect for in between seasons.
The cotton crew-neck sweatshirts are super cozy and comfortable.
And of course, this is totally the star piece of the collection.
My Ivy Park shopping trip was clearly a success. I would definitely recommend snatching up some of these awesome pieces before they're gone! If you don't get a chance to score some, keep your fingers crossed for a restock!
Want more fashion and beauty tips? Check out the video below and subscribe to Bustle on YouTube!
Images: May Sofi/Bustle (7)