13 Delicious Mother's Day Brunch Cocktails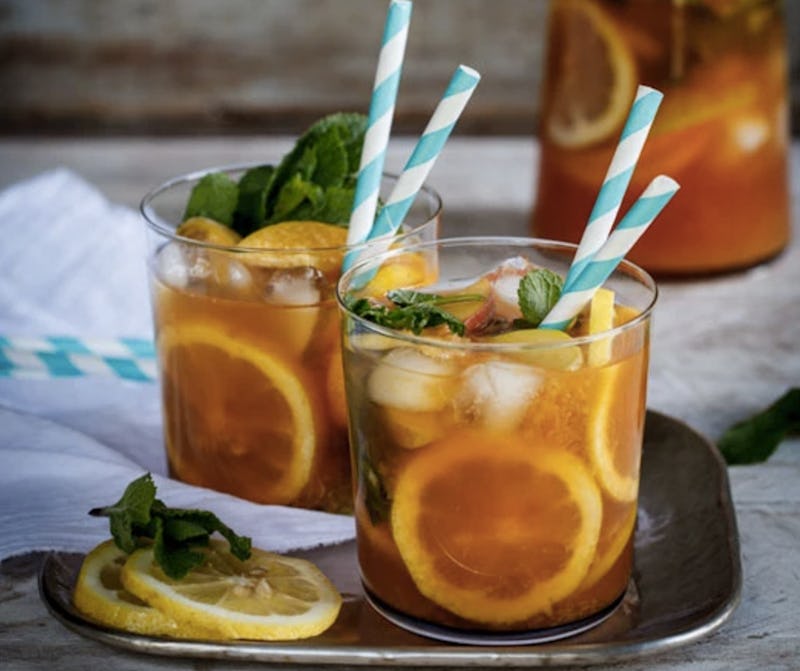 Often our mothers, like most people, just want the chance to have a drink and relax in good company. This Mother's Day, why not treat your mama to a delicious grown-up brunch, complete with morning-appropriate Mother's Day brunch cocktails? After all, you've bought her a card and found her the perfect gift — now you just need the ideal setting for Mom to get her relaxing game on. And we all know there's nothing quite like a Sunday morning feast to make you truly appreciate the good life.
Let's be real here, the classic mimosa is kind of been-there-done-that, so it might be time to toss the Prosecco and orange juice. It's not a loss, really, since there are so many other fun and easy options out there. Whether you like your drinks fruity and sweet or herbal and bitter, there's a tasty brunch cocktail out there with you and your mom's names on it. To get you started in your daytime drinking adventures, I've rounded up 13 tasty beverages to make your boozy brunch a total original hit. These cocktails are deliciously refreshing, making them light enough for a Sunday morning — even if it's a kind of hungover Sunday morning. (Hey, Mom was your age once too.)
1. Clementine Gin Fizz
Sweet clementine juice makes this cocktail from A Better Happier St. Sebastian brunch-friendly.
2. Cucumber Rose Aperol Spritz
This light, fizzy cocktail from A Spicy Perspective packs a refreshing punch thanks to cool cucumbers.
3. Rooibos Peach Tea Punch
Delicious peachy, minty iced tea like this one from Simply Delicious only gets better with the addition of vodka.
4. Mother of Pearl Cocktail
Just like Mom, this cocktail's a gem. Combine Absolut Vodka with a half ounce of Yellow Chartreuse, three-quarters of an ounce of coconut milk, an ounce of lychee puree, and a splash of lime juice. Shake with ice, garnish, and enjoy.
5. Bloody/Virgin Mary
The Bloody Mary is a tried-and-true brunch cocktail for a reason. This version from The Kitchen Alchemist, which you can easily make as a virgin cocktail, adds a twist to the classic with delicious smoked paprika.
6. Blackberry Bramble
Add some bright color to a refreshing lemonade with this drink from The Crepes of Wrath.
7. Lavender-Infused Mom Collins
A classic cocktail gets a feminine spin, courtesy of Joy the Baker.
8. Concord Grape + Coconut Water Smash
Basically, grape juice for grown-ups. The coconut water in this drink from What's Cooking Good Looking, with all its electrolytes and hydrating power, will give you a leg up for the day to come.
9. Raspberry Mint Julep
The crushed ice and sweet summer berries in this drink from I Am a Food Blog are just begging to be the star of your Mother's Day brunch.
10. Hibiscus Mimosa
I know, I know, I said no mimosas, but this cocktail from The Kitchn is such a pretty, fruity, tangy treat it just can't be ignored.
11. Mango & Serrano Chili Daiquiris
If your idea of a perfect brunch is more huevos rancheros than quiche Lorraine, this mango and serrano chili daiquiri from Cooking for Keeps is perfect for you.
12. Pear Bellini
There's nothing quite like a little bubbly at brunch, and this bellini from Food & Style packs a fruity pear punch.
13. Grilled Pineapple Margaritas
A Cozy Kitchen's sweet and smoky cocktail can be made with tequila or rum.
Images: A Better Happier St. Sebastian ; A Spicy Perspective ; Simply Delicious ; The Kitchen Alchemist ; The Crepes of Wrath ; Joy the Baker ; What's Cooking Good Looking ; i am a food blog ; The Kitchn ; Cooking for Keeps ; Food & Style ; A Cozy Kitchen