5 Apps For Newly Out Queer Woman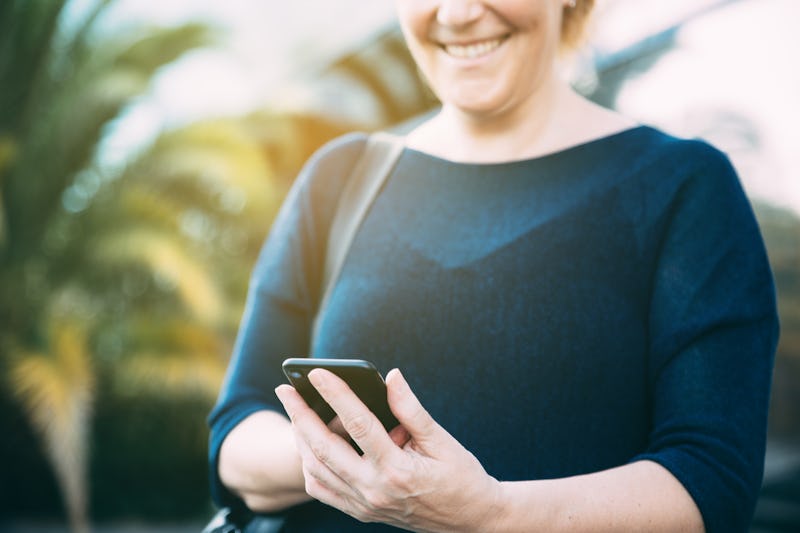 Cris Cantón/Moment/Getty Images
So, you just came out to yourself, your family, your friends, and/or the world and are ready to solidify your identity as a queer lady in this big, bad world. What now? Of course there are countless different ways to get started on your journey, and all of them are perfectly valid if they work for you — but for the technologically inclined, how about trying a few apps for newly out queer women? No matter who you are, you also likely have a smartphone, so combining your newly established identity with your love of technology might be just the proverbial ticket.
When discussing queer apps, it's worth considering a few of the factors that make them worthwhile. First — and I know this sounds obvious, but it bears repeating — good apps for queer people serve as a safe space, something a queer woman can open up on her phone and find encouraging things pertinent to her community and experiences. If there's any sort of homophobia, transphobia, etc. going on either within the app directly or outside the app, but still connected to it in some way, then you might want to stay away; you deserve to feel safe, not discriminated against. Secondly, it's often helpful for apps to be inclusive — that is, if you're looking at apps specifically for queer ladies, well, that umbrella covers more than just one type of queer lady. Queer women come from all sorts of backgrounds, including trans queer women and queer women of color; apps that build community include the many types of queer women in the world, rather than exclude one group or another.
So with that in mind, let's take a look at five apps that might be useful to newly out queer women:
1. All The Dating Apps
So, you just came out and you're ready to swipe right on all the dating apps. If you've just come out as a lesbian, I would recommend starting with Her, the best lesbian dating app out there. It allows you to swipe in a traditional Tinder-esque way, but also lets you chat with anyone you see, become friends with people, and participate in group discussions and forums. Some other good apps for queer ladies include Bumble, also known as "feminist tinder," and OK Cupid, which has great features for helping your profile appear only to the kinds of people you're interested in (if you're gay, for example, you can prevent your profile from appearing to straight people). Depending on your location, Tinder can boast lots of cute, queer women, but sometimes it can be useful to have a queer-specific space.
2. Quist
If you're looking to get caught up with tons of LGBTQ history, look no further. The app Quist brings you a piece of queer history every day — specifically, something that occurred on that very day in queer history. It's a great way to learn a little about the community in manageable bites.
3. News Apps With LGBTQ Coverage
The Buzzfeed News, Mashable, and ThinkProgress apps are great resources for LGBTQ news and can be customized to send push notifications if you want to keep up with important news. Though most media outlets report LGBTQ news now, these publications do a lot of reporting on the topic, and BuzzFeed and ThinkProgress have an entire "LGBT" section for their news. So does the Bustle app, for that matter!
4. Netflix For All Your Gay Movies
First of all, if you're a newly out queer lady, Netflix is the best streaming service for LGBTQ movies and TV shows, boasting enough queer titles to keep you up at night for weeks. The fact that it's available as a mobile app is particularly important. Here's why: I'm not out to my family. When I realized I was gay, I didn't want to be watching some queer make-out scene on my computer in case my mom walked in with it in progress. So, to play it safe, I downloaded Netflix on my phone and was able to clandestinely view as many amazing (and horrible) queer movies as I pleased.
5. Mini Gay Girlfriend
This app might not be essential, but it's kind of fun anyway: Mini Gay Girlfriend is an adorable (albeit kind of weird) Neopets- or Tamagotchi-like app where you get to design a little girlfriend, flirt with her, take her on dates, and feed her. It's a great way to convince yourself you're not totally alone!
Images: Cris Cantón/Moment/Getty Images; Giphy