4 Underwear Pieces To Have, According to Experts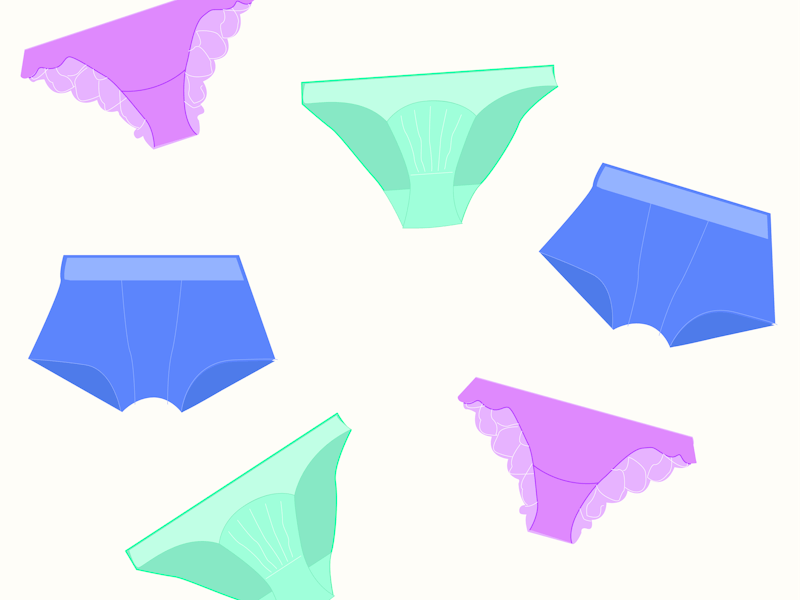 If your underwear drawer only consists of your one favorite style (or you've just never put too much thought into what styles and fabrics fill up your panty collection), try checking out all the different underwear pieces you should own, according to the experts. That's right — I've sourced four specific categories of underwear (divvied up by the different activities you do while wearing them), and come up with 12 awesome styles to fit anyone's preference.
If you're a loungewear lover, it's time to update your drawers with pieces that specifically focus on breathability and comfort while you're sleeping. But if you're often found breaking a sweat, switch it up to styles specifically created for sporting beneath activewear. (If you're looking for underwear that stands up to your sprints, check out the pair of high cut runner-specific undies, which give your legs plenty of running room, sans chafing). Even if your particular undies concern is more a question of "Is my panty line showing?" you better believe there's a style for that, too. They'll keep your outfit looking on point, and you'll no longer have panty lines poking through your tights- and leggings-heavy outfits. So without further ado, ahead are the four undies categories that could benefit from a little style update — and why.
For Sleeping: Comfortable Undies in Breathable Fabrics
The experts at PopSugar suggest that "wearing tight underwear or a pair of polyester panties can lock in moisture and lead to yeast infections," so it's best to stick to cotton undies overnight while you sleep. Cotton allows for air circulation, which is important when you're sporting your undies for longer periods of time.
Non-Binding Cotton Boyshorts
These cotton-blend boyshorts have a flexible elastic waist that won't dig in, as well as comfortable leg bands that make sure they won't ride up, causing you discomfort during the night. Bonus: These come in a pack of six with a variety of cute colors and prints — but you can pick your preference from six different pattern and style options.
Ultra-Soft, Breathable Cheeksters With Cooling Technology
When you sleep, you want a comfortable panty that has a full shape and an ultra-soft material that won't ride up while you snooze. The breathability in this lightweight Climacool underwear also helps you feel fresh when waking up, which might not happen if you're sporting constricting panties that retain heat. Bonus: This pair is tagless for added comfort. Plus, one user said that these cheeksters are so comfortable, you won't even notice you're wearing them.
Waster-Resistant, Leak-Proof Undies
Waking up to small leaks and stains on your clothes or sheets is the worst, so wearing leak-proof underwear to bed can help you sleep a lot sounder — knowing you've got everything in check. The lining in these comfort stretch panties is water resistant, keeping moisture from leaking into unwanted places, and they're breathable and hypoallergenic to keep your downstairs clean and irritation-free while you sleep. Plus, Joelle Barron, a contributor for Romper, tried leak-proof underwear for a week and "freaking loved them." Bonus: This set come in a pack of three cute colors and prints.
For Working Out: Moisture-Wicking Fabrics That Don't Chafe
According to a study done on the subject, synthetic, sweat-wicking fabrics are better for keeping you comfortable while working out than their traditional cotton counterparts. The study said women were particularly receptive when it came to thermoregulatory benefits, so it's time to get serious about your undies set for sweating.
Antimicrobial Sport Thong Fights Bacteria
ExOfficio Give-n-Go Sport Mesh Thong (Sizes XS-XL), $10-$22, Amazon
It's no secret that undies can become not-so-pleasant after an active day of mowing the lawn or taking nieces and nephews to the park in the warm weather. This active thong has an antimicrobial treatment in the fabric that reduces odor and keeps you feeling great. Plus, the mesh fabric is breathable and quick drying to keep you cool. One user gives this panty five stars for being "the most comfortable thong she's ever worn."
Breathable, Quick-Drying Brief
Dr. Nicole E. Williams of the Gynecology Institute of Chicago told Elle.com to steer clear of sheer, lace, or silky underwear at the gym. She said, "when you exercise in non-breathable underwear like that, your vagina suffocates," which easily causes yeast infections. This machine-washable workout brief features Champion's unique vapor technology that evaporates moisture asap. With stay-put edges, they'll remain in place until the end of your workout class — and they're totally breathable with targeted ventilation (you can even snag the style in purple or pink, too!).
Moisture-Wicking, Seamless Panty
Before you head to your next spinning class, make sure to have a selection of seamless underwear on deck. Sandra Lee, M.D., a board-certified dermatologist, told Womens Health, "if your underwear is old, the elastic becomes exposed and can potentially give you a rash." These three pairs of active underwear are anti-odor, breathable, and feature vital moisture control to keep you dry when working up a sweat. Bonus: These panties are machine washable, and you can choose your favorite three-pack from seven different color ways.
High-Cut Running Underwear
For runners who are looking for underwear that gives them the most comfortable and simple leg movements, this workout panty with a high cut is made specifically for your strides. This pair also offers a soft fit and aerodynamic flat seam stitching. One user loves them so much, that she buys them for everyday wear.
For Underneath Tight Clothes: No-Line Fabrics
When it comes to fighting a recurring VPL (visible panty line), there are plenty of nifty clothing hacks to employ. Cosmpolitan, for one, suggests sporting thicker fabrics on top, to minimize lines underneath. If you're not looking for a complete clothing overhaul though, it's worth it to check out the laser-cut fabrics and lacy alternatives to defined underwear lines.
Silky, Invisible Laser Cut Panty
This printed pair of silky panties are laser cut and barely there, so they're completely no-show under your tightest outfits. They're also tagless and lightweight, so you'll be both confident and comfortable in your hot new party dress. Bonus: These undies are machine washable, and you can pick your favorite pattern and color from four different options.
No-VPL Lace Thong
A comfortable lace thong that promises no VPLs sounds too good to be true — but with this pair, you'll be wanting to wear a thong under everything. One size 18 reviewer said they love this pair, as it doesn't dig in at the wrong places or ride up after wearing them all day. Think wearing thongs is bad for your downstairs area? Dr. Jill M. Rabin, an Associate Professor of Women's Health told Huffington Post that unless you have a "predisposition to getting infections," there aren't "really any dangers" to wearing thongs.
For Everyday Wear: Versatile, Multifunctional Styles & Fabrics
When it comes to finding the right undies for your everyday wear, think of the clothing styles and silhouettes you wear most often first. According to Alicia Vardo, an intimate apparel examiner, one of the most important areas to focus on is the crotch. She told Examiner.com, "The crotch of the panty should fit just right against your body. It shouldn't bunch up in the back or the front and should be snug." Think of the underwear styles that often get you this result, and go from there!
Full Coverage, Mid-Rise Boyshorts
These boyshort undies by Victoria's Secret were created with everyday wear in mind. They have a full coverage, mid-rise fit, and they're crafted from an ultra-smooth stretchy material. They'll look and feel good underneath your denim, dresses, or short shorts, and the back even features a cute ruche detail.
Classic, Machine Washable Cotton Brief
A lingerie expert told Refinery29, "Briefs can be absolutely gorgeous and, unless you're trying to hide panty lines, are great for every day." This three-pack of machine washable cotton briefs by Calvin Klein features the classic logo comfort waistband in a different variety of colors, plus a smooth fabric that's ready for all-day wear. One user gives this pair top ratings for being a high quality cotton panty that never causes wedgies (#important).
Comfortable & Classic High-Waisted Panties
If you prefer high-waisted fits to lower or mid-rise pants and denim (same here!), then it's time for you to snag yourself a pair of comfortable panties with a high waist. They'll make a world of difference and feel way more balanced underneath your favorite high-waisted shorts or skinnies. These ones have a tag-free design for added comfort, and the cool cotton fabric is breathable and moisture-wicking. One user bought this pair after her doctor recommended wearing cotton undies (because they're better for your v-region) and loves the fit, even under tightly fitting jeans.
Bustle may receive a portion of sales from products purchased from this article, which was created independently from Bustle's editorial and sales departments.
Images: Liz Minch<3/Bustle; Amazon (12)