'Containment' & 'Cordon' Differences May Be Minor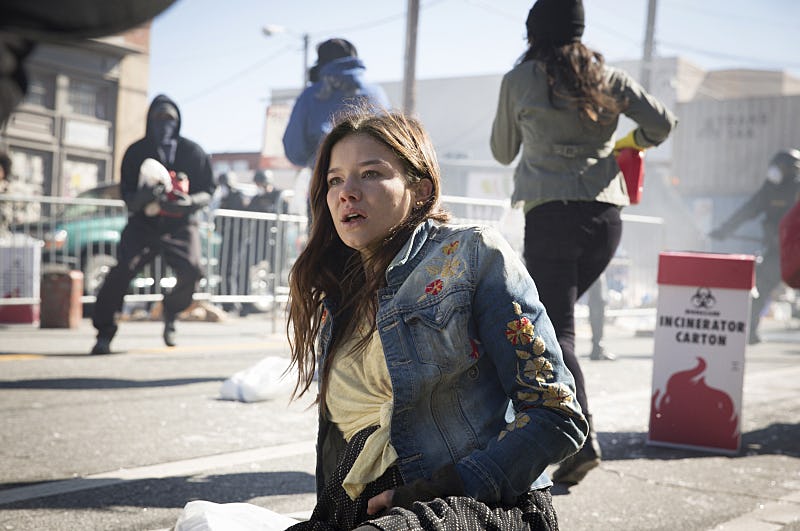 The CW has been known to adapt its television series from other media — The Vampire Diaries and The 100 are both based on book series, while Jane the Virgin was inspired by a Venezuelan telenovela. Now, the newest CW series to join the roster of adaptations on the network is Containment, but this time the show is pulling from Belgium TV series Cordon. So, how different is Containment from the original series, Cordon ? From what I can tell, there are only a few minor differences.
Cordon takes place in Antwerp, Belgium and follows Commissioner Lex Faes and his best friend Inspector Jokke Deelen who attempt to learn the source of a disease outbreak that causes city officials to cordon off part of the population (see where they get the title?). They stumble onto a cover-up and learn the cause of the outbreak, but their mission is made more difficult by betrayals and worrying over friends and loved ones who are trapped within the cordon. Sounds like Cordon is a pretty standard outbreak story that focuses on two main characters, Lex and Jokke. So, how close did executive producers Julie Plec and David Nutter stay to the original series when creating Containment?
Based on the series synopsis of Containment released by The CW, it seems the only major differences between the show and Cordon are that some names have been Americanized. The character of Lex Faes seems to have been replaced by Lex Carnahan, and Jokke Deelen by Jake Riley. However, that doesn't appear to be the case for every character; both disease researcher Dr. Victor Cannerts and government official Sabine Lommers have kept their original character names (though with a slight alteration in spelling in the case of Dr. Cannerts, who was originally Dr. Cannaerts in Cordon). Although these alterations may not mean much on the surface, I think they're an indication that Containment is going to stick pretty close to Cordon.
However, there is one minor tidbit I found during my Internet sleuthing that indicates Containment might diverge from Cordon at some point in Season 1. Fashion & Style reported Containment will be a "slightly different" interpretation of Cordon since "[Plec] wanted to focus on exploring the different parts of the survival instinct." Certainly, adding some weight to this report is the large cast listed by The CW as starring in Containment. It seems that The CW's version of the show will focus on more characters than Lex and Jake and explore the outbreak from multiple perspectives.
So, it seems Containment will follow much of the storyline developed in Cordon and has indeed adapted many of the characters from the original Belgium show. But, hopefully Containment will also put its own spin on the source material in order to deliver an exciting and compelling new show in The CW's lineup. Hey, if CW could strike gold with a premise as head-scratching as Jane the Virgin, I believe they can doing anything!
Images: Bob Mahoney, Justin Stephens/The CW